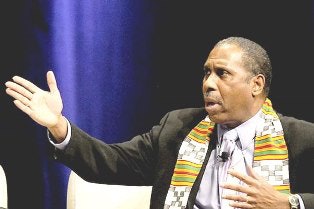 When high school students from low-income households craft their college admission essays, chances are good that many of them will focus on or at least mention the absence of their fathers.
At a charter school in Washington, D.C., for instance, a Class of 2015 student wrote of how her father walked out of her life when she was in the eighth grade and "never came back."
"I always had a feeling my father was going to come back," the girl wrote in one of several college admission essays or personal statements that were shared with Diverse.
"Unfortunately, I had everything wrong," the girl wrote. "When he left it hit me like a bomb, tearing my heart into pieces."
Another high school senior in D.C. wrote of being "Daddy's little girl" until her father—who once had "good government jobs"—turned to drugs.
Another Class of 2015 student in the nation's capital wrote about growing up and seeing his mother cry "from struggling to pay bills to taking care of two children without a father in the household."
And so go the dominant themes in countless college admission essays penned by students from low-income households throughout the United States.
Such stories are quite prevalent among Black students and—at least statistically speaking—with good reason: 54 percent of Black families with children under 18 are maintained by mothers, according to US Census Bureau data.
In comparison, the percentage of families maintained by mothers for Hispanics, Whites and Asians are far lower at 30, 21 and 12 percent, respectively, the census data show.
The reason for father absence is varied and complex. And, without talking to the MIA fathers themselves, we may never know the truth behind the real reasons for their absence.
But based on a review of a number of essays shared with Diverse and interviews, the reasons for father absences among many aspirant college students stem from factors that range from divorce to drug abuse, from infidelity to incarceration. And, in some cases, the students say they never knew their fathers at all.
While college admission essay experts say it's important for students to be authentic in their essays and to reflect the reality of who they are and where they're from, there is considerable debate over whether, how and to what extent students should write about the absence of their fathers.
Dr. Jawanza Kunjufu, a prolific African-centered author and educational consultant, said the fact that so many Black students write about the absence of their fathers reflects the fact that "many of our youth have bought into the cultural deficit model."
"They have accepted the notion of race, class, marital status and educational background as the most determining factors in their success," said Kunjufu, who referenced two books he wrote on the matter: "An African Centered Response to Ruby Payne's Poverty Theory" and "There is Nothing Wrong with Black Students."
Others say it's important to point out when familial and economic support is lacking—particularly when applying to selective colleges or for scholarships—because it could help students get more financial aid than they would otherwise.
"There's a lot of overlapping questions but there's no doubt that, when those personal circumstances are understood, everybody who can get that student more financial aid will do it because everybody understands that the person won't thrive at their college without significant financial aid and other types of support," said Carol Barash, founder and CEO of Story to College, a company that coaches students as they write their college admission essays.
Barash, who served as faculty adviser to the admissions committee of Douglass Residential College at Rutgers University, where she taught English and Women's Studies, related the story of a student who wrote of a father who was incarcerated and a sister who was addicted to heroin and how those circumstances forced him to "raise himself."
"He wrote an amazing essay," Brash said. But a college counselor was not so impressed.
"She called it a pity party," Barash said. Barash said the student contacted her via Facebook for a second opinion. Barash advised him to submit his essay anyway because "this is your reality."
"He said: 'Are you sure?' I said, 'I'm sure,'" Barash said.
The student ended up getting in early to a small liberal arts college with a full scholarship, Barash said.
Be that as it may, college essay experts say there is a certain weariness that sets in among those who routinely read stories of impoverished and troublesome upbringings.
Evan Forster, founder of Essay Busters, a nonprofit that helps "midrange" students from low-income families craft college admission essays, said he is "so tired of the oh-poor-me, single-parent home stories."
"And I can only imagine that college admissions officers are bored with them, too," Forster said.
Indeed, Nathan Lockett, Associate Director of the Office of Admissions at George Mason University, said "whining" is "never good."
"It doesn't tell us a whole lot about the student, and frankly we see it a lot," Lockett said. "I don't want to sound callous, we certainly feel bad for students when they discuss a tragic circumstance in their life, but [the] fact that they've gone through something tragic won't in and of itself help their admissibility in most cases."
Kunjufu, the author, said instead of writing about absent fathers, students would do better to write about the strengths of their mothers.
"I see nothing wrong with a strong low-income Black mother instilling high expectations into her children," Kunjufu said, adding that students who focused on absent fathers should instead write about how they have internalized their mother's values—something some of the students who shared essays with Diverse actually did.
But Forster, the head of Essay Busters, expressed concerns about even that approach.
"If it's about Mom and how great she is, then let her apply to college with her own essay," Forster said. "If it's focused on dad leaving you high and dry, it better be about how YOU overcame it and what YOU did to help out during this time at home."
Jim Warren, Associate Professor of English at the University of Texas at Arlington, expressed similar concerns.
"If students write about an absent father without describing how the experience has instilled grit, given them a strong sense of purpose, helped define their educational and professional goals, etc., then the essay will not be optimally effective," said Warren, who is author of a 2013 paper titled "The Rhetoric of College Application Essays: Removing Obstacles for Low Income and Minority Students."
The students whose essays were reviewed by Diverse all dealt with those things in various ways.
For instance, the girl whose father left when she was in eighth grade wrote that her father's absence and seeing her mother "play two roles" has taught her "independence and not to depend on anyone but myself.
"My father's actions changed my mindset," the girl wrote. "I want to apply my passion and determination and be able to depend solely on myself. Going to college with this positive attitude will develop me into a better person and help me become stronger."
The girl whose father turned to drugs wrote: "I truly do love my father, but based on his actions, I realize that I don't want to be like my father."
The young man who wrote of seeing his mother struggle to pay bills wrote that he wants to get a job—"not for my personal reasons but for my family, so that my mother, my grandmother, and my sisters can have a better life."