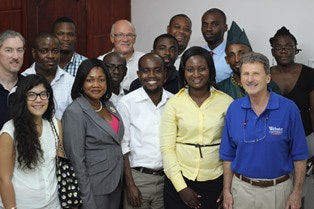 In fall 2012, Carnegie Mellon University established a new campus that offers a graduate degree in information technology and a joint degree in computer science and electrical engineering in Kigali, Rwanda. ­The highly ranked Pittsburgh school may be the first major U.S. research institution to set up a degree-granting campus in Africa.
­The university says on its website that its master's degree in information technology will provide students with skills that focus on "practical applications in areas such as cyber security, mobile applications, wireless networking and strategic business planning." It says students also will get the opportunity to do practicums and internships with multinational companies like IBM, Microsoft and Visa.
­The master's degree in electrical and computer engineering is focused on technology and teaches students skills in energy systems, mobile computing and telecommunications.
In recent years, St. Louis-based Webster University set up shop in Africa as well, establishing a campus in Ghana. The university now offers a bachelor's degree in management as well as an MBA at its campus in Accra, the West African nation's capital.
Bold new frontier
After conquering Europe and making significant headway in Asia and some parts of the Middle East like Dubai, many business schools from the United States and Europe are now exploring a bold new frontier: Africa.
While acknowledging the many challenges of setting up campuses on a continent that is largely undeveloped or underdeveloped, many business school administrators and university officials say they are attracted by the continent's enormous growth potential.
Approximately one billion people live in Africa, a fast-growing continent with one of the youngest workforces in the world. Africa is also home to about half of the world's 15 fastest-growing economies.
Many business school administrators say they are optimistic about the long-term potential for developing or growing programs in countries with emerging economies, such as South Africa, Ghana, Angola, Congo, Ivory Coast and Nigeria, which recently surpassed South Africa as the continent's largest economy and is the world's third-fastest-growing economy.
"We recognize that this is a pioneering moment for Africa with its very young population, as well as the possibility of developing entrepreneurs and building businesses from scratch," says Dr. Benjamin Ola Akande, dean of the George Herbert Walker School of Business and Technology at Webster University. "What we teach in business schools is the application of how to enable businesses to come to fruition in a way that would develop countries. Africa is poised for that kind of investment."
The growth of these emerging economies has made the continent more attractive than ever to overseas investors, including big companies from North America, Europe and Asia, particularly China. Many of these big companies have a demand for well-trained managers, which has in turn fueled much of the interest in creating new programs in Africa.
And interest has come from all over the world. Milan's Università Cattolica del Sacro Cuore launched an MBA program in Nairobi, Kenya, in 2011 and expanded to Accra, Ghana, in 2013. China Europe International Business School started a program for women entrepreneurs in Ghana in 2012, expanded into Nigeria in 2013 and created a class in Kenya last year, according to the Wall Street Journal.
Felix Ndeloa, director of advisory services at Radius, a U.K.-based organization that helps businesses and higher education institutions expand abroad, says that, in recent years, he has worked with as many as 10 colleges and universities looking to either expand into Africa or work on projects there.
"Two opened campuses in Ghana," says Ndeloa, who blogs about educational institutions expanding into Africa. "There was another that was looking to expand into South Africa that we worked with. We also helped support distance learning and student exchange programs for two schools in Egypt and Cameroon.
"Many institutions go in and offer one program and then gradually expand to other programs. I have come across so many inquiries. I believe the interest is only going to get better."
Ndeloa says many universities are enticed by financial pressures and the steady emergence of a large middle class.
"There is a lot of financial pressure for universities in meeting their budgets and to continue to be innovative," says Ndeloa. "What attracts them in Africa is that the middle class [is] growing significantly.
"People are able to afford a lot more of what was deemed a luxury. They see that market and, given that these new members of the middle class will be able to pay them, [that] makes it a financially viable option. It also makes the university known."
Competitive edge
Many of these schools also believe they bring a competitive advantage setting up campuses or programs in Africa. In addition to the prestige of a degree from a European or American university, institutions also tout that they teach practical applications that will serve students well in the workplace.
Many universities on the continent suffered significant declines in the '70s, '80s and '90s as a result of poor funding, inadequate resources, poor planning and political instability. This combination of factors led to a brain drain, as many professors fled overseas for more attractive opportunities. Akande, a Nigerian American, says many African universities are still too focused on theory and do not pay enough attention to the application of knowledge.
"That's what business schools are all about," says Akande. "It's not just about theory, but about our application of ideas. The focus is to create the next generation of business leaders, a Steve Jobs that would move Africa to the next stage of development."
Not all the universities expanding into Africa are offering degrees. Many offer practical, short-term business training courses, such as Regent University, a Christian university in Virginia Beach, Virginia.
For the last four years, the university has offered a 14-week entrepreneurship training program for small and aspiring business owners in Rwanda. The program accepts three cohorts of 15 to 20 students annually, says Dr. John Mulford, a professor of business at Regent and director of the Center for Entrepreneurship in the School of Business & Leadership.
"Many of them are orphans and don't have a network," says Mulford. "Our center created that network for them. We bring in visiting executives from all over the world. I have a former student who is now a managing director at Goldman Sachs who came in and gave a talk about global business markets. Many top business people from Rwanda were there and they got to have connections they wouldn't have anywhere."
Mulford says the program has 270 graduates and about half already have businesses going. He says that, as a result of the program's popularity, it has been licensed and is now offered in Uganda and South Africa.
Similarly, Duke University established Duke Corporate Education, a wholly owned subsidiary, in South Africa eight years ago to provide corporate and development training for clients. The company now does business in 17 African countries, according to marketing director Christine Robers.
"We established our presence in South Africa first in response to client needs … but quickly realized Africa presented a wealth of opportunities," Robers says. "We bring global insights that come from working with a diverse group of global organizations around the world and, at the same time, bring deep regional insights acquired through our deep experience with African organizations and their leaders."