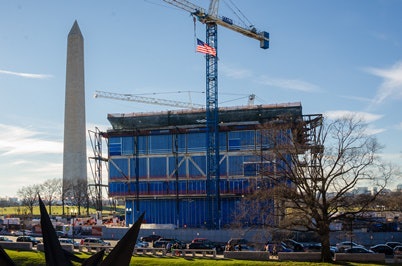 This ought to be a festive year for the Charles H. Wright Museum of African American History in Detroit, the largest museum of its kind in the country. Fifty years ago, Dr. Charles H. Wright, a Detroit physician and civil rights volunteer, opened what was then known as the International Afro-American Museum. It was a small but beloved project that grew steadily.
In 1985, the museum moved into a larger facility. ­Then, in 1997, with the city pouring in significant funding, the museum relocated again to a state-of-the art, 120,000-square-foot facility in the city's cultural center. Billed as the world's largest Black museum, its gala opening attracted reporters and dignitaries from all over the world.
But within a few years, the Wright Museum, which still receives a sizable portion of its budget from the City of Detroit, encountered financial turbulence.
Its problems were exacerbated in recent years by the financial woes of the Detroit automakers, its biggest corporate benefactors, and the city's bankruptcy filling. As funding fell sharply, it was forced to cut back on programs and lay off half its staff. Just as the city went through bankruptcy proceedings, serious doubts about the museum's future arose.
Staying afloat
Like the Wright Museum, the International Civil Rights Center & Museum, in Greensboro, North Carolina, opened its new location with great fanfare in 2010. The museum is located in the old Woolworth building, where in 1960 four freshmen from nearby North Carolina A&T State University staged a sit-in at the lunch counter where they were refused service, kicking off one of the most important moments in the civil rights movement.
Now, five years after the museum opened its doors, it is mired in $26 million of debt and struggling to stay open. According to news reports, the museum has had a difficult time meeting its monthly operating expenses. Last November, the museum board fired its executive director just weeks after he told some past and potential donors that the museum had no money in its operating reserve. The City of Greensboro has offered to take over the management of the museum.
It is estimated that there are more than 300 African-American museums around the country. They span the spectrum—from history to art, music to sports, mom-and-pop operations to larger organizations with dozens of workers.
Samuel Black, president of the Association of African American Museums, estimates that about 40 percent of these museums are financially distressed. In addition to funding issues, he says, many struggle with attracting and retaining quality professional museum staff as well as dealing with board members.
Some also fail to plan well.
"Many of the museums are little museums and the bigger ones are associated with the state or county," says Terrie Rouse, a veteran museum executive and former head of the California Afro-American Museum. "Many are aspirational instead of realistic. People are emotionally involved and they should be," but that often doesn't translate into good numbers, she says.
The economic downturn of the last decade has also been hard on nonprofits in general, particularly small ones with little or no endowments.
"Within the last five or six years, there has been a tremendous amount of stress on all museums because of the recession," says Martha Morris, assistant director of museum studies at George Washington University and a former deputy director of the Smithsonian National Museum of American History. "Most museums are small, with operating budgets under $500,000 a year. It's a tough field to be in."
Adds Black, "It's no different than other nonprofit organizations."
But he says one of the key differences between Black museums and other mainstream museums lies in access to funding and constraints in appealing to broader audiences. He also notes that many mainstream museums have been around for decades longer than Black museums, many of which began to emerge in the '50s and '60s and were essentially church-run operations.
Black points out that, when the City of Detroit was going through bankruptcy proceedings, the fate of the Detroit Institute of Arts, one of the nation's largest art museums, was the subject of much concern. National news outlets reported on it and some business and community leaders in the Detroit metropolitan area, as well as city and state officials, immediately began exploring alternatives to save the museum.
In contrast, the problems of the Wright Museum received much less attention. Most of that attention, too, came from the African-American community.
High expectations
Robert Blackwell, interim president and CEO of the DuSable Museum of African American History in Chicago, says Black museums are hamstrung by the fact that they generally appeal to a small segment of the population.
"Chicago is a wonderful museum town," says Blackwell, a former board member of the DuSable Museum. "There are a whole bunch of other museums—all of which are quite good. So what you're now up against is competing with big museums and big arts and culture museums.
African-Americans are just 13 percent of the population. If you focus on the 13 percent, you've got a tough deal right from the start."
Black says the most successful African-American museums tend to be those with high national profiles and that, by their very nature, are able to consistently attract visitors from around the world. Examples, he says, include the Birmingham Civil Rights Institute and the National Civil Rights Museum in Memphis.
"The larger African-American museums with a national profile are not solely marketed to a regional audience, and they are able to attract sponsorship from national corporations, such as FedEx, Wells Fargo and Bank of America," says Black.
"A few of these corporations have had their representatives brought on the board of these museums. Their boards are not just regional boards. They are not just friends of the founders. They are much more diverse and much more professional."
The Smithsonian National Museum of African American History and Culture is scheduled to open later this year in Washington, D.C. When plans for the museum were first announced, officials of some of the Black museums around the country expressed concern that this new museum would siphon visitors and potential donors from them, Black says.
But he says the new museum plans to work closely with African-American museums by helping them identify financial resources and perhaps even partnering on projects that could be essential to their survival.
Black says he is not concerned about the viability of the new museum for a couple of reasons: first, it is part of the Smithsonian, the world's largest system of museums and perhaps the wealthiest. Second, the new museum is in Washington, D.C., a place that attracts visitors from all over the world.
Of course, most museums don't have such resources or built-in advantages. David Ross, former director of the Whitney Museum and a former trustee of the Studio Museum in Harlem, says successful Black museums strive to transcend boundaries, despite their financial and staff constraints.
"The Studio Museum is a model museum for ethnically specific museums," says Ross. "They have not allowed themselves to be trapped in any corners. They brought non-Black members like me on the board. When I was on the Studio Museum board, the chair of the board brought business intelligence to the organizing of the board's business.
The worst thing is when board members see membership as a community service but don't bring their 'A' game to the board. Board members have to devote a certain amount of time to run this business. Museums are businesses."
For many museums, the future may lie in seeking new options for survival, such as merging with other museums or using the Internet to tell their stories.
"At George Washington, we recently acquired the Washington Textile museum," says Morris. "It had been a free-standing museum and they were not able to manage on their own. There is a growing trend. The [National] Underground Railroad Freedom Center in Cincinnati opened about 10 years ago. They were struggling financially and were lucky enough to merge with the Cincinnati Museum Center."
LaNesha DeBardelaben, vice president of assessment and community engagement at the Wright Museum in Detroit, says the museum aggressively tells its story through a monthly e-newsletter and social media.
She says the museum has also hired a new vice president for programming who holds a Ph.D. in art history from Yale.
She adds that the museum has strived to rebuild old partnerships and forge new ones.
"Partnerships help us reach new audiences," she says. "Partners bring in new exhibitions. Some of those partners enable us to put billboards around the city. Partnerships with new organizations help us spread our reach."