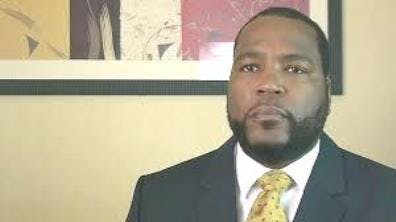 Dr. Umar Johnson is a Black activist and speaker.Dr. Umar Johnson, a controversial Black activist and speaker, has been disinvited from speaking at Anne Arundel Community College in Maryland after a group of students complained that he espouses anti-gay rhetoric.
Johnson, a former school psychologist, was slated to speak this Thursday at the college for the school's Black History Month festivities.
But a spokeswoman for AACC said that the administration decided that having Johnson speak on campus would not "foster the kind of academic discourse valued at AACC" after a number of Black gay students complained.
Johnson, who has spoken to Diverse in the past, did not respond to an e-mail and phone message seeking comment.
Last year, he unsuccessfully launched a campaign to raise money to purchase the now defunct St. Paul's College in Virginia. He had planned to convert it into a residential boarding school for African-American boys.
Last month, school officials in Portland, Oregon, canceled a talk that Johnson was scheduled to deliver at a local high school.
Jamal Eric Watson can be reached at jwatson1@diverseeducation.com. You can follow him on twitter @jamalericwatson