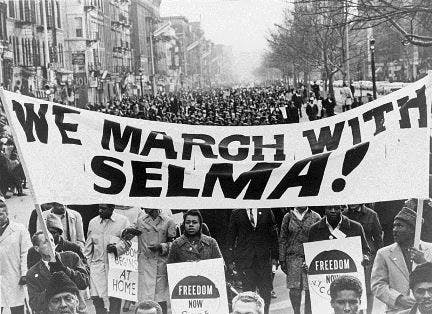 SELMA, AL—They came from far and near, some giving up their spring breaks to make the long trek by bus and car to this small town where the events of fifty years ago have been taught to them, thanks to the motion picture "Selma."
"In high school, I did not learn about Bloody Sunday or how Blacks were badly beaten just for trying to gain the right to vote," said Michael Burns, a 19-year-old student at Georgia State University. "I learned this history from watching the movie 'Selma.' And after I saw the movie, I realized that it was important that I be here, not only to commemorate the awful events that took place fifty years ago but to publicly commit myself to fighting all forms of justice."
As tears swelled in his eyes, Burns and several of his friends locked arms with a group of older activists and made the walk across the Edmund Pettus Bridge on Sunday, just as President Barack Obama and others had done the day before, and just as the young John Lewis—then an activist with the Student Nonviolent Coordinating Committee (SNCC) and now a congressman from Georgia—had done five decades ago.
Back then, Lewis was one of about 600 demonstrators who set out on a 50-mile march to Montgomery for voting rights, when Sheriff Jim Clark's deputies met them at the foot of the bridge and attacked them with billy clubs and tear gas.
Lewis, 74, was clobbered across the head with a billy club and suffered a skull fracture.
"Our country will never be the same because of what happened on this bridge," he told the crowd that lined the streets and stood in silence as he spoke.
Obama, who was introduced by Lewis, said that Selma was an important milestone in the fight for civil rights.
"What could more profoundly vindicate the idea of America than plain and humble people—the unsung, the downtrodden, the dreamers not of high station, not born to wealth or privilege, not of one religious tradition but many—coming together to shape their country's course?" Obama said. "What greater form of patriotism is there than the belief that America is not yet finished, that we are strong enough to be self-critical, that each successive generation can look upon our imperfections and decide that it is in our power to remake this nation to more closely align with our highest ideals?"
In the wake of a rash of recent police shootings of unarmed Black men across the country, young activists like Burns said that a new generation is now charged with pushing the movement forward.
"We can't just reminisce about yesteryear," he said. "We have to do in our generation what our forefathers and foremothers did in their generation."
That kind of thinking makes sense to Dr. Khalilah L. Brown-Dean, an associate professor of political science at Quinnipiac University and a prominent researcher and scholar.
She made the trip to Selma with her 6-year-old daughter in tow to bear witness and "share this moment with my daughter so, fifty years from now, on the 100th anniversary, she can recount this moment for her children."
As Brown-Dean stood on the bridge, she met two Black women who were legally allowed to marry in the state. Their fight for marriage equality represents the new frontier in the movement.
"Selma is now," says Brown-Dean who is an expert on mass incarceration and the disenfranchisement of the vote—an issue that will likely resurface in the 2016 presidential election. " For me, as an academic, this is an important time for us to come together and think about what is the movement we are now fighting and how we can be more inclusive."
Jamal Eric Watson can be reached at jwatson1@diverseeducation.com. You can follow him on twitter @jamalericwatson