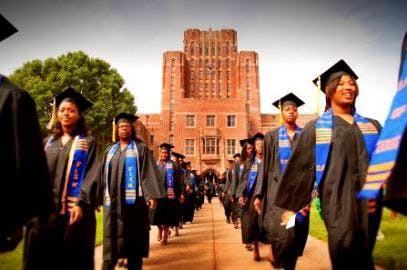 High tuition costs, the "uphill battle" of HBCUs, and the federal decision not to charge the White police officer who fatally shot 18-year-old Mike Brown in Ferguson, Mo., were among the issues that students and parents raised with President Barack Obama during a town hall meeting Friday at Benedict College.
The presidential visit to the historically Black college in Columbia, S.C., kicked off a historic weekend in which the president commemorated the 50-year anniversary of the 1965 march for civil rights in Selma, Ala., that came to be known as "Bloody Sunday."
As a precursor to the speech he had been set to give at the Edmund Pettus Bridge in Selma the next day, Obama told the enthusiastic crowd at Benedict that the meaning of Selma for its generation is "not just about commemorating the past."
"It's about honoring the legends who helped change this country through your actions today in the here and now. Selma is now," Obama said. "Selma is about each of us asking ourselves what we can do to make America better, and historically it's been young people like you who helped lead that march."
After highlighting key accomplishments under his administration—record low unemployment rates and steady job growth—he gave shout-outs to programs such as CityYear AmeriCorps and noted the "outstanding work" of Benedict College, which earned the college a spot on the president's Higher Education Community Service Honor Roll.
He also touted the White House's My Brother's Keeper Challenge, launched just over a year ago to encourage local and state governments and the private sector to remove barriers and provide opportunities for young men of color.
During a Q&A after the purposefully brief speech, Obama fielded mostly softball questions but also a few more pointed ones that dealt with issues of the cost of higher education and matters of justice.
Brandon Pope, a graduating senior majoring in business administration in management at Benedict College, noted how "tuition is very high in the United States" and asked the president what his plans were to help students who are having trouble paying for schools.
Obama responded by touting his free community college proposal as a "proposal whose time has come."
"The advantage of that is, first of all, a lot of young people start at community colleges and they may not want a four-year degree, but they can get a two-year degree that gives them the skills they need to get a job and not have any debt," Obama said.
"Even if you want to go to a four-year college, for a lot of young people, it may be a good option to go to a community college for the first two years, then transfer your credits," Obama continued. "And you've at least saved half of what you would otherwise spend on your four-year degree."
He said the plan could be paid for by "closing some loopholes in the tax system that give companies the ability to avoid paying the taxes that they owe," but he acknowledged that the plan, which has drawn both praise and criticism in various quarters, has not garnered the support it needs among the Republican-controlled Congress in order to succeed.
Another student noted the recent U.S. Department of Justice report that suggested "there's been grave injustices going on in Ferguson" and asked why U.S. Attorney General Eric Holder refused to charge Ferguson police officer Darren Wilson in last year's fatal shooting of 18-year-old Michael Brown, in Ferguson, Mo., which set off a wave of protests across the nation and increased scrutiny of police shootings of unarmed Black men and youth.
Although Holder was in the audience, Obama—his sleeves rolled up like they often are—kept the microphone and responded by saying federal jurisdiction could only be assumed "to make sure that this wasn't just a completely wrong decision"—a phrase that seemed to linger in the air almost waiting to be heckled because many protesters of Brown's death feel the decision not to prosecute Wilson was precisely that.
"They (the Department of Justice) don't retry the whole thing all over again," Obama explained. "They look to see whether or not, at the state level, due process and the investigation was conducted.
"And the standard for overturning that or essentially coming in on top of the state decision is very high," Obama continued with his legal lesson. "The finding that was made was that it was not unreasonable to determine that there was not sufficient evidence to charge Officer Wilson."
Obama noted that Wilson, "like anybody else who is charged with a crime, benefits from due process and a reasonable doubt standard."
"And if there is uncertainty about what happened, then you can't just charge him anyway just because what happened was tragic," Obama said.
He said he did not think the racial bias that the DOJ report found in Ferguson was "typical" but also said it was "not a complete aberration" and challenged students to work to make things better.
A woman who identified herself as a public relations consultant and community organizer called attention to the fact that HBCUs—particularly the embattled South Carolina State University, where her son is a scholarship student-athlete—are facing "a bit of an uphill battle at this moment."
She asked the president how to keep her son and others motivated "across the world that are facing situations that are insurmountable and challenging."
Obama said that, despite all the "bad stuff going on," young people should work hard, put others ahead of themselves, adopt a "no-excuse" mentality and remain "wildly optimistic about your possibilities in your future."
He also noted that, despite the various issues that confront African-Americans today, "it's not as hard as it was 50 years ago."
"The opportunities for you to get information and to get an education and expose yourself to the entire world because of technology are unmatched," Obama said. "It's never been like this before. Your ability to start your own business or carve your own path has never been greater.
"So my first and general point is: Do not get cynical about what's possible."
Obama also argued that students who want a good education in this country can get one, "even if you are in a bad school," but he acknowledged "we've got to do some work to make schools more equal." The remarks seemed more aimed at K-12 schools than HBCUs in relation to other institutions of higher education, if at all.
Ivory Toldson, deputy director of the White House Initiative on HBCUs, said it's "very difficult to talk generally about the state of HBCUs because there's such a wide variety of circumstances" at different HBCUs. Toldson declined to comment on the situation at SCSU—South Carolina's lone public HBCU—because the school is engulfed in a series of battles over its leadership and fate.
While Toldson expressed empathy with the parent who raised concern over the fate of her son at SCSU and noted that roughly half a dozen HBCUs are struggling with "accreditation issues," he noted that there are a series of HBCUs doing "some fantastic things" and tapping into resources of the federal government. He also urged those who care about HBCUs, whether as alumni or interested parties in some other way, to get involved with HBCUs to help them meet their various needs.
Marybeth Gasman, Professor of Higher Education and director of the Penn Center for Minority Serving Institutions at the University of Pennsylvania, credited the president for focusing on messages of uplift as opposed to getting bogged down in the HBCU/SCSU issue.
"These students needed to hear what he said then and there," Gasman said. "One of the things I admire and like about President Obama is his ability to inspire rather than only focus on the negative.
"I loved the way he focused on how people need to think about more than themselves."