When Bryant L. George first started work as an admissions officer at his alma mater — Madonna University in Livonia, Michigan — back in 2010, he began to ask why so few young African-American men such as himself enrolled in the school.
During a three-year period from 2008 to 2011, for instance, 64 African-American male students applied to the university and 24 were admitted, but only one ultimately enrolled. And that one did not hail from George's nearby hometown of Detroit.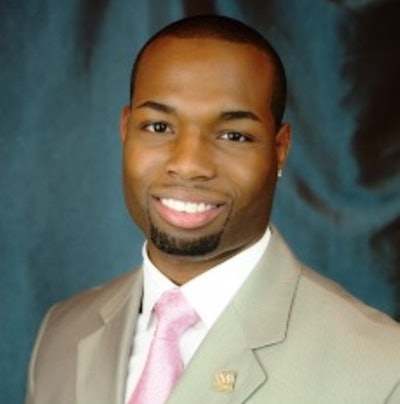 "Why is that when we are 15 minutes west of Detroit?" George recalled thinking at the time.
It would be easy to look at the poor educational outcomes in Detroit — which has the lowest high school graduation rate for Black males in the country at 20 percent — and conclude that the public school system there is simply failing to produce enough Black male students who are ready for college.
George recalls feeling ill-prepared for college himself when he graduated from Northwestern High School in Detroit in 2006. Born to a teenage mother and a father who struggled with drug addiction, George had an unremarkable GPA of 2.8, a low ACT score of 14 and no firm college plans when he graduated from high school.
"By paper, I should not have gotten into college," George says.
Today, at 27 years old, George uses his experience as one who beat the odds for young Black men from Detroit's public schools to smoothen the path to higher education for other young Black men from his hometown.
Specifically, George is founding director of a university-based program called Bridging Lost Gaps (BLG). University officials say the program is directly responsible for boosting the enrollment of young African-American men from Detroit at Madonna University.
For instance, before the program began in 2011, only about one young African-American male would enroll at Madonna per year, if that. But now, at least two dozen young African-American men enroll at Madonna per year and the number has been steadily growing.
Also, before George's program, the retention rate for young African-American male students at Madonna hovered at 13 percent. Now, it stands at 78.5 percent.
"To get that high has been amazingly phenomenal to say the least," said Dr. Connie Tingson-Gatuz, vice president for student affairs and mission integration at Madonna University.
Indeed, that retention rate is higher than the national average for all students, which stands at 77.1 percent, according to the National Center for Higher Education Management Systems.
BLG — which currently relies on institutional funds and external contributors — currently serves 48 students. The program's projected annual budget for 2016 and beyond is about $974,000. With a $150,000 seed grant from the McGregor Fund about to run out, George is seeking to raise more funds to keep the program going.
The program provides mentoring and tutoring and builds a supportive network of young Black men who are currently matriculating at Madonna University.
On the financial end, the BLG program provides $6,000 per year in scholarship money — significantly more than the $1,000 that it offered per year when it began in 2011. It also provides residence hall room waivers in order to lessen the financial burden of residing on campus.
Participants credit BLG with keeping them on track to graduation and making their educational experience at Madonna much more pleasant than it might have otherwise been.
"It was a huge factor," said Tywonn Mitchell, 21, who is a member of the first BLG cohort and is set to graduate this December after four-and-a-half years.
"I don't think I was prepared for college and to go into a school and see a person that's just like you and came from the same environment that you grew up in and to see him make it through, it was real inspiring," said Mitchell, who was born and raised in the ZIP code 48205, which was once dubbed by The Detroit News as "Detroit's Deadliest Neighborhood."
Mitchell had no shortage of examples of practical ways that BLG provided help. For instance, he said George helped straighten out a financial aid situation that could have derailed his education during his second semester. He said George also made sure he went to the campus writing center to strengthen his skills in one of his weakest areas. He also said the twice-weekly meetings for BLG participants to discuss how their studies and other issues helped them to make it through the challenges of campus life.
And the scholarship money not only helped cover the cost of going to college but encouraged him to pursue and acquire more scholarships.
"The money was very crucial because, for me, it kind of inspired me to go a little bit harder to get more money for scholarships, knowing I could do it," Mitchell said. "I didn't think I could get scholarships. So when I did, it made me realize this isn't an unrealistic goal."
George knew from his own experience at Madonna that the program would be filling a void.
"It was the scariest experience of my life being the only Black male in my class," George recalled. "I felt so out of place. I felt like a foreigner.
"I didn't understand the culture, the classroom environment. To feel that low and feel like you can't achieve and your self-esteem is that low, you don't even feel like a human being and you wonder why a lot of your childhood peers are incarcerated or died or flunked out of college.
"That's what motivated me to change that image so that young people won't be scared when they go to college," George said. "College isn't supposed to be scary, but for a lot of kids, they're scared when they go to these college campuses."
George enrolled at Madonna as a "walk-on" athlete for the school's basketball team. At the time he had no college acceptances — just a pair of Air Jordan basketball shoes and enough determination and skills on the court to impress his coach during tryouts.
He also had a $1,000 scholarship, a laptop and a mentor from Real Life 101, a scholarship and mentoring program started by Sid Taylor, whom George credits with being a major influence in his life.
"Without Mr. Taylor coming into my life to mentor me and be the first man of color to really give me the motivation to want to get my degree, this wouldn't be possible," George said.
Despite the help he got from Real Life 101, George still found himself in need of more support and guidance once he started college. Shortly after George enrolled at Madonna, he began to keep a diary of all the things that he needed to succeed.
"I was just writing because I was scared, but I was also angry because there wasn't a blueprint for me to follow," George said.
But he worked hard and got good grades, including a 4.0 during his last two years.
Although he initially leaned toward a career in criminal justice and interned with several federal law enforcement agencies, shortly after graduation, Madonna hired him as an admissions officer and recruitment specialist.
George viewed the position not simply as a job but as an opportunity.
That's when he started to delve into the data about the dearth of Black male students at Madonna. He began to formulate the BLG program during his lunch breaks.
"All of my lunch breaks this is what I focused on," George said.
The hard work paid off. The BLG program began with six students in 2011. One is graduating this spring, three more — including Mitchell — are set to graduate in December, and the others are set to graduate shortly thereafter.
George says the graduations show the program has lived up to its name, "meaning we've crossed a bridge from one point to another."
He says the BLG program holds promise for other institutions of higher learning throughout the country to better serve all urban youth — not just Black males — and to get them to a point where they can say: "Graduation is my reality."
Jamaal Abdul-Alim can be reached at dcwriter360@yahoo.com. Or you can follow him on Twitter @dcwriter360.