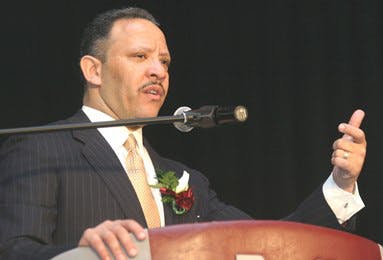 National Urban League President/CEO Marc Morial said working for equality and justice is in the DNA of a majority of college students.Now in its 39th annual edition, The State of Black America has gone digital in a push to engage more people, particularly those involved in higher education.
On Wednesday, an energized and enthusiastic audience at Medgar Evers College in New York City got to hear first-hand about The State of Black America, an annual report by the National Urban League that compares the status of Blacks against Whites as well as Hispanics against Whites in statistics across a variety of indicators including education, economics, health, civic engagement and social justice.
With the subtitle "Save Our Cities: Education, Jobs + Justice," the report's Equality Index shows that African-Americans have about 72.2 percent of what White Americans have when looking at all categories combined. Education actually declined slightly for African-Americans from 76.7 percent to 76.1 percent and increased slightly for Hispanics from 73.2 percent to 74.6 percent.
Medgar Evers College President Dr. Rudolph F. Crew invited National Urban League President/CEO Marc H. Morial to have the New York launch at the college. Morial thought presenting it to college students would be right on message for the report. He said he hopes higher education will utilize the report as a teaching tool.
"We are strongly encouraging faculty members who teach history, economics and public policy to use the report's broad-based statistical base to frame conversations that they're no doubt having in the classroom about the future of the nation and the nation's history and around racial issues," said Morial. "We would encourage faculty members to add it to the reading list and use it as an integral part of a syllabus.
"Implicit in how we frame issues is that education is a pathway to economic empowerment," he added. "Economic empowerment is our most important issue in the National Urban League."
There is a college enrollment gap and a completion gap for African-Americans. There are many reasons for it, including inadequate preparation because these students are more likely to come from an underfunded school system.
For the first time in the history of the report, a 50-state Education Equality Index and ranking of equality in educational achievement is included. The State Education Index focuses on a comparison of achievement reading and math gaps across states.
"One thing we should be able to achieve consensus on is full funding for education," said Morial. "What we ought to be able to do is have the resources equal … and there's an equal investment in every student, no matter where they live."
Morial said working for equality and justice is in the DNA of a majority of college students. The challenge for today's generation is to engage in greater activism, some of which may take place on social media. They've created the hashtag #SaveOurCities for online discussions about the report and the issues within it.
"Young people have to understand these issues are not someone else's issues; these are issues that are going to define the communities and the nation that they live in," he said. "The Twitter, Facebook and social media work that we do creates an opportunity for people to connect with direct factoids. It links back to our Web site."
There is a significant digital component, with the report now available as an e-book. There is also a seven-part Web series, in which national leaders, political pundits and executives discuss education, jobs and justice. A dedicated Web site, www.stateofblackamerica.org, will be a year-round resource providing information and insight.
"We want many more people to connect with the report," said Morial. "It's far more affordable than it's ever been. It's easily available to a wider audience. We want to get the data in the hands of as many people as possible."
Morial said university presidents, provosts and faculty members on the front lines must hold their institutions accountable around diversity and equality and be a voice in the broader community.
"University presidents have a stronger voice than they sometimes understand and believe," said Morial. "They have credibility in the public square in a really important way. Every college, every university should have its own plan to address the challenges of diversity."