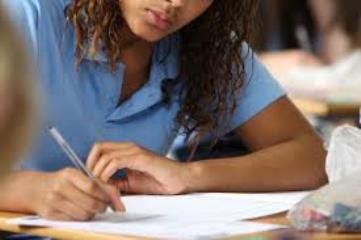 Three times this year, Zainab Abdelmula has been suspended from the alternative public high school she attends in New York City. ­The one-week suspensions came last October, November and December for incidents the 16-year-old junior from Brooklyn described as not involving violent or even disruptive behavior.
The initial suspension came during after-school detention, for showing a friend a strange photo of Zainab's pet rabbit licking a bottle of nonalcoholic champagne. School officials accused her of promoting underage drinking.
­The second time Zainab skipped a day without calling the school. ­The last suspension was for breaking an electric pencil sharpener while sharpening an eraser. She maintained the damage to school property was an accident.
"Before I got suspended, I did a lot better in school. Anytime I'm suspended, I can't do my work," says Zainab, who says she feels misunderstood. "I end up getting zeros that whole week, which puts me really down."
Concern about racial-ethnic disparities in school discipline has long focused on Black boys, who are suspended more often than any other group of students, according to the U.S. Department of Education. But in the last year, more attention has turned to the disparities affecting Zainab and other Black girls, who are the third-most suspended group, after Native American boys.
"I'm excited to see there's a lot of momentum building around exploring what is happening to Black girls. Historically in this work, Black girls have been the group who have not been covered," says Thena Robinson-Mock, project director of the Ending the Schoolhouse to Jailhouse Track Campaign at the Advancement Project, a civil rights organization.
­The disparities facing girls of color were spotlighted in a report last year from the Office for Civil Rights at the Education Department. In the 2011-12 academic year, 12 percent of Black girls received out-of-school suspensions, a higher rate than any other group of girls. At 7 percent, Native Americans had the second-highest rate among girls. Twenty percent of Black boys were suspended.
"When girls are suspended and excluded from the classroom, that does increase the chance that they will drop out," Robinson-Mock says. "Students tend to disengage from their education at that point. The most severe consequence is that the young person will end up in the juvenile justice system, and that is how the pipeline [to prison] happens."
Disproportionate numbers
The Education Department's report found that Black students are also disproportionately referred to law enforcement and arrested in connection with school violations. A spokesman says the department has yet to break down those juvenile justice statistics by race and gender in order to determine the national rate for Black girls.
Dropping out of high school, of course, means any student is less likely to attend or complete college.
Zainab is unsure whether she wants to go to college but does want to graduate from her high school, which she declined to identify by name. Her account of her suspensions could not be verified because student discipline records are confidential under the Family Educational Rights and Privacy Act.
She is a member of Girls for Gender Equity, an advocacy group in Brooklyn.
The suspensions, or at least Zainab's explanations of them, appear to run counter to guidance that Catherine E. Lhamon, the education department's assistant secretary for civil rights, gave local school officials in a "Dear Colleague" letter in January 2014.
Lhamon counseled schools to adopt a discipline policy that "explicitly limits the use of out-of-school suspensions, expulsions, and alternative placements to the most severe disciplinary infractions that threaten school safety or to those circumstances where mandated by Federal or State law."
The department spokesman provided national statistics showing the suspension rate for Black girls has risen from 9 percent in 1994, the first year the data were available, to 12 percent in academic year 2011-12.
Over that period, the increase was not steady; a slight decline from the previous reporting period occurred in three of the nine years when data were collected.
The Office for Civil Rights is investigating 203 complaints of racial-ethnic disparity in school discipline from 40 states and the District of Columbia, the department spokesman indicated. The largest number of complaints are in the populous states of California, with 23, and Texas, with 18.
Robinson-Mock says Black girls face "unique issues" that play into the disparities. She says one stereotype, that "Black girls are sassy, they have an attitude," can lead to undue punishment.
"When we look at the reasons why Black girls are excluded from the classroom or excluded from school, we tend to see a heightened presence of these subjective kinds of violations or infractions, such as defiance or disrespect," Robinson-Mock says.
Lhamon's letter urged schools to "clearly define offense categories and base disciplinary penalties on specific and objective criteria whenever possible." She also recommended school districts "provide cultural awareness training" whose content covers "the harms of employing or failing to counter racial and ethnic stereotypes."
Environmental influence
In February, an African American Policy Forum report found that strict discipline in New York City and Boston schools had unintended consequences for Black girls. "Black Girls Matter: Pushed Out, Overpoliced and Underprotected" found that "zero tolerance policies may exacerbate the vulnerability of girls to harassing behavior because it penalizes them for defending themselves against such acts."
Stressful experiences that Black girls have outside of school, including sexual assault, can lead to misbehavior, Robinson-Mock says.
"We know that young people, particularly Black girls, are more likely to face incidents of trauma, interpersonal violence, sexual assault. They are more likely to be, in many cases, a caretaker in their homes, and all of that pressure is playing out in our classrooms," Robinson-Mock says.
The "Black Girls Matter" report recommended schools "enforce all students' rights to learn in an environment free of sexual harassment and bullying" and "identify the signs of sexual victimization in order to support girls who have been traumatized by violence."
Not enough schools, Robinson-Mock says, have the social workers and counselors that are needed to delve into students' misbehavior and help them address underlying issues and cope with life stresses.
"There could be a reason why a young person is acting out," she notes.
Lhamon agrees with that approach. Her letter urged schools to have "sufficient school-based counselors, social workers, nurses, psychologists, and other mental health and supportive service providers to work with students."
Zainab's alternative school has such personnel through a partnership with a hospital. She has a personal therapist from the hospital who works in the school. "I do tell her everything about my life," she says.
Her therapist has a formal role in school discipline and talked to Zainab after each suspension to help her understand what she did wrong so she can obtain approval to return to classes. "Sometimes I just like don't really agree with her," Zainab says.
So, in her case, inadequate support services for students in school trouble are not a problem. School discipline, though, starts with a well-calibrated policy that fits the punishment to the infraction.
Zainab says she does not fully understand why she received the three suspensions, but they have, at any rate, made her more cautious about what she does and says at school.
One thing Zainab is certain about: "Me being suspended never benefited me at all."