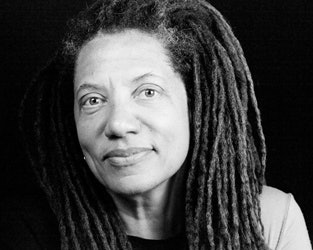 University of Alabama English professor Trudier Harris describes herself as a "Black Daughter of the South" in the title of her critically acclaimed 2003 autobiography. The phrase also fits University of South Carolina English professor and lauded poet Nikky Finney.
A­fter teaching and writing for decades at prestigious institutions outside their native states, both women returned home in recent years to take faculty positions at their respective universities.
Finney moved back to South Carolina in 2013 after being away 38 years, 23 of them at the University of Kentucky. It was there that she did some of her most outstanding work, winning the coveted National Book Award for Poetry in 2011 for Head Off & Split, one of her four books of poetry.
Harris returned to Alabama in 2009 a­fter retiring from the University of North Carolina at Chapel Hill (UNC-Chapel Hill) and earning awards and recognition for many of the 24 books she authored, edited or coedited. Her honors included a resident fellowship at the National Humanities Center.
Remembering the past
Both women have shown no mercy in their criticism of the South and its historical injustice toward African-Americans. But both also have shared feelings of fondness for their home states.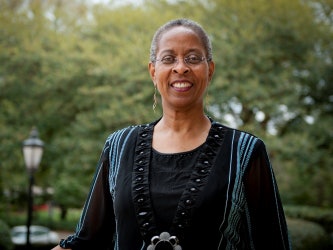 In her critically acclaimed 1996 book of literary commentary The Power of the Porch, Harris expresses warmth as she reminisces about her Southern roots.
"My commentary on these writers is informed primarily by my experience with southern oral forms as I grew up in Tuscaloosa, Alabama, in the 1950s and 1960s," Harris writes in the preface. "In the absence of television and air-conditioning, my relatives and neighbors routinely gathered on porches, and those sites became some of the primary stages for interactive storytelling, and for the passing on and receiving of oral traditions."
In Summer Snow: Reflections of a Black Daughter of the South, Harris reflects on cotton fields (i.e., summer snow) and writes, "These essays illustrate how Black and White my world was in Alabama and the extent to which it has remained Black and Southern."
Louisiana State University Press, which published Harris' 2009 book The Scary Mason-Dixon Line, described it as an examination of the ambivalence Black writers feel toward the South: "James Baldwin once declared that a Black man can look at a map of the United States, contemplate the area south of the Mason-Dixon Line, and thus scare himself to death. In The Scary Mason-Dixon Line, renowned literary scholar Trudier Harris explores why Black writers, whether born in Mississippi, New York, or elsewhere, have consistently both loved and hated the South."
In her 1995 collection titled Rice, which received a PEN America-Open Book Award, Finney examines oppression and progress in her native state.
"The poems in Rice compose a profound and unflinching journey connecting family and the paradoxes of American history, from the tragic times when African slaves disembarked on the South Carolina coast to the triumphant day when Judge Ernest A. Finney Jr., Nikky's father, was sworn in as South Carolina's first African American chief justice," according to Northwestern University Press, which republished an edition of the book in 2013.
But Finney tells Diverse why she returned to the state, after receiving one of the highest awards in her field, along with numerous accolades for her body of work.
"When I was 16 and 17, I really never wanted to come back because I found so many doors closed to me here as a young person growing up, but I came back constantly because my family is here — and you only have one home," Finney explains.
"So when the University of South Carolina did the unthinkable and offered me an endowed chair at the age of 55 … I had to think about the things that mattered greatly to me, and one of those things was the health and well-being of my mother and father. I knew it was an opportunity to be with them in this stage of their lives."
Harris' return to Alabama from North Carolina was a bit more planned. Harris had built a home in Tuscaloosa prior to her retirement from UNC-Chapel Hill. After retiring, she moved into the house without any intention of resuming a career in academia.
Now that she is back in Tuscaloosa, Harris tells Diverse that she feels "tremendously blessed because I retired to a community with a major Research I university, and I was fortunate to have a dean who responded to the idea of my joining the faculty here."
She decided she wanted to return to academia after she found herself "at age 61 living in Alabama and asking myself what am I going to do for the next 30 years."
Making a difference
Finney and Harris, who are familiar with each other's work, earned their undergraduate degrees at HBCUs in Alabama. Harris graduated from Stillman College and Finney from Talladega College.
Finney spent two years as the Grace Hazard Conkling Writer-in-Residence at Smith College. Harris, after receiving master's and doctoral degrees from Ohio State, taught at the College of William and Mary before joining the faculty at UNC-Chapel Hill.
Both women say they expected to find changes in their home states after several decades — although they had both visited often — but they were surprised by how many things, unfortunately, remained the same.
However, Harris explains that some of the signs of political and social conservatism, such as full-page ads for guns in the local newspaper, fewer numbers of Black faculty than she expected and the persistent lack of integration in social clubs, were "really striking."
Harris adds, "I was also struck by the fact that, although I had been gone for 40 years, I still 'integrated' a lot of things when I came back, joined clubs that were still basically all-White."
But overall, she says, "The reception here has been absolutely tremendous. In fact, sometimes I'm overwhelmed with requests to speak. People have been quite welcoming."
Finney says she had apprehensions about returning to her home state, recalling the indignities imposed on Blacks in her childhood. But she also feared something less obvious.
"One of the things that drives me crazy about the South, especially South Carolina is … that people get here and they get quiet, very polite and very quiet, and that was one of my fears."
But Finney says that, during her interviews for the faculty position, she told her prospective colleagues what to expect. "I said in my last interview, 'I hope you guys don't think I'm returning home to be quiet, because I haven't been quiet in the last 23 years.'"
Finney told her interviewers she was "writing in the tradition of Zora Neale Hurston, Toni Cade Bambara, Gwendolyn Brooks and Ida B. Wells."
Her interviewers apparently were OK with that. "They said they knew what they were getting into. … We're doing fine right now and we'll see how it goes down the line," Finney says with a laugh.
To others in academia who are considering returning to their Southern roots, Finney remarks, "Please hurry, pack a bag and get here as soon as you can!"
She adds, "The South needs an influx of people who bring their brilliant minds, their good hearts and their determination to see a better world."