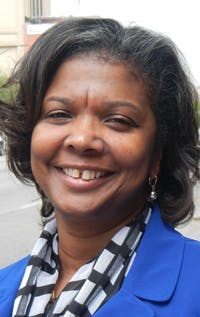 Colette Pierce BurnetteHuston-Tillotson University's Board of Trustees has selected Colette Pierce Burnette as the successor to Larry L. Earvin as president of the private, historically Black institution in East Austin, Texas. Earvin, who has been president of Huston-Tillotson since 2000, is retiring at the end of June.
Pierce Burnette, former chief financial officer of Central State University's satellite campus in Dayton, Ohio, was chosen from among a trio of finalists that included Thomas Calhoun Jr., interim vice president for academic affairs and provost at the University of North Alabama, and Deneese Lakay Robinson Jones, provost of Drake University.
"The leadership skills and abilities among the candidates were impressive," board chair Albert Hawkins said in a statement released by the university Wednesday. "However, Colette Pierce Burnette's vision, experience and determination solidified the decision and will compel the University to higher levels."
Pierce Burnette is the sixth president since Samuel Huston College and Tillotson College merged in 1952 and went on to become a university in 2005. She is the second female to lead the institution in its overall 140-year history, as Mary E. Branch served as Tillotson's president from 1930 to 1944.
In addition to gaining university status under Earvin's guidance, he also is credited to increasing enrollment from 500 to 1,031 students and more than doubling the school's endowment from $5 million to more than $11.5 million.
"HT has a rich and remarkable history of preparing students for careers that enhance our society and world," said Pierce Burnette. "The diverse student population, enhancement of STEM offerings, the future Community Health and Wellness Center, and this beautiful campus are just some of the reasons why I see Huston-Tillotson as a truly special place."