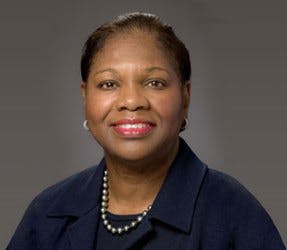 Hamline University, a private liberal arts college in Saint Paul, Minn., has tapped Dr. Fayneese Miller, dean of the College of Education and Social Services at the University of Vermont, to take the helm of the university on July 1.
Miller will be the first African-American—and second female—president of the school that was founded in 1854.
At one time, Black women were grossly underrepresented as college presidents. But her appointment, coupled with the recent selection of Black women at other institutions across the nation, is a signal that the doors are opening wider.
Earlier this year, Swarthmore College hired Dr. Valerie Smith, a dean at Princeton University, to be its next president. Last year, Hartford College selected Dr. Joanne Berger-Sweeney as its 22nd president.
Miller, who spent 20 years at Brown University, where she founded an ethnic studies program and was director of the Center for the Study of Race and Ethnicity in America, said that she is honored to have been selected to lead the university that has had a long affiliation with the United Methodist Church.
"This is not fulfilling my dream, because I never thought of being a college president, but this is the fulfilment of the dreams of all of those who wondered how far we could go," she said in an interview with Diverse. "It is validation of the hard work that we've done in higher education over the years. No longer do we have to simply be a part of the institution; we can lead it."
A social psychologist who specializes in the psychosocial development of youth, with special emphasis on alienation, social identity, and cross-racial friendships, Miller was the first African-American woman to be promoted to associate professor with tenure at Brown University in 1991. She is a past chairman of the board of the American Association of Colleges for Teacher Education (AACTE), past president of the Council of Deans from Research Extensive Institutions (CADREI), and a past co-chairman of the Outreach and Engagement Committee for the American Council of Education (ACE) Fellows.
Miller was on the Hamline University campus earlier this week, meeting faculty and students for the first time. She said that she was overwhelmed by the on-campus diversity of those who showed up at the announcement where she was presented to the campus community.
"As I looked at the different colors in the faces of the audience, it was important to me to see Black and Brown faces," she said. "I wanted them to know that they could feel validated."
A native of Danville, Va., Miller said that her town was one of the last to desegregate in the country.
"I understand segregation and racism in ways that some may not because I lived through it," she added.
Hamline University Board of Trustees chair Bob Klas Jr. lauded Miller's selection and highlighted her diversity as an asset to the university.
"Dr. Miller is a dynamic, articulate, and inclusive leader with a strong commitment to diversity and deep experience in academic program development, fiscal management, and fundraising," he said. "She is a champion of collaborative governance and values voices of students, faculty, and staff. We feel she will be an exceptional president for our campus community."
Jamal Eric Watson can be reached at jwatson1@diverseeducation.com You can follow him on twitter @jamalericwatson