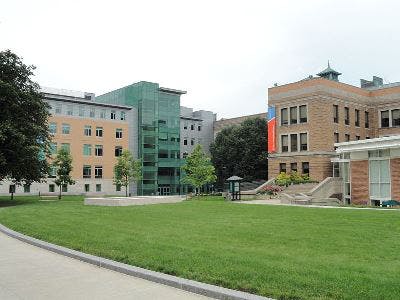 Simmons College has officially received federal designation as a historically Black college, the Kentucky institution announced Monday.
"It's an exciting day for us. We've been waiting for this day for two years now, and finally we have it," said Simmons President Dr. Kevin W. Cosby Monday.
Despite the fact that Simmons was originally founded as an institution of education for Black students seeking an education in Kentucky in 1869, according to Department of Education officials, HBCU designation can be fluid.
"Generally, an HBCU loses its status as a Part B institution because the institution loses its accreditation," said assistant press secretary of the Department of Education Denise Horn.
Simmons was reaccredited in February 2014 by the Association of Biblical Higher Education, thus making it eligible for federal designation as an HBCU.
What does the new HBCU designation mean for Simmons College?
"Simmons is now eligible to apply for Title III capital grant monies, which are exciting funds that have been designated $1.1 billion just for Historically Black Colleges," Simmons College COO Robert Harvey said.
Though the school is now officially an HBCU, Department of Education officials say the Title III fund allocation is not automatic for the 2015-16 school year.
"It is important to note that, although Simmons has been approved as an eligible HBCU, Simmons will not be added to the Title III, Parts B and F grant formulas for fiscal year FY 2015-2016 grant funds," said a letter to Cosby signed by DOE senior director of institutional service Dr. Leonard Haynes. Simmons officials will still have to apply separately to be eligible for some of the funds, the letter said.
Cosby's leadership is credited for much of the current success of the institution. During his 10-year stint as president, he has led the institution back to its original campus after 77 years in exile (2007) and led the institution through pre-accreditation (2010) and, finally, full accreditation (2014). He has built partnerships with the University of Louisville and a number of community colleges in the area to enhance the school's academic catalog.
This school year, following full accreditation, four new degree programs were added: an Associates Degree in General Studies, Bachelors Degree in Business Administration with the focus on entrepreneurship, Bachelors Degree in Communications with focus on cross-cultural communication and a Bachelors Degree in Sociology with the focus on lifelong wellness.
Simmons joins Kentucky State University as the only HBCUs in the state.