Jean Graetz has always been — in her humble, understated way ― a fighter, a woman determined to do the right thing against the toughest odds.
Her graduation on Saturday from Alabama State University (ASU) with a bachelor's degree in elementary education attested to that strong will and determination. At 85, Graetz defied the odds by completing her bachelor's degree along with fellow students who are 60 years younger ― but only chronologically.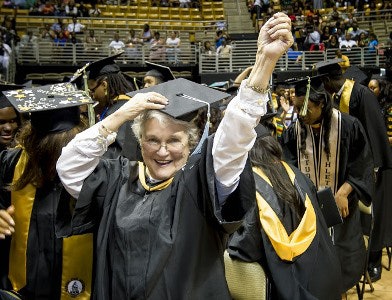 Graetz could have died in Montgomery when the Ku Klux Klan bombed her home because she and her husband, Robert, were supporters of the Montgomery bus boycott and other non-violent Black civil rights protests. Graetz and her husband followed their conscience in those days and opposed Jim Crow segregation despite the peril. They continue to be civil rights ambassadors in Alabama today.
According to the university's commencement announcement, Jean Graetz and her husband, a Lutheran minister, "are famous and nationally acclaimed civil rights pioneers, who were among the few white residents of Montgomery who openly and actively supported the civil rights movement, beginning with the Montgomery Bus Boycott in 1955 with Rosa Park's arrest. Their home was bombed twice by the Ku Klux Klan (while they were in it) for their outspoken, peaceful efforts of racial equality and social justice."
Jean Graetz recalled the bombings in an interview with Diverse. "It was 2 o'clock in the morning January 10, 1957," Graetz said. "Seven men were arrested, they confessed and gave details — and nobody ever was convicted." The couple also was subjected to threats, tire slashings and other acts of vandalism. Robert Graetz said another powerful bomb did not detonate. "The one that did not go off had 11 sticks of dynamite and a container of TNT, so it would have killed us all and probably some of our neighbors," he said in an interview on MontgomeryBoycott.com.
After raising seven children and living in other cities, she returned with her husband to Montgomery. As a longtime supporter of Alabama State University, Graetz decided to complete her baccalaureate degree at the historically Black institution.
She and her husband returned to Montgomery in 2005 as consultants to the National Center for Civil Rights and African-American Culture at Alabama State. "I had gone to [college] for about two and a half years before we were married," she says. But after marriage and having children "it just wasn't convenient, there wasn't time." But after returning to Montgomery, says she began working on her degree in 2008. The attention being given to her graduation is "overwhelming ― and surprising," she contends.
"We have children and grandchildren with lots of degrees, some who have their doctorates," she laughs, adding, "so here I am with this one little degree and everybody is making such a big deal."
Calling herself "a lifelong learner," Graetz has done student teaching and tutoring at a local elementary school and hopes to continue working with children, but points out, "I'm not getting certification, so I won't be working full time."
The Graetzes have contributed considerably to ASU since their return to Montgomery. Each year a forum on race relations is held in their name. Last month the National Center hosted the ninth annual Robert and Jean Graetz Symposium on Human Rights and Reconciliation.
According to the couple's official biography, "With the active participation of Jean, his wife, Robert Graetz authored A White Preacher's Memoir: The Montgomery Bus Boycott, and A White Preacher's Message on Race and Reconciliation."
David L. Zuchowski, CEO of Hyundai Motor America, presented the keynote address at the commencement ceremony and singled Graetz out in his speech, saying, "There is one graduate who requires very special recognition, not because of straight As, perfect attendance records or because she brought her professors shiny apples every day. It's because at the tender age of 85, after she started her bachelor's degree in 1945, she would graduate today. God bless you, you set the example for all of us."