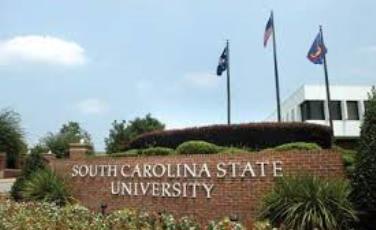 South Carolina State University, beset by a range of persistent troubles ranging from a ballooning deficit to steadily declining enrollment, was dealt another blow Thursday when the highly influential Southern Association of Colleges and Schools Commission on Colleges (SACSCOC) kept the institution on probation for 12 more months.
In extending South Carolina State's (SCSU) probation for a second year, the commission did imply the institution was making progress over the last year. It cited fewer shortcomings (four versus nine) than it did this month a year ago when it first placed the institution at the edge of losing accreditation. Gone were concerns about governance, despite another churn in presidents and board members. There were no shortcomings cited regarding its academic programs and instructions.
Still, the Atlanta-based peer rating group stood by its assertions that SCSU, the only state controlled historically Black college in South Carolina, falls far short of financial standards in a variety of ways. It said SCSU still fails to meet industry standards regarding its financial resources, financial stability, control of finances and control of sponsored research. SACS also cited concerns the university fell short of demonstrating acceptable standards of managing its federal Title IV programs.
The actions against South Carolina State came as no surprise to those who have watched a more than 10-year-old drama take twists and turns after twist, including the departure of four presidents in a decade, the churn of two complete boards of trustees and, in the past five years, a loss of nearly half its enrollment which a decade ago reached 5,000 students.
Interim SCSU President W. Franklin Evans, appointed to his first top college administration post in February, said the added year of probation may initially strike some as bad for the beleaguered institution. He feels encouraged by it, he insisted in a telephone interview Thursday after the SACSCOC decision.
"I see this whole decision as promising," said Evans, explaining it gives his institution more time to demonstrate the reforms he is championing are steps in the right direction. "I don't believe I can do this alone," he said, noting it will take focused support from lawmakers (who allocate base budget funds each year for state-controlled institutions), alumni, staff and vendors.
"It has to be a collective effort," Evans said.
In Thursday's actions, issued at the conclusion of SASCOC's spring meeting in Virginia, the agency also placed prestigious Tuskegee University on warning status for a year, citing the Alabama institution's failure to demonstrate it meets seven core SACSCOC standards, including standards covering governance, institutional objectives, academic program coordination, financial aid and faculty.
SACSCOC also placed Virginia State University (VSU) on warning for six months.
It cited five standards where VSU fell short, ranging from faculty to academic program coordination to financial aid. VSU, which replaced its president in the past year, has also been rattled by budget issues stemming from declining enrollment. The university is projecting another slump in enrollment for the fall of 2015.
Paine College was advised at the end of yesterday's SASCOC meeting that its request for removal from probation status had been denied and, instead, continued for another 12 months. Meanwhile, Allen University was denied removal from SACSCOC warning status and told its warning status would continue for another year.
There were several bright spots in the SACS rulings.
Southern University Law Center won approval of its application for a separate accreditation from the university. Jarvis Christian College and Edward Waters College won reaffirmation of their respective accreditation. Full accreditation is valid for 10 years, absent extenuating developments.
SACS, a widely respected peer group rating organization, is the primary accrediting agency from higher education institutions across the South. It maintains several dozen compliance standards for its member institutions, covering a wide range of topics. The federal government determines what institutions can receive taxpayer funds from students in the form of tuition grants and loans, based on an institution's accreditation by peer rating agencies similar to SACSCOC that operate in every region of the country.
Between 2002 and 2014, historically Black colleges hurt by loss of students due to integration and loss of financial support from public and private agencies and persons, have been significantly impacted by SACS actions, including the closure of Morris Brown, Saint Paul's, Paul Quinn, Mary Holmes and Florida Christian colleges.
At South Carolina State, people who have tracked and marshaled its growing tale of woes say its financial challenges — the last major hurdles cited by SACSCOC this week — have three basic roots.
The institution is locked into vendor service contracts, like food service, agreed to when its enrollment was nearly double what it is today. The institution has not had a president in place long enough in recent years to realize the university enrollment was on a long-term spiral that would require serious revisions in the food service agreement.
SCSU has lost approximately 1,000 students who were beneficiaries of the once popular Parent Plus Loan (PPL) federal aid program, which loaned parents funds to help pay their children's tuition costs. The PPL program lending criteria was tightened four years ago and, once it took effect, resulted in thousands of students across the nation being turned away by colleges for lack of college money. The rules were revised again last fall to give more latitude to loan applicants.
The third major challenge to the university has been the damage it has received from the state legislature, increasingly targeting cuts in public education aid as part of any solution to budget woes. SCSU has seen its state-based funding cut by some to approximately $12 million from a high of $26 million, said State Rep. Jerry Govan, the ranking member of the Education Committee in the S.C. State House of Representatives. Excluding bond debt, SCSU owes some $17 million to its vendors and other creditors, including $6 million of a $12 million loan obtained last year from the state.
"You can't cut yourself into a revenue stream," said Govan, referring to suggestions from fellow lawmakers that South Carolina should try to cut costs as a key tool for erasing and reducing its debt. He dismissed suggestions that the institution cut its "brand name" programs like football and the marching band that, while big money losers, are popular among the university's constituents.
"Financial stability has always been a legislative issue," said Govan, a lawmaker for nearly two decades. "It's not just a South Carolina State issue. The state has been cutting institutions across the board."