TUSKEGEE, Ala. — With a bit of giddiness in his voice, Nick Mosby can still recall the day he ­first laid eyes on the woman who he says was destined to become his bride.
It was a chance encounter in the student union building at Tuskegee University.
"She was a beautiful young woman," Nick Mosby says about the first-year political science student from Boston named Marilyn Jones. "I really didn't know that she was interested in me until a mutual friend pointed her out. One day, we were in the cafeteria and I just started staring at her from across the room for about 10 minutes."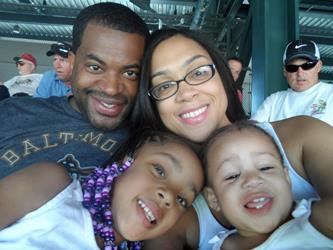 Later, the two ran into each other again. This time, it was at a late-night party. They exchanged phone numbers and "started talking every day," he says about their courtship. "And we haven't stopped talking since."
Thirteen years after they graduated from Tuskegee, the Mosbys have been catapulted into the national spotlight by the death of Freddie Gray, a 25-year-old Black man who died of spinal cord injuries in April while in the custody of Baltimore police officers.
Last month, Marilyn Mosby, 35, the Baltimore City State's Attorney, filed criminal charges against the six police officers. Her husband Nick Mosby, 36, who has been a member of the Baltimore City Council since 2011, has been a calming presence in the city, calling for better relations between police and the community in the wake of Gray's death, which sparked massive protests — including some that turned violent — across Baltimore.
In an interview with Diverse, the Mosbys credit their time at Tuskegee University — the rural Black college founded in 1881 by Booker T. Washington — with helping them to hone and cultivate their leadership skills to handle the Baltimore crisis.
"At the end of the day, we are just doing what we always wanted to do," says Marilyn Mosby, who graduated magna cum laude from Tuskegee and is now the youngest chief prosecutor of a major U.S. city.
"We have always tried to be change agents in our community," says Nick Mosby. "This is really about us doing what we've always done."
Attraction to Tuskegee
Marilyn and Nick Mosby were both first-generation college students when they made the trek south to Tuskegee. A product of the Metropolitan Council for Educational Opportunity (METCO) Program, which started busing minority students from Boston to suburban schools in an effort to desegregate the city in the 1970s, Marilyn Mosby graduated from Dover-Sherborn High School in 1998.
"In the second grade, I was the only Black child in my school," she recalls.
Although she was raised in the working-class neighborhood of Dorchester, she was eager to attend a historically Black college and university and only applied to three schools: Spelman, Hampton and Tuskegee universities.
The decision to attend Tuskegee over the others was a "no-brainer" when she learned that the university had awarded her a presidential scholarship that covered her full tuition.
"I fell in love with the school," she says. "The history and culture of Tuskegee is extremely rewarding. My professors were caring and hands on."
She credits faculty such as Dr. Darryl L. Roberts, an associate professor of political science, with pushing her to succeed. "He was difficult, but very thorough," she says with a laugh. "The political science department was very small so there was a good rapport between students and faculty."
None of her faculty members were surprised when they learned that she had gone to law school at Boston College and eventually landed a job as an assistant state's attorney for Baltimore before deciding to run in 2014 for the top job.
The daughter of two police officers, Marilyn Mosby remembers experiencing a "cultural shift coming from the hustle and bustle of Boston" to rural Tuskegee, where the campus community was familial and her classmates were focused on social justice issues.
"That was one of the things that attracted me to Nick," says Marilyn Mosby, who has been compared to Kamala Harris, the attorney general of California who is now running to replace retiring Democrat Barbara Boxer in the U.S. Senate. "His service and dedication to wanting to be a public servant was important to me."
Nick Mosby, who was raised in Baltimore by a single mother, was also ambitious. Although he had majored in engineering at Tuskegee — arriving on campus a year earlier than his wife — he had aspirations of becoming a politician.
In fact, he says he dreamed of following in the footsteps of his childhood hero, Kurt Schmoke, who, in 1987, became Baltimore's first Black mayor. His first encounter with the former mayor, who would go on to become dean of the law school at Howard University and is now president of the University of Baltimore, happened on the campus of Tuskegee, during the years when Schmoke was a member of the school's board of directors.
"Here was the guy I idolized walking across campus," recalls Nick Mosby, who introduced himself to Schmoke.
Unlike Marilyn Mosby, who received a full ride to attend Tuskegee, Nick Mosby struggled every semester to come up with the money to pay tuition.
"The running joke among my friends was whether Nicholas could get into school because I always owed money," he says, adding that he even took out a credit card in an attempt to help his mother pay the costs although he did not have a job to pay back the charges. "I always struggled financially to get into school and to stay in school."
On one occasion, university officials sent out a memo informing all students that they would have to clear their balances in order to register for classes and, if they did not, they would have to leave campus immediately. At the time, Nick Mosby owed about $4,300.
"I remember Marilyn was in my dorm room crying," he says. "I knew if I didn't get the money, I would have to go home."
When he arrived later that afternoon at the bursar's office to hear of his fate, one of the staffers had informed him that his balance was zero and that miraculously, on the day before, his past debts were paid in full.
"I said, 'Can you print that out? Can you look at the transaction history?' Because I knew that I owed money and I knew that my mother did not have the money to pay the bill," Nick Mosby recalls.
As it turned out, Tuskegee used emergency funds designed to help students. Stacie Henderson, Nick Mosby's financial aid officer, knew of his economic hardships and decided to disperse the funds that allowed him to stay in school.
"That was a pivotal moment in my life," says Nick Mosby. "I don't know how many rules Tuskegee broke to have me stay in school, but I know that, if I would have been at another institution, not [one] would have been."
Henderson, who has worked at Tuskegee for the past 16 years, says that, because Tuskegee University is a private institution, she was in a position to help Nick Mosby.
"I am so very proud of him. He was always down to earth and wanted to achieve," says Henderson. "He had specific goals and always wanted to be successful. He would always tell me, 'Ms. Henderson, I'm gonna be big someday.'"
Nick Mosby, who graduated from Tuskegee debt free, went on to work as an engineer while Marilyn Mosby was in law school.
Some were skeptical that their long-distance relationship would last.
But, in 2005, the couple were married and are now the proud parents of two young children, deciding to settle in Nick Mosby's beloved Baltimore.
The two frequently travel back to Tuskegee University to reunite with friends and former professors.
Last October, Marilyn Mosby gave the convocation address to students, where she spoke powerfully about the spate of unarmed Black men gunned down by police officers.
Not knowing that, in a few months, she would be handed the most important case of her young career, she seemed agitated and a bit dismayed by the slow road to justice.
"It's been 78 days since Michael Brown was shot in the street by a police officer," she told the students. "It's been 101 days since Eric Garner was choked to death in New York by a police officer, and 54 days since the New York City medical examiner ruled that incident a homicide. Neither has resulted in an indictment."
Jamal Eric Watson can be reached at jwatson1@diverseeducation.com.