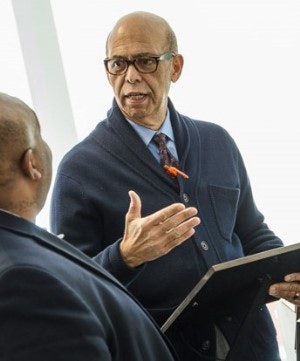 WASHINGTON, D.C.  — Growing up in the burgeoning metropolis of Los Angeles in the 1960s, there was little doubt that Dr. Michael Lucius Lomax would go on to college.
His father, Lucius W. Lomax Jr., was a well-known attorney and businessman. His mother, Almena Davis Lomax, was a pioneering journalist who would go on to earn national accolades for her groundbreaking coverage of the Civil Rights Movement.
"­The world that I grew up in was Black intellectuals and the Black professional class," says Lomax in a recent interview with Diverse.
From 1943 to 1960, the Lomax family owned the Los Angeles Tribune, a prominent Black weekly newspaper that profiled Black entertainers and civil rights leaders. Lomax recalls sharing ice cream and cake with Dr. Martin Luther King Jr. at the family home in 1957, as his mother interviewed the iconic leader about his work with the Southern Christian Leadership Conference.
"We grew up in the Black middle class. Of course I was going to go to college. Everyone went to college," says Lomax, who enrolled at King's alma mater, Morehouse College, in Atlanta, with a scholarship courtesy of the Charles E. Merrill Early Admissions Program. "But the question was, would I go to a Black college, at a time when Black people from California did not go back South to go to a Black college?"
Although his five siblings had all opted to attend predominantly White institutions, Lomax's time as a student at Morehouse, during the tumultuous days of legalized segregation, undoubtedly set the trajectory for what would become his lifelong passion: advocating for HBCUs—first as a college professor, then as a university president and now as the head of the United Negro College Fund.
"I had a great educational experience," Lomax says of his time at Morehouse when the legendary Dr. Benjamin E. Mays served as its president. "I joke with my siblings that I got the best education of all."
Lomax had initially considered following in his mother's foot-steps and becoming a journalist, but decided instead to earn a master's degree in English from Columbia University. He delayed his plans to enroll in a doctoral program when he learned that he could have an occupational deferment from serving in the Vietnam War if he taught at a Black college.
So, in 1969, he headed back to Morehouse, where he taught English until the war ended, and then enrolled in a Ph.D. program at Emory University where he studied American and African-American literature and wrote his dissertation on poet Countee Cullen and the Harlem Renaissance.
After Lomax graduated, he accepted a teaching post at Spelman College and began work as a speechwriter for Atlanta mayoral candidate Maynard Jackson, who would go on to win the election and become Atlanta's first Black mayor. Lomax worked as director of research and international affairs during Jackson's administration.
All the while, Lomax continued teaching English composition and African-American literature at Spelman and Morehouse colleges, thinking about how he could have a larger impact in the public policy arena.
"I was learning to do other things than just teach in the classroom," says Lomax, who dabbled in politics, holding a number of positions that included serving on the Fulton County Board of Commissioners. After two runs for mayor, including one against his former boss Jackson, he lost the mayor's race "convincingly" in 1993 to Bill Campbell. From there, he decided to return full time to higher education "with skills that were very different from what I had as a classroom teacher."
The collegiate route
Lomax set his sights on the college presidency and, in 1997, was selected as the fifth president of Dillard University in New Orleans, serving in that position until 2004. It was then he was tapped to replace the late Rev. William H. Gray III, the former Pennsylvania congressman who retired as UNCF's president and CEO.
Gray, who rose through the congressional ranks to become the first African-American House Majority Whip, had a particular connection to HBCUs. His father was the longtime president of Florida A&M, and he used his political connections and his background as senior pastor at a prominent Philadelphia-area Black church to engage in hefty fundraising campaigns for the UNCF, which provides scholarships to students attending private HBCUs.
During his tenure, Gray procured a $42 million grant from the Lilly Endowment and a billion-dollar gift from the Bill and Melinda Gates Foundation.
"Bill Gray was one of the great personalities. This is a guy who only hit home runs," says Lomax of his predecessor, who died suddenly in 2013. "Bill was Mr. UNCF and he really drove this organization."
As Lomax began to settle into the job, he says he noticed that philanthropy had begun to refocus much of its attention to K-12 and charter schools and had begun to disinvest in Black colleges. That shift, he says, proved to be challenging in his early years.
"A new generation of education innovators were bringing a set of tools to the game that were not largely academic. They were bringing Harvard Business plans to education. What did I know about business plans? I had a Ph.D. in literature," says Lomax.
"Education was being disrupted and philanthropy was looking in a different direction. The other challenge was that a bunch of institutions that had not considered African-Americans as potential students suddenly began attracting African-Americans to majority institutions with real money and real opportunities."
For the first few years of his tenure, Lomax says that he focused on redefining the organization's place in the broader education landscape, when many people continued to ask if HBCUs were indeed relevant and needed.
"I would say that the first six or seven years of being here, we were challenging ourselves to operate in a new philanthropic environment because we are a fundraising organization," Lomax says. "We had to learn how to make our cause in the metric outcomes and business plan environment that is highly competitive. We had to build relationships with a new generation of philanthropists and we also had to do a better job at telling our story."
By his own admission, Lomax says that the organization tested new ideas that didn't always work.
"We had our ups and downs," he says. "We had successes, but our challenge was how to build a national network of support for our institutions that enlist a new generation of champions and investors."
For years, the UNCF had relied on African-American entertainers from the Motown era such as Lou Rawls, who had become the public face of the UNCF's An Evening of Stars annual telethon that added millions of dollars to the organization's coffers.
But Rawls died two years into Lomax's presidency, and there was a growing sense that the organization had to cultivate new support from young Black Hollywood if it expected to raise funds. Lomax enlisted support from celebrities such as actor Jussie Smollett, Anthony Anderson, Kevin Hart, Usher and Ludacris, who all made appearances at this year's televised extravaganza.
"It took us a while to hit our stride," Lomax says as he sits in a conference room located in the organization's modern-looking headquarters within a stone's throw of Howard University, one of UNCF's founding institutions. "We are making the case unapologetically that Black colleges matter and that they are going to stand strong with our support and with the strong support of our community."
Controversy and criticism
Despite his energy and his creative ideas, some of Lomax's decisions have proved controversial. Last year, American Federation of State County Municipal Employees union (AFSCME) President Lee Saunders announced that he had decided to pull out of the Union Scholars Program that had been jointly run with the UNCF over its decision to accept $25 million from businessmen David and Charles Koch. Saunders said that a subsequent appearance by Lomax at one of the Koch brothers' events was a "profound betrayal of the civil rights movement."
At the time, Saunders had said that AFSCME would work directly with HBCUs, but later turned to the Thurgood Marshall College Fund (TMCF) as its new partner. TMCF supports and represents nearly 300,000 students attending its 47-member schools, which include public HBCUs and medical and law schools.
Lomax says that he anticipated some backlash when he accepted the gift. But it's not a decision that he says he regrets, adding that the cohort of Koch brothers scholarship recipients are receiving hands-on experience relating to business and entrepreneurship.
"I think it was the magnitude of the gift," he says, adding that the Koch brothers had been on his radar back when he was president of Dillard. "They are highly visible and one might argue controversial, but I had the opportunity to talk to them and what was clear to me is that they believe in educational opportunity. They believe that education is the great equalizer."
Although Dr. Marybeth Gasman, a professor of higher education at the University of Pennsylvania and director of the school's Center for Minority Serving Institutions, was critical of Lomax's decision to accept the Koch brothers' gift, she says that she's been impressed overall with Lomax's vision for the organization.
"I think Dr. Lomax has been a very vocal presence within the business community and the public policy community," says Gasman. "He is an unwavering advocate of Black colleges and African-American students."
Dr. Walter M. Kimbrough, the current president of Dillard, says that Lomax's experience outside of academe has proved useful in his current position.
"He has been able to connect the organization and member institutions with very diverse people and organizations," says Kimbrough. "He has been very creative in this role, once again something he showed as one of the founders of the Atlanta [National] Black Arts Festival. Leading UNCF, like any HBCU, is very much an art, and he's a great artist."
Still, Lomax has been sharply criticized by some for accepting an annual salary of more than $1.4 million, making him one of the highest earning executives of a higher education advocacy group.
"My compensation hasn't changed very much in the 11 years," he says, adding that the UNCF has a compensation committee made up of member-college presidents and corporate directors who decide on his compensation package. "This is their judgment. I believe in transparency. People can look at our books anytime."
Lomax says that, for now, he's focusing his energy on trying to expand the number of scholarship recipients from 10,000 to about 50,000 students and will challenge policymakers to be fair when it comes to HBCUs.
"When the government proposes programs that are not good, we're going to argue for something better," he says, adding that the U.S. Department of Education under the Obama administration has made major missteps when it comes to policies relating to postsecondary education.
With 55 percent of all HBCU students eligible for the Pell Grant, Lomax says that the administration has been slow in pushing for reform.
"Increase the Pell Grant, Mr. President," he says forcefully. "Well, you say he can't do it by himself, but he isn't even recommending it. Recommend it in your budget every year. Advocate for it. Fight for it."
Lomax says that he's at a stage in his tenure at the UNCF where powerful people with means take his phone calls and consider his requests. He says that he's even witnessing a spike in the number of African-Americans who financially support Black colleges with small and large donations.
"Our research says that, in the African-American community, our colleges are deeply valued," he says. "There is still a powerful appreciation that we still send our kids to these institutions and they come back to us better than we sent them."