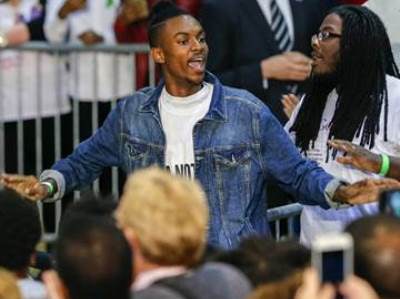 The Atlanta University Center students who interrupted Democratic presidential candidate Hillary Clinton with chants of "Black Lives Matter" during a campaign stop last Friday said they were tired of canned political rhetoric and wanted the candidate to specifically address concerns related to Black citizens in this country.
"Black people are pushed to the side of the American agenda, and we think it is unfair," said Morehouse College junior Avery Jackson, one of the organizers behind #AUCShutItDown, who added that Blacks in this country "are just as American as everyone else."
Shiranthi Goonathilaka, a senior at Spelman College, said "We didn't want to hear regurgitated rhetoric around Black issues" or a recitation of the problems. "She just gave us an overview of Black issues but didn't really give us any solutions."
"We live in the community. We deal with these issues every day. We don't need to be lectured. We need solutions," Goonathilaka said.
Jackson said the students also resented the fact that "there were more VIPs and more elites than there were students" allowed in Clark Atlanta's Leonidas S. Epps Gymnasium for the rally, which the students took as meaning "she didn't really prioritize the people whose space she was in."
There have been mixed reactions to the protests, but Goonathilaka and Jackson said the members of #AUCShutItDown are unfazed by any negative response.
"We respect intellectual differences on … the methods we take [to get the point across], but what we will not tolerate is the discrediting of ours," Jackson said.
"When it comes to any type of actions, you have to take means that are uncomfortable," Goonathilaka added. "It's going to be an uncomfortable process, and people aren't going to want to deal with it, but" they will have to.
#AUCShutItDown was mobilizing "students around social justice issues in the community" before the rally and intends to continue in the same vein, Goonathilaka said.
Jackson said the efforts go broader than just the walls of the Atlanta University Center—which consists of Morehouse, Spelman, Clark Atlanta University, Morehouse School of Medicine and the International Theological Center—into the greater Atlanta and national African-American communities.
"We're trying to mobilize students in Atlanta to have these conversations [about social justice issues] beyond the classroom," he said. "One thing that really related to Hillary Clinton is the minimizing of issues that are affecting Black people."
What are those issues, exactly?
"It's a lot, actually," Jackson said. "It's anything that stands in the way of liberation of Black people, anything that reproduces a culture of injustice, a culture of oppression, a culture of inequality."
The students still have more questions about the candidates—and, in particular, Clinton—than answers, like why she believes she can take the Black vote for granted, why she has not directly addressed concerns around the #BlackLivesMatter movement and what solutions she proposes around the issues facing Black America.
"We are making sure that she knows that we're watching, she's on notice," said Goonathilaka, who added that she hopes the protestors' refusal to allow Clinton to glaze over the issues will push her toward solutions and help her "be the best candidate she can be."