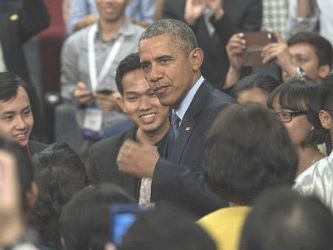 Why do young people turn to terrorism? If you think its religion and a few dozen virgins, you're caught up in a xenophobic stereotype.
The people who become terrorists are those who have no jobs, few opportunities or little hope. Often they are simply lost. Or they are petty criminals seeking to justify their lives.
But largely, they are people who would turn to anything else first if anyone turned to them and offered them a better chance.
That's why of all of President Barack Obama's actions last week after the Paris attacks, the most striking to me was his townhall meeting with a group of college kids at Taylor's University in Kuala Lumpur, Malaysia.
I'm lucky to have travelled to that country a few years ago to experience that country's wonderful mix of diversity.
By ethnicity, the breakdown is mostly Asian: Malay, 50 percent; Chinese, 23 percent; Asian Indian 7 percent; and 12 percent indigenous.
But the real diversity comes in its religious mix: Muslim, 61 percent; Buddhist, 20 percent; Christian, 9.2 percent; Hindu, 6.3 percent; and Confucianism, Taoism, 1 percent.
When I visited there several years ago, the country continues to evolve and fight off its contradictions. It's the home of the Petronas Twin Towers, the world's tallest twin towers at 1,483 ft. But at the same time, sanitation, public and private, is still an issue throughout the country. World Toilet Day on Nov. 19 is no joke in Malaysia.
Despite such juxtapositions, the region has tremendous potential as part of our global future. When the president was there last week, he met with young people filled with hope and yearning for opportunity.
The Young South East Asian Leaders Initiative (YSEALI) sends kids from the region to go to school and intern with nonprofits and businesses in the United States.
The president took a brief moment to mention Paris (transcript provided by White House):
"Now, a lot of us have been thinking about the horrific attacks in Paris. And when you think about the terrible vision of those who carried out those attacks, and you contrast that with the young people who are represented here, who are building things, and helping each other, and creating businesses and opportunities for themselves and for others, and when you think about the incredible potential of ASEAN as a place of religious diversity and ethnic diversity — you can set an example, not just to stand up to violent extremism, but to build interfaith dialogue, promote tolerance, and to combine an appreciation of your own culture and traditions with the modern world.
"And for all these reasons, two years ago, we launched YSEALI — the Young Southeast Asia Leaders Initiative. And the goal is to empower young people like you with the skills and the resources and the networks so you can turn your ideas into action. And since then, our YSEALI Network has grown to more than 55,000 members across 10 ASEAN countries — we're still growing. We've held nine regional exchanges. We're offering workshops and online networking and hands-on training. We started a grant competition to support you as you work together across countries to tackle regional issues like climate change. I want to commend Malaysia for its new partnership with the Peace Corps to create a Malaysian volunteer corps that works in underserved communities in other ASEAN countries. That's part of the spirit of YSEALI.
"And as part of our YSEALI Fellowship, we've now welcomed more than 300 young people from across ASEAN to the United States, with another 200 who are coming in the next six months. So these Fellows study in American universities. They experience our state and local government. They work in our nonprofit sector. They intern in major U.S. companies. I welcomed some Fellows to the White House. And then they take these experiences home and they apply them to their communities. And they're not just learning from the people that they're working with in the United States — they're learning from each other as part of network.
"So they come back, they're launching their own businesses. They're advocating for an end to human trafficking, or expanding women's rights, fighting corruption, promoting transparency and good governance. The point is, every day, the young men and women of YSEALI are making a difference across this region.
"And just as important as the tools and the skills that you're gaining is the connections that you're creating, because as part of the YSEALI Network, you're forging friendships that you'll draw on for a lifetime. And you're sharing ideas and learning from each other. Because when you're trying to turn that idea into a business, or start a new civic organization, or even running for office, it helps to have people who understand the kind of change that you're trying to make — and who you can go to for help and encouragement. And maybe they have some experiences that are relevant to what you're trying to do. So as young people, you have to stand together.
"And that's why YSEALI is so important — because, of all the challenges and threats that the world faces, I am absolutely confident that young people like you — with your passion and drive and commitment — you can make a difference. And I know you will. You already are."
The remarks from the townhall didn't make any headlines here.
But these are the types of international programs we need for young people if we want to shape the future and prevent the kind of headlines we've had.
Emil Guillermo is an award-winning journalist and commentator. He writes at www.aaldef.org/blog and at NBCNews.com.