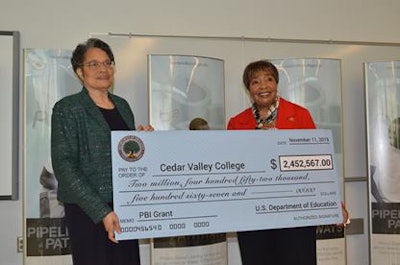 Cedar Valley College, one of seven institutions within the Dallas County Community College District, will receive a $2.4 million federal grant over the next five years from the Department of Education's Predominantly Black Institutions (PBI) program. Officials said that the grant will be used to help steer Black men attending CVC toward science, technology, engineering and math careers.
The focus on STEM is intended to open up doors for Cedar Valley students and graduates in high-paying careers, said Dr. Jennifer Wimbish, Cedar Valley president. In addition to being a predominantly Black institution, more than 50 percent of Cedar Valley students receive financial aid. Wimbish said the college would emphasize career opportunities in the automotive, IT, logistics, and environmental sciences fields.
Cedar Valley plans to invest the grant money in a variety of initiatives, such as furnishing the school's existing STEM Center with new technology, providing students with academic coaching and internship opportunities, developing a culturally relevant curriculum in the STEM disciplines, and more. In practical terms, Cedar Valley aims to increase African–American male enrollment by 15 percent within the next five years.
The programming will also extend to local high schools. Cedar Valley has offered a dual credit enrollment program, or Early College High School, with the Dallas Independent School District since 2008. With the grant funding, the college will expand academic coaching and internships available to high school students.
Wimbish said that Cedar Valley plans to publish the results of its work, with the goal of highlighting best practices that other institutions might follow. "We can't continue with programs that only reach 200 or 300 young men at a time," Wimbish said. "We will lose a whole generation that way. We have to have programs to hit thousands and then use what we're learning to hit thousands more."
Cedar Valley's work takes on an urgency in light of the national emphasis on Black male college graduation rates, inspired by initiatives such as the White House sponsored My Brother's Keeper. According to the National Center for Education Statistics (NCES), 22 percent of African–Americans between the ages of 25 and 29 had attained a bachelor's degree in 2014, compared to 41 percent of Whites and 61 percent of Asian Americans of the same age cohort. According to sources such as the Pew Research Center, recent trends show that Black women are outpacing their male counterparts in terms of college enrollment.
Prior to winning the grant, Cedar Valley, along with the six other institutions that comprise the Dallas County Community College District (DCCCD), had recognized the need for better outreach to African-American and Hispanic men, developing the "Male Initiative" to provide better support and mentorship for male students of color. The grant will help strengthen Cedar Valley's efforts in these areas, Wimbish said.
Dr. LaTrese Adkins Weathersby, an independent grant writer who helped Cedar Valley win the PBI grant, said the institution understood the unique needs of its surrounding community. As a result, Adkins Weathersby said, the college is poised to make a positive impact on its student population. "Community colleges are the perfect vehicles for addressing poverty and other social issues, perhaps even more so than four year schools," she commented.
Staff writer Catherine Morris can be reached at cmorris@diverseeducation.com.