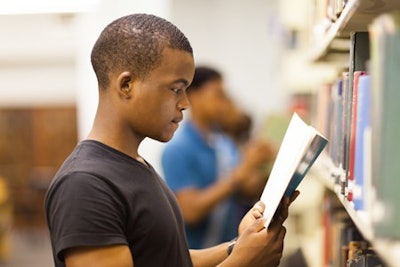 When I began to read, I began to exist.
― Author Walter Dean Myers
Each February, the National Council for the Teachers of English (NCTE) hosts the National African American Read-In. This national literacy initiative kicks off during Black History Month. The purpose of the read-in is to share the unique experiences found in African-American literature with students from preK to adults. Dr. Jerrie Cobb Scott, who founded this national program in 1989, currently serves as the national chair for this literacy program. The goal of this initiative is to hold the African American Read-In in every school, community and college across the country.
The African American Read-In is a great time to kick off celebrating the body of work by African-American authors. African-American stories, experiences and culture transmitted through books become a beacon of learning during this ongoing event. Read-In organizers all over the country hosting this literacy event do so in both large and small programs to explore and discuss African-American literature.
However, the biggest obstacle to implementing the African American Read-In program is getting hosts to organize annual read-ins around the country.
As an author and literacy advocate, I strongly believe in ensuring that we promote literacy in communities across the United States. This means providing access to resources, role models, authors and books. This is especially true in African-American communities across the United States in both urban and rural areas.
In urban areas, there are less than three books available per child in school libraries. This startling statistic provides us with a small window into the scope of the problem in regards to literacy and African-American students preK-12. Literacy attainment is about access. Therefore, lack of access to books provides children in urban areas with few opportunities to become lifelong readers. However, access to books is only part of the issue.
The types of books in which students engage with daily are also part and parcel of the problem. Across the United States, leisure reading materials are rarely afforded to children within schools. This is especially true in urban communities of color where there is steep competition to gain access to books students can read for pleasure. This is why the African American Read-In is such an important national initiative. Through this program, readers gain access to African-American authors, books and discussions about why these books are important. This program provides another great reason for children to read and write. Some of the additional benefits include children having access to new books, experiences, writing for pleasure through activity extensions and a way to make reading fun.
In order to provide this kind of access, we must have more people willing to host Read-In initiatives across the country. In the past, I have organized and co-organized local initiatives for a few years. I have done Read-Ins in a variety of formats such as getting authors to host and getting professionals to go into schools to read. I have written grants for schools to receive books as well as getting African-American authors to conduct Skype visits with children. However, after each Read-In I have the same realization. If we want African-American children to feel that they exist within the curriculum, we must provide more opportunities for children to see positive African-American characters within literature.
Potential organizers considering hosting a Read-In can find all of the program information on the national initiative site.
Dr. Tiffany A. Flowers is an assistant professor of education in the Department of Cultural and Behavioral Sciences at Perimeter College at Georgia State University. She can be reached at tflowers@gsu.edu.