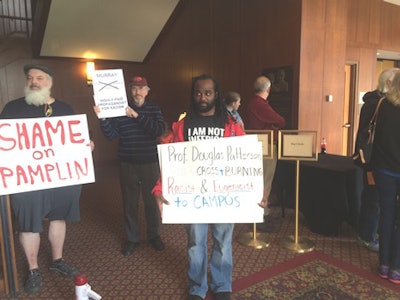 BLACKSBURG, VA — Even though political scientist Charles Murray didn't visit Virginia Tech on Friday to discuss "The Bell Curve"—his controversial 1994 treatise about the extent to which human intelligence is based on one's heredity versus the environment and that touches on the role of race—he still agreed to discuss his views with a vocal group of faculty and students who protested his talk.
"You're welcome to ask me anything you want about anything I've ever written, just as long as I've actually written it," Murray said at the outset of his speech, which was on a different topic and part of a lecture series on capitalism.
"No restrictions," Murray added.
The protesters—a diverse group of about 100 individuals, some of them donning black T-shirts emblazoned with the words "I AM NOT INFERIOR"—had plenty to say about Murray in the hour before he gave his speech.
Assembled on the brick walkway outside The Inn at Virginia Tech—the facility where the lecture took place—the protesters wielded signs that called Murray "racist scum" and an "inferior scholar" and likened him to Adolf Hitler and the Ku Klux Klan.
Murray actually took a photograph of some of the protesters who greeted him with their signs and Tweeted it upon his arrival.
"Welcome to Virginia Tech!" Murray stated in his Tweet.
After police asked the protesters to move away from the entrance and onto the front lawn, the protesters reassembled themselves and chanted things such as "Charles Murray, you're pathetic, race and class are not genetic" and "BB&T money, funding White supremacy"—a knock on the financial institution that funded the lecture series to which Murray was invited to speak.
Among the protesters were students such as Caitlin Huynh, who said she recently became an American citizen, hails from a small town in Vietnam, and is now a freshman who is a double major in global development and international studies and French. She said she is studying at Virginia Tech on a scholarship.
"I just disagree with his whole point that women are inferior," Huynh said during an interview. "Shame on Pamplin for not vetting him," she said of the university's Pamplin College of Business, which hosted the event.
Asked for something specific that Murray had written or said to bolster her claim, Huynh instead pointed to the fact that the Southern Poverty Law Center considers Murray a "White nationalist." The center also says Murray uses "racist pseudoscience and misleading statistics to argue that social inequality is caused by the genetic inferiority of the Black and Latino communities, women and the poor."
"It's not good research," Huynh said. "His ethics are not there, and there are bad research methods in that methodology."
Brandy Faulkner, a visiting assistant professor of political science and international studies and an organizer with Still Concerned—a faculty-led effort meant to counter Murray's visit—said Murray represents "systemic racism."
"The big threat is in labeling people as biologically and genetically inferior," Faulkner said, also without citing specific instances of such. "He said that there are groups of people that are inferior, and whenever we start to connect ideas like intelligence, specifically to IQ and other types of psychometrics, we are automatically devaluating the diversity of humanity."
No challenge issued
But for all the things the protesters had to say about Murray and his writings, when the time came to say something directly to Murray during the Q&A, the protesters offered not a peep.
"I was a bit disappointed," Murray said after the event.
"I expected that there would probably be several students or faculty members who would ask me really argumentative questions about race and gender and things that have been subject to controversy."
He pointed to a binder full of articles he had published over the years that he said he brought to the lecture just in case anyone wanted to question him about something he wrote.
"Turns out it was all unnecessary," Murray said.
Devon Lee, a protester and Ph.D. student in sociology at Virginia Tech with a focus on Africana studies, said he saw no point in attending Murray's lecture to engage him during the Q&A.
"We've seen his Q&As," Lee, who said he is an NAACP adviser and does research for a diversity and inclusion initiative at Virginia Tech, told Diverse during an interview prior to Murray's speech.
"He doesn't respond to questions. There's no point," Lee said. "Why bring someone and promote a dialogue that is a monologue to someone who doesn't answer questions?"
Actually, Murray answered plenty of questions—both during the Q&A that followed his speech and in a special session with journalists afterward.
If anyone was looking for Murray to cast aspersions upon women and racial and ethnic minorities, they would have been disappointed by Murray's speech here Friday.
In fact, if there were any socioeconomic group that might have been offended by Murray's talk, which was largely about the rise of "Trumpism"—that is, support for presidential candidate and billionaire businessman Donald Trump, it would have been working class White males, as Murray delineated this group's departure from some of the social norms that he said characterized early America, such as industry, religiosity and marriage.
For instance, Murray said working–class White males have become increasingly "feckless" as evidenced in their reduced labor force participation—down from 96 percent in 1968 to 79 percent in 2015.
"This is not a function of the Great Recession and its aftermath," Murray said of the trend, which he said has been continuing through good times and bad times.
Murray said he was using the term "feckless" as a "descriptor of behavior so you are looking at men who will not be helped by a resurgent job market."
"They don't want jobs. They don't know how to hold jobs. They don't want to be married. They are dysfunctional," Murray said. "So you've got two things going on at the same time."
The fact that the marriage rate among working–class White males is down to 52 percent as of 2015 from 86 in 1968 is important, he said, because economists have linked marriage to greater productivity.
"That's a huge change in such a fundamental institution," Murray said.
Murray seemed to be cognizant of the fact that his words could be deemed as offensive to working–class Whites or misconstrued by the press.
"Don't say Charles Murray said the White working class has become a bunch of no-goods," Murray said. Rather, he said, the downward trends in labor force participation and marriage were notable signs that must be reckoned with.
"There has been a particular type of demoralization that has occurred among working–class Whites," Murray said.
"The lower class has, in fact, in effect dropped out of major American institutions, and the government was not designed to cope with large numbers of people who behave in those ways," he said.
Murray had a similar amount of criticism for upper–class Whites, a college-educated group whom he said has become increasingly removed from the realities of everyday Americans.
He derided upper–class Whites as preferring Belgian-made beer over American-made beer, having little use for pick-up trucks, and often not knowing what it's like to have a job that causes a body part to ache or to live in a neighborhood where most of the people are not college-educated.
"We now have a new upper class isolated from mainstream America," Murray said. "They tend to make bad policy decisions.
"It's bad partly because of the things that Trumpism is all about," Murray said.
"If you are a truck driver in Oklahoma, it doesn't make any difference if you can't empathize with the position of the secretary of commerce in Washington, D.C., because you don't affect the life of the secretary of commerce," Murray said. However, he said, "It is really bad if the secretary of commerce cannot empathize with the priorities of a truck driver, because the secretary of commerce can screw up the life of a truck driver."
Murray said two of the prime factors that have given rise to "Trumpism" are the fact that the "ruling class" has shipped millions of jobs overseas and overseen the immigration of millions of low-skilled workers into the U.S., where they work for lower wages than American citizens.
"These are legitimate reasons for the working class of all races to say that they have been screwed," Murray said. "The largest source of anger is an anger against the ruling class, an elite, an establishment that, in the view of Trump supporters, has lost touch with mainstream Americans and does not understand what life is like for ordinary people."
Afterward, Murray took questions from the audience but no one took him up on his offer to discuss "The Bell Curve" or anything he may have written about race and intelligence. The biggest quibble anyone had with his talk was whether marriage actually has a causal relationship with greater productivity among men.
Not toeing line
Immediately after the speech, Murray went to a smaller room and fielded questions from a handful of journalists.
Diverse asked Murray what he would say to the protesters if he had a chance to engage with them.
"Show me something I've written that you were upset about, and I will respond to it, because it's really hard to read what I've written and read that back to me and say, 'How do you explain that?' because the things I've said are not inflammatory," Murray said. "They are not stated in a dogmatic way, not stated without evidence.
"People find it very hard to read to me something I've actually written and make their case that I'm a racist demagogue," Murray continued. "I want them to confront the fact that they are going after a fictional character. I have not said the things they say I've said."
He later said that the people who make him out to be a racist are part of a "campus faction that is going to be outraged unless you toe the party line, without any deviation whatsoever."
"And when it comes to the party line, it is that any disparities between women and men, or Blacks and Whites or Latinos and Whites, any disparities are the effect of racism and sexism," Murray said. "It cannot be anything else, and, unless you say that explicitly, they will get mad at you."
By they, he said he meant a "coalition of feminist groups and minority advocacy groups."
Diverse also asked Murray for his views on the use of race in college admissions.
"I'm a very emphatic opponent of what I would call strong affirmative action," Murray said. "By strong affirmative action, I don't mean that you have two applicants, one Black, one White, and their credentials are really quite similar, and the Whites are a little bit higher test scores and a little bit better grades, but not much, and you pick the Black guy instead. I have no problem with that."
He said he has a problem with affirmative action when "there's a big difference" between two applicants and race is used to admit one over the other.
"I agree with the proposition that diversity is good for the student body, but you would have diversity even without affirmative action," Murray said. He said diversity is a "healthier situation" when students of similar ability are admitted to a given school but that it can be problematic for minorities admitted through racial preference at the very top schools, such as MIT.
"I think there are a lot of really bright kids who are admitted to universities in which, even though they are bright, they are competing against kids that are even brighter," Murray said. He said Black students at MIT are in the top 1 or 2 percent in mathematics in the nation, "but the White and Asian kids who are admitted to MIT are in the top tenth of the top percent."
"And that does make a difference," Murray said. "And so in a classroom if you are the kid who is noticeably less quick than the other ones you're with, then that is a very demoralizing situation."
He said the Black dropout rate at MIT has been almost 25 percent. Federal data show the Black graduation rate at MIT is 82 percent compared to 92 percent for Whites and 95 percent for Asians.
"That's tragic because every one of those kids who dropped out could have done very well at really good universities that were not MIT," Murray said. "But if you put them at MIT, then they are systematically in a situation where they're at a disadvantage because of affirmative action."
Douglas Patterson, the Virginia Tech finance professor who oversees the BB&T lecture program through which Murray was invited, said he had "no regrets" about Murray's talk.
"Everything was civil and came out as it should and that reflects on Virginia Tech," Patterson said. "When they talk about diversity, they should talk about diversity of opinions, which should be open to various ideas that we may be uncomfortable with but at least people should be able to express those ideas not only in a venue like this with public speaking but in a classroom."
At a well-attended and well-received counter-lecture across campus after Murray's talk, Jason Glenn, associate professor and senior research fellow at the University of Texas, Medical Branch, blasted the use of test scores in education.
"The measure that we call an intelligence quotient does not correspond to any empirical understanding of human neurological or cognitive capacity at all," Glenn told an audience of mostly students assembled in the long curvature rows of Room 2150 at Torgersen Hall.
He said college admission exams tend to measure one's ability to prepare for a test, not actual content knowledge, and that education is overly concerned with math, science, Euro-American literature, Whig history, and economics.
"What is IQ?" Glenn said. "In many ways, IQ is conformity, or the measure of conformity, to this world view."
He challenged the students to think of ways to uproot the status quo.
"So many vested interests and people making millions off this," Glenn said. "But if we are serious and want to squash this thing once and for all and don't want Charles Murray coming on campus and giving these lectures, then we really have to take apart this thing from the root."
Jamaal Abdul-Alim can be reached at dcwriter360@yahoo.com or follow him on Twitter @dcwriter360.