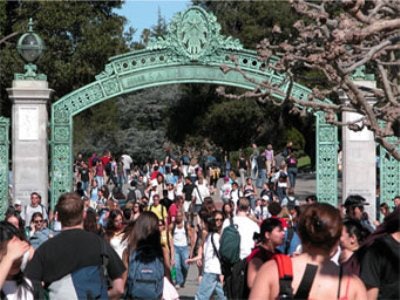 Many of the Black and Hispanic undergraduates majoring in sciences at the two most selective University of California campuses during the 1990s might have been better off academically and financially if they had attended lower-ranked UC counterparts.
That's one of the conclusions in a new study examining UC's minority science graduation rates that published this month in "The American Economic Review." The UC is widely considered one of the most prestigious public institutions nationally.
Authors of the report stopped short of criticizing affirmative action, which was an admissions factor until California voters approved Proposition 209 in 1996. UC revised its admissions policies, which took effect for the 1998 freshman class. Authors of the report did not voice skepticism about the ability of minorities to succeed in the sciences; in fact, their research tactics suggest they wished more students of color had earned science degrees during the 1990s.
In the new report, titled "University Differences in the Graduation of Minorities in the STEM fields," researchers examined data for students across all racial groups who attended and/or graduated from a UC campus between 1995 and 1997. Among the data studied were race/ethnicity, academic preparation in high school, intended academic major, and, among graduates, the discipline in which the bachelor's degree was awarded if different than the original major.
Findings in the report indicate that, while the proportion of minorities across eight UC campuses who initially declared a science major was slightly lower than that of nonminorities (33 percent versus 40 percent), only 24.6 percent of these minorities graduated with a science degree in five years.
Another 33.8 percent earned a nonscience degree in five years, and the remaining 41.6 percent didn't finish a bachelor's degree at one of the UCs within that period. It was not known whether that 41.6 percent earned a bachelor's outside of UC during that period.
In contrast, 43.9 percent of nonminorities who were science majors graduated in five years. Another 30.1 percent switched to non-sciences but graduated in five years, and the remaining 26 percent didn't finish a bachelor's degree at UC within that period.
Furthermore, only 17.2 percent of minorities who graduated from any UC campus in five years did so in the sciences—a figure that was almost 14 percentage points lower than the corresponding share for non-minorities.
The racial disparities in science degree completion were even starker for on-time, four-year graduation rates.
The report's co-authors include Dr. Peter Arcidiacono and Dr. V. Joseph Hotz, both of them Duke University economics professors. Dr. Esteban Aucejo, an assistant professor at the London School of Economics, is also a co-author.
For this research study, the trio defined "minorities" as students who were historically and numerically underrepresented in the sciences, namely Black and Hispanic.
The researchers reported that retention differences between underrepresented minorities and nonminorities interested in the sciences within the UC system resulted from, in part, differences in academic preparation among demographic groups. Students entering college with high school grade point averages and SAT scores that were high compared with the campuswide average were more likely to continue as science majors and graduate.
"One of the hopes of affirmative action admissions policies was that they would mitigate the effects of racial differences in precollege preparation," the authors wrote. "Our evidence indicates that this does not hold in the sciences, although it may hold for the nonsciences. Reducing or eliminating racial preferences in admissions at elite universities may improve science graduation rates among minorities by improving the matches of students to colleges where they are more likely to succeed."
The authors discovered that minorities in the sciences often changed their expectations about their academic performance as their college journey progressed. The researchers surmised that the original expectations were influenced, at least in part, by what high school counselors and university officials did—and did not—tell them.
"Students may be poorly informed about how different STEM fields are from other disciplines in the academic rigors and demands," they wrote. "Freshmen were dramatically overconfident about how they will perform in science classes. Even those who persisted in the sciences—and therefore received relatively positive signals—revised their beliefs downward as they progressed through these fields."
The researchers found that the least academically prepared minorities at higher-ranked campuses such as UC-Berkeley and UCLA had lower retention rates in science and took longer to graduate. Academic preparation was measured by GPA, scores on SATs, parental education and parental income. The researchers examined the potential for improving graduation rates during the late 1990s by re-allocating minorities from their actual campuses to others within UC.
These same cohorts of minorities who had attended UC-Berkeley and UCLA would "have had significantly higher chances of graduating in the sciences" if they had instead attended lower-ranked campuses like UC-Riverside, the authors wrote, suggesting that high school counselors and university admissions officers can play crucial roles.
"Better matching of science students to universities by preparation and providing information about students' prospects in different combinations (of) majors and universities could increase minority student graduation," the authors wrote. "The matching of students to campuses by academic preparation is much more important in the sciences than for nonsciences, (and) the matching of students with interests in the sciences to campuses is even more important for on-time graduation."
In fact, the redistribution of minorities across all the UC campuses during that period in the 1990s would have produced "sizable increases" in science graduation rates, especially among the least academically prepared students, the researchers stated.
A natural question was, why did minorities interested in the sciences not choose, or transfer to, a UC campus that was best-suited for the level of their academic preparation?
The researchers theorized that minorities who attended UCLA or UC-Berkeley during that period mistakenly believed that a degree from those institutions would result in higher salaries on the job market than graduating from elsewhere, regardless of academic major.
However, the researchers found that a bachelor's degree in science at less selective UC campuses actually resulted in higher wages than majoring in nonsciences at UCLA or UC-Berkeley.
"Wages from a nonscience degree are always less than those from a science degree at comparable or lower-ranked colleges," the authors wrote. "Graduating from college with a STEM degree trumps graduating from a highly ranked college, at least with respect to wages."