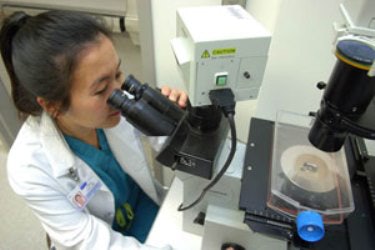 A new report by the Association of American Medical Colleges indicates that the number of women of color faculty in medical schools across the nation continues to hover below 30 percent.
"It's really an attrition issue that needs to be addressed," said Diana Lautenberger, director of Women in Medicine and Science at AAMC, who added that many women of color leave medical school for a variety of reasons, including not seeing faculty who look like them and not receiving the same kind of support and mentorship that majority students often get.
For the women of color who do obtain a faculty position, the pathway to promotion and ultimately tenure can often be an isolating journey. Women of color faculty are often burdened with diversity committee work and are often treated as tokens by their institution.
"There has to be organizational leadership," said Lautenberger, the author of the report, who says that women of color often face unique barriers, including those related to the intersection of gender and race. "There has to be an awareness of the experiences that people are bringing with them."
In 2015, the total number of full-time Black women medical school faculty (who held a rank of instructor to full professor) was 2,181. The number of Hispanic women faculty was 1,987, and there were 154 Native Hawaiian and Pacific Islanders. The largest number of minority women was Asians with 14,225. While these numbers have steadily improved over the last decade, they pale in comparison to the 64,094 White women who held full-time faculty positions during that same year.
While women faculty make up more than one-third of the U.S. full-time faculty workforce, visible challenges still exist when one examines the individual racial demographics. In addition, the proportion of women department chairs remains low. In 2014, of all chairs, about 14 percent were women; women of color represented 3 percent of all chairs and 18 percent of all women chairs.
Lautenberger said that addressing the needs of women of color is relevant given that their numbers among medical school applicants, those who matriculate, and graduates are on the rise and, in some instances, have surpassed those for males of color. She said that more research is needed to understand women of color as a growing faculty pool and how we can continue to retain them in academic medicine.
"It's difficult for us to make any assumptions about what's happening with this data," she said, adding that the reason the study was conducted was to get a more nuanced view of what the research revealed about the diversity numbers.
Jamal Eric Watson can be reached at jwatson1@diverseeducation.com. You can follow him on twitter @jamalericwatson