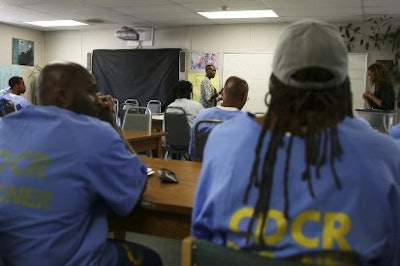 The United States holds the dubious honor of having the highest rate of incarceration in the world. More than 2.2 million people are incarcerated in American federal and state prisons and county jails, according to the U.S. Bureau of Justice Statistics. Each year, hundreds of thousands of formerly incarcerated individuals are released back into society.
However, along with a high rate of incarceration, the United States also has a high rate of recidivism, meaning that those who have been incarcerated are likely to return to prison after their release. Data suggests that education and training while in prison helps individuals find productive employment, thereby reducing their rate of recidivism once they are released from correctional facilities.
"We all agree that crime must have consequences, but the men and women who have done their time and paid their debts deserve the opportunity to break with the past and forge new lives in their homes, workplaces and communities," U.S. Education Secretary John King said in an press call Thursday. "This belief in second chances is fundamental to who we are as Americans and helping incarcerated men and women to gain new knowledge, skills and credentials increases their chances of living successful lives, saves public dollars, and makes our communities and country safer and stronger."
On Friday, the U.S. Department of Education announced a new development in its efforts to combat recidivism and reform the criminal justice system. Ed said that 67 colleges and universities have been selected to participate in the Second Chance Pell pilot program, a new initiative that was announced in July 2015.
The program will allow U.S. citizens to receive Pell Grants and obtain an education or vocational training while still incarcerated. The majority of the 67 colleges and universities will offer instruction onsite at 141 federal and state prisons. Other programs will offer online and hybrid programs. Approximately 12,000 incarcerated students will be enrolled in the Second Chance Pell pilot program, department officials said.
Colleges and universities who will offer instruction at correctional facilities represent a range of institutional types. Liberal arts Bennington College in Bennington, Vermont, is one participant; along with Anne Arundel College in Arnold, Maryland; and California State University, Los Angeles, among others.
"We need to rethink our policies that determine student access, and success in higher education," King said. "Based on the growing body of research about the effectiveness of correctional education, the president's 2017 budget includes a proposal that would allow eligible incarcerated students, beyond the limits of this program, to receive Pell Grants for postsecondary education and training."
The Second Chance Pell Grant program will go into effect as early as July 1.
Previously, Pell Grants were available to inmates of state and federal prisons until 1994. They became ineligible for the program through a provision in an omnibus crime bill signed by President Bill Clinton. Some colleges and universities, including member institutions of the Consortium for the Liberal Arts in Prison, currently offer liberal arts programs at prisons. A number of the Consortium member institutions will also be partners in the Second Chance Pell pilot program, such as Bard College, Goucher College and Holy Cross College.
Staff writer Catherine Morris can be reached at cmorris@diverseeducation.com.