A plan to sell Langston Hughes' Harlem home has been derailed — at least for now ― thanks to the tenacious work of poet and teacher Renee Watson.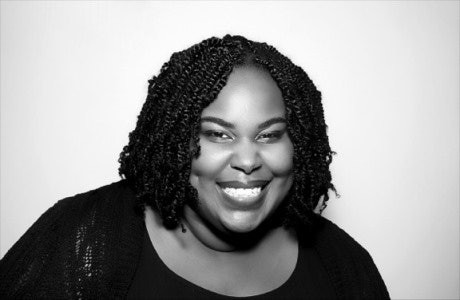 About a month ago, Watson launched an ambitious campaign to raise money to rent and renovate the home where the author, best known for the poetry that defined the Harlem Renaissance, lived for the last two decades of his life.
The owner listed the ivy-covered brownstone for sale several years ago with an asking price of $1 million, but took it off of the market when it did not sell. Through an online fundraising drive, Watson says that her nonprofit organization "I, Too, Arts Collective" has raised almost enough money to sign a three-year lease but is still actively working to reach its goal of $150,000.
Watson, who lives in Harlem, became concerned about the ongoing gentrification of historic Black neighborhoods. A native of Portland, Oregon, she even authored a young adult fictional book titled This Side of Home, which explores the issue.
"I've been wanting to do something for a while," says Watson, who ran an arts and performance nonprofit in Portland before relocating to Harlem years ago. "It had been on my heart for sometime. And I said, 'I have to do something before we lose this home.'"
Harlem has come to personify gentrification. Chain department stores and trendy restaurants have displaced some of the neighborhood's historic establishments. Even President Bill Clinton headquartered his office on West 125th Street, just down the street from the famous Apollo Theater.
But experts and scholars have long worried that the gentrification of Black communities has forced longtime residents out due to rising rent costs.
Earlier this year, the four-story Harlem home where poet Maya Angelou entertained her celebrity friends sold for about $4 million. There had been early chatter among some Black businessmen about the possibility of buying and preserving that home, but the plans never materialized.
Watson, who regularly passed by Hughes' home during walks through the neighborhood, tracked down the owner. They were "very open and encouraged" by her vision for the space.
Eventually, Watson — whose nonprofit is committed to nurturing voices from underrepresented populations — will run a variety of community-based events from the house, including summer intensive writing workshops for young people. She has dreams of ultimately buying the property that is currently appraised at more than $3 million.
She even wants to create an artists-in-residence program, in which writers can apply to live for a period of time on the second floor of the house, in exchange for conducting writing workshops and hosting readings in the community.
"We still have some money to raise," says Watson, adding that hundreds of people have already contributed to turning Hughes' home into a gathering space for writers.
"I think the support is a testament of his impact on not just Black writers and people, but it has definitely crossed over with people who you would not think would know him or his poetry," says Watson. "With all that's been happening in our nation, we need spaces where people of color can come together to heal and process what's happening in our world. We need a space where our stories can be heard."
To contribute to the campaign, please click here.
Jamal Eric Watson can be reached at jwatson1@diverseeducation.com. You can follow him on Twitter @jamalericwatson.