WASHINGTON — Fear of the police is pervasive among Blacks and Latinos living in the Washington, D.C., area, while Whites and those who are well-educated or wealthy are more likely to report being "extremely satisfied" with where they live.
These stark contrasts are among the findings of a groundbreaking survey report released Monday that sought to gauge people's perceptions of their neighborhoods in select communities in and around the nation's capital.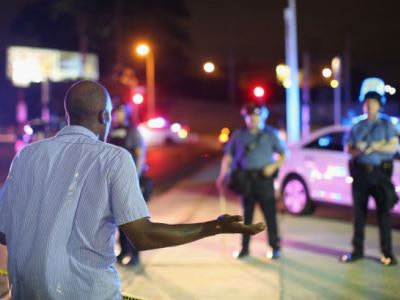 One of the distinct features of the report — titled "Diversity in the D.C. Area" — is that it examined two types of neighborhoods that scholars say are understudied: disproportionately Latino neighborhoods and those that the report described as "quadrivial," that is, where White, Asian, Black and Latinos make up at least 10 percent each but no single group represents a majority. (The word "quadrivial" is a Latin term that means "four roads meeting," according to the report).
Michael Bader, a sociology professor at American University and author of the report, said it illuminates areas that policymakers need to address in order to bring about a more equitable experience for those living in diverse and disproportionately Latino neighborhoods in DC and the surrounding area.
"Different groups live together but have different levels of satisfaction," Bader said Monday at a panel discussion at American University to release the results of the survey.
While the survey found that more than two-thirds of the D.C. area respondents were "extremely satisfied" or "very satisfied" with their neighborhoods, Whites and those with more education were more likely to indicate that they were "extremely satisfied" with their neighborhood, the report states.
Specifically, 1 out of every 4 Whites indicated being extremely satisfied with where they live, versus only 1 out of every 5 Blacks and Latinos, and 1 out of every 6 Asian respondents.
Money made a difference in the responses. Those who made $150,000 or more were extremely satisfied with where they live, compared to only 14 percent of those who made $30,000 or less.
One of the reasons to examine quadrivial neighborhoods is because they represent a post-civil rights ideal that "members of all racial groups can live harmoniously together," the report states.
But the "harmony" spoken of in the report can be a difficult one to assess. Living in close proximity to someone from a different group does not necessarily indicate "harmony" as much as it does people from different backgrounds living somewhere they may like or, conversely, simply where they can afford.
It is possible, for instance, to live in a new, high-rise luxury apartment building in D.C. and never have to interact with longtime residents of lesser economic means — particularly if the high-rise is just a few hundred feet from the nearest Metro subway station.
Several scholars who read the new survey said it represents a departure point for future study.
Peter A. Tatian, senior fellow in the Urban Institute's Metropolitan Housing and Communities Policy Center and project director of NeighborhoodInfo DC, said it's important to find out if a given neighborhood studied in the report is truly diverse "or is it something on the way to becoming vanilla?"
"It could go either way," Tatian said. "If we like quadrivial neighborhoods, if we like neighborhood diversity, we need to think about how to keep that diversity in place."
Tatian said he found the report's findings around fear of police "troubling."
Indeed, the report found that Black and Latino residents were six and seven times, respectively, more likely than Whites to indicate that — on a daily basis — they were affected "somewhat" or "a lot" by fear that they or their loved ones would be arrested or questioned by the police.
Conversely, only 1.5 percent of Whites indicated that fear of arrest or questioning affects them "a lot."
For Latinos, nearly twice as many as Blacks indicated that fear of arrest affects them "a lot" — a reality that may in part be owed to fear of deportation.
Indeed, among Latinos, about 40 percent said fear of deportation affects them "a lot" on a daily basis, compared to just under and above, respectively, 20 percent for Blacks and Asians. Just 2 percent of Whites indicated a fear of deportation.
Bader said the report shows the need for police to "bridge the multicultural divide" and lessen fear among Latinos, Blacks and Asians as part of the effort to improve policing.
Policymakers also need to address the disparate levels of fear of crime, Tatian said.
While 18 percent of respondents indicated that violent crime is a problem in their neighborhood, the fear was more pronounced in disproportionately Latino neighborhoods, where one-fourth of the residents said it was a moderate or serious problem, compared to just one-tenth of those in quadrivial neighborhoods.
The problem was most severe among Latinos in disproportionately Latino neighborhoods, where about 1 in 3 Latinos expressed fear of violent crime, compared to about 1 in 5 Whites and Blacks and 1 in 20 Asians.
"It reminds us that the people we sometimes unfairly characterize as being perpetrators of crime are also victims of crime," Tatian said.
Jamaal Abdul-Alim can be reached at jabdul-alim@diverseeducation.com or follow him on Twitter @dcwriter360.