Archbishop Desmond Tutu is dead. A racist cop killed a Black kid in Alabama after mistaking his saxophone for a gun. Donald Trump said he's going to be "more popular than fried chicken and watermelon" in the Black community.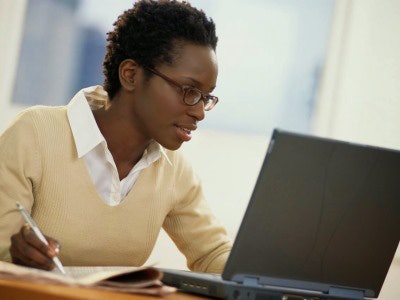 All of these stories have appeared in various forms on the internet in recent months. And all of them have been shot down by Snopes.com, a fact-checking website that — much like the nation itself — increasingly has been dealing with rumors that revolve around issues of race.
At a time when misleading memes and goofy GIFs regularly make it seem like people said things they never said or did things they never did, scholars say Snopes.com is playing an evermore important role in setting the record straight and bringing some much-needed sanity to social media, particularly given the heated rhetoric and faulty claims of the 2016 election and continuing public protests over the police shootings of African-Americans.
"With all the data and statements flying around in the wake of police shootings of Black people and assertions by political candidates and their surrogates, fact-checking is especially crucial for those wishing to be fully informed," said Jackie Jones, an associate professor and chair of the School of Global Journalism & Communication at Morgan State University.
Jones says she uses Snopes "fairly frequently" and laments that people tend to trust stories they see on the internet "too easily" and assume that the stories have been vetted.
"As a journalist I check before reposting and check more than one source," Jones said. "But I often use Snopes as a starting point in my own research. I encourage my civilian friends to do the same before forwarding items to me."
Dr. Patricia A. Turner, dean and vice provost of the Division of Undergraduate Education at UCLA and an expert on racial dynamics in folklore and popular culture, said the Snopes website has become so popular that it has become a verb.
"People will tell their friends not to pass things on that they haven't 'Snoped' first," Turner said. "So it does perform a valuable service for such people."
Snopes.com is no stranger to issues of race.
Several years ago, the website citing Turner's "I Heard It Through the Grapevine: Rumor in African-American Culture" — tackled the "middle digit" rumor. The conspiracy theory — ascribed in some instances to author and talk show host Tavis Smiley — purported that African-Americans were being given certain coded Social Security numbers in which fifth or middle digit is an odd number so that employers can discriminate against them.
"It's a chilling thought because we know in our heart of hearts if an exploitable resource did exist for pegging sight unseen what color any of us was, there are bigots out there who would not hesitate to use it," the Snopes article states. "Thankfully, it doesn't."
It goes on to call the Social Security Number warning to African-Americans "bunk" and states that "none of the digits in a Social Security number has anything to do with race."
"The only information 'hidden' in an SSN is where and when it was issued," the article states.
Sometimes, Snopes provides some crucial insights into Black history.
For instance, this past January, the website searched for evidence to support a claim that Black lawn jockeys — often thought of as stereotypical images of African-Americans and racist memorabilia — were actually used as symbols for homes on the Underground Railroad.
The website came up empty-handed, so it dismissed the claim as "unproven."
More recently, after San Francisco 49ers quarterback Colin Kaepernick began to refuse to stand for The Star-Spangled Banner, Snopes investigated a claim that the national anthem has a little-known racist third stanza that celebrated the killing of Black slaves.
This time, the website declined to say if it was true or false, but that was largely because historians disagree over what the author of the anthem — Francis Scott Key, who himself was a slave owner — actually meant when he penned the words:
No refuge could save the hireling and slave
From the terror of flight or the gloom of the grave.
The words could have been referring to the Americans' defeat of the Corps of Colonial Marines, one of two units of Black slaves recruited between 1808 and 1816 to fight for the British on the promise of gaining their freedom, the article states. Or conversely, the article states, it could be referring to the British Navy's practice of "impressment" — that is, kidnapping sailors and forcing them to fight in defense of the crown.
"It doesn't appear that Francis Scott Key ever specified what he did mean by the phrase," the article states. "Nor does its context point to a single, definitive interpretation."
Based on recent events, it appears as though Snopes.com will have plenty of fodder on Black lives — and Black deaths, for that matter — for years to come.
Just the other day, the website dealt with a new meme that resurrects an old story — "just in time for the 2016 presidential election" — that President Bill Clinton fathered a child with a Black prostitute but that his wife and current presidential candidate Hillary Clinton had "banished" the "love child."
Snopes' verdict? Unproven.
Jamaal Abdul-Alim can be reached at jabdul-alim@diverseeducation.com or you can follow him on Twitter @dcwriter360.