Civil rights activist and noted journalist Roger Wilkins, who led the Community Relations Service in the Johnson administration in the 1960s, has died at age 85 in Kensington, Maryland. His family said that the cause of his death was complications from dementia.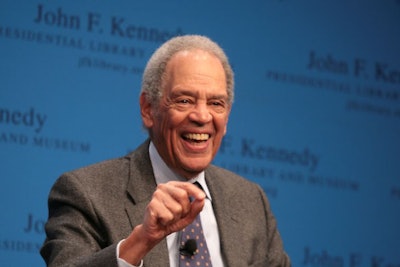 Wilkins, nephew of longtime NAACP executive director Roy Wilkins, was selected by President Lyndon Johnson to guide the new office of the U.S. Department of Justice that was to mediate racial disputes and advocate for improving conditions in Black communities during the turbulent era.
"We have to change the way people live," he told The New York Times in 1967. "All the rest is Band-Aids and lollipops."
Wilkins left his position when Johnson left office and ended up playing a role in the historic downfall of the president's successor, Richard Nixon. Wilkins wrote editorials for The Washington Post during the early phases of the unraveling political scandal that is known as Watergate as the result of the break-in by Nixon underlings at the Democratic Party headquarters at the hotel complex. The Post would go on to win the 1973 Pulitzer Prize for Public Service, a staff award.
He left The Post in 1974 to write editorials for The New York Times before moving on to an urban affairs column from 1977 to 79.
A passage from his autobiography "A Man's Life," however, revealed that he experienced a lot of frustration along with his successes during his government service and journalism career. Wilkins wrote about the challenges of being "the lead black in white institutions for 16 years."
Wilkins, who was once an intern for Thurgood Marshall, became one of the first prominent figures to help fuel the explosive growth of George Mason University in Fairfax, Virginia, when he joined the faculty as a history professor in 1987. He retired from George Mason in 2007.
Contributing: The Associated Press