In her second book, Dr. Stacey Patton takes on the issue of corporal punishment and how it harms the futures of African-American children.
Patton, an assistant professor of multimedia journalism at Morgan State University, writes about the detriments of spanking and other physical punishment in disciplining children. The title, Spare the Kids: Why Whupping Children Won't Save Black America, takes on the idea that physical punishment can severely impede a child's learning.
The book launch party was held last week in a decidedly child-friendly environment, Harlem Children's Zone, where kids played and at times loudly enjoyed themselves as Patton read from the book and answered questions. The event was live-streamed on Facebook.
"[Harlem Children's Zone] educates parents about the basic science behind child development and brain development; particularly how corporal punishment can stymie a child's healthy brain development in terms of cognition, executive functioning, emotional regulation and also harm emotional bonds between parents and children," said Patton. "They see the link between early child development and outcomes later on in life.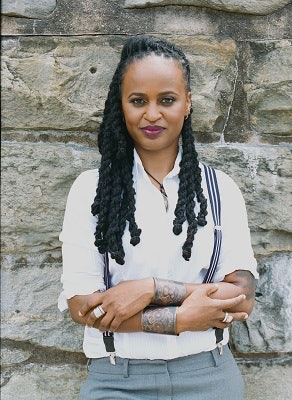 "I've never been to a book launch party where children were central, so I purposely invited children to attend," she added. "It was pitch perfect because when we have conversations about corporal punishment in this country, it's usually adults talking."
During the Q&A portion, a 4-year-old stepped up to the microphone to ask the first question.
Patton's first book, That Mean Old Yesterday, was a memoir about her experiences as an adoptee, child abuse survivor and former foster youth. In her work as an award-winning author, journalist and child advocate, she has focused on the detriments of spanking, particularly when it comes to African-American children. She has tried to build a movement to change the culture of Black family violence, often facing backlash from both Black and White people.
The book utilizes an interdisciplinary approach, uncovering the historical roots of the issue and looking at the cultural unpinning as well as how and why it is reinforced. For the past 10 years, Patton has traveled around the country leading workshops with child welfare professionals, juvenile justice professionals, clergy, doctors, and community groups.
In addition to interviews for the book, Patton gathered information from people who've accessed her website SparetheKids.com, an online anti-spanking portal. The website features videos from families who've taken the pledge to stop using hitting as punishment. "I will no longer hit you in fear or frustration because I know this can harm your physical, intellectual and psychological wellbeing, and damage our relationship," it read in part.
At Morgan State, which is a historically Black college, Patton said students have spoken openly in the classroom about their experiences.
"Just from my interactions with students, I can see ways in which their critical-thinking skills have been harmed by how they were treated as children — stunted vocabulary, emotional regulation issues sometimes. They're afraid to speak up because they grew up in households where they were told to shut up, don't question. They grew up in households where their parents parented with fear," said Patton.
"That kind of rigid socialization impacts young people's critical-thinking skills and their development, how they see themselves and their confidence," she added. "I teach students how to communicate through writing, speaking, sitting in front of a camera to do things like vlogging. They wrestle with confidence sometimes and the idea that people won't listen to them. You see symptoms of the injury and harm that has been done when they get to the college level."
She gets 16 weeks in a course to awaken her students and reverse some of the damage as students get permission to embrace their voices and ideals. Students often come in lacking confidence, even so far as shying away from eye contact. By the end of the course, their demeanor and voices change.
"At the root of all this are their childhood experiences," Patton said. "I create an atmosphere that doesn't traumatize them intellectually, spiritually and emotionally, that doesn't make them feel devalued."
As a scholar, she said it's important to produce work that resonates with communities outside of academia. With this book, Patton admitted she's broken some scholarly rules, particularly in her interdisciplinary approach, in the hopes of helping build the next generation of scholars.
"This is a book that can be used by folks in anthropology, social work, history, Black studies, or women and gender studies," she said. "This is an example of how scholars can do work that appeals to a broader public even if it's controversial."
Patton also believes in using social media, documenting the research process for Spare the Kids on Twitter and Facebook. She shared bits of the research using the hashtag #SparetheKids, which generated conversation among scholars, journalists and parents.
In the courses she teaches, such as media literacy, multimedia storytelling, digital journalism and global communications, in addition to technical skills like how to operate a camera, she discusses issues of race and what it means as a journalist to write about race. Media depictions are powerful and questioning is crucial.
"Children are an easier target to strike at than the actual system that's oppressing folks," Patton said. "I push students to look deeper. … I also show a counter-narrative to the mainstream images and narratives of Black people."
"I bring folks back to the data; it's a public health issue," said Patton. "Although I focus intently on African-American kids and the cultural specificity of the problem, I need everybody to stop hitting their kids. This is a conversation the entire country should be engaged in."