Two leading Democratic Black lawmakers on Monday slammed President Donald J. Trump's attempt to walk back his previous comments questioning the constitutionality of a program that helps support HBCUs.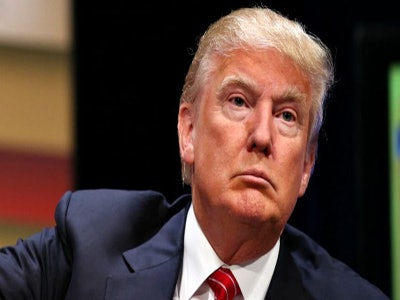 U.S. Rep. Cedric Richmond, (D-Louisiana), chairman of the Congressional Black Caucus, and U.S. Rep. John Conyers, Jr., (D-Michigan), ranking member of the House judiciary committee, called Trump's later declaration of his "unwavering support" for HBCUs insincere.
"Based on President Trump's record on HBCUs, we think it's safe to say that he meant what he said on Friday and that last night's statement, much like the HBCU executive order, meeting, and photo, are just PR (public relations)," the two House members said Monday in a joint statement.
The Friday statement the two lawmakers referenced is one in which Trump questioned the constitutionality of several programs that the White House stated "allocate benefits on the basis of race, ethnicity, and gender," including the Historically Black College and University Capital Financing Program Account, which provides low-cost loans to HBCUs. HBCUs, in fact, do not discriminate on the basis of race and are open to all students regardless of race or ethnicity.
President Trump issued a follow-up statement Sunday night that stated his intention to spend funds appropriated through the Consolidated Appropriations Act of 2017 in a manner consistent with the constitution "does not affect my unwavering support for HBCUs and their critical educational missions."
In their critique of that second Trump statement, Richmond and Conyers also took aim at a February meeting that Trump held with HBCU presidents in the Oval Office — a meeting derisively referred to as a photo-op by some critics — and an executive order in which President Trump extolled the "extraordinary contributions" that HBCUs make to the general welfare and prosperity of the nation.
Richmond and Conyers said the executive order "moves the HBCU initiative into the White House but does little else." They also criticized Trump's pending budget proposal to "give HBCUs the same amount of funding they received last year, even though their operational costs are increasing."
Their statement continued, "Sadly and shamefully, HBCUs, including the schools that President Trump met with, are left to wonder whether he wants to help or hurt them."
While Richmond and Conyers lambasted President Trump's dealings with HBCUs, some leaders of organizations that represent HBCUs said they were grateful that President Trump issued a clarifying statement and expressed their desire to continue to work with the administration.
Johnny C. Taylor, Jr., president and CEO of the Thurgood Marshall College Fund, a nonprofit that represents publicly funded HBCUs, declined to inject his organization into what he called the "back and forth" between the Congressional Black Caucus and President Trump.
"The Black college community needs broad-based support," Taylor said. "We encourage the CBC, the HBCU Bipartisan Caucus, the 115th Congress and the Trump Administration to talk with and to one another as we explore ways to improve support for our iconic institutions."
Taylor also rejected the notion that the February gathering of HBCU presidents in the Oval Office was a "photo op."
"Ultimately, it proved a critical opportunity to introduce and educate the new Administration to the historical and current significance of HBCUs," Taylor said. "No one can credibly argue against the fact that HBCUs have had a heightened level of visibility since the Administration was sworn in. We are now working to turn the visibility into tangible results for our students and schools."
Lezli Baskerville, president of the National Association for Equal Opportunity in Higher Education, or NAFEO, an umbrella group for HBCUs, also said she appreciates the clarification by President Trump.
"We are pleased that President Trump underscored his unfaltering commitment to investing in HBCUs' mission-based, equal educational opportunity institutions," Baskerville said.
The situation represents at least the second time in recent history that the Trump administration has issued a clarifying statement regarding its understanding of HBCUs. U.S. Secretary of Education Betsy DeVos earlier this year referred to HBCUs as "pioneers of school choice," oblivious to the fact that HBCUs came about at a time when Blacks were generally denied entry into White institutions. DeVos later stated that HBCUs originated "not out of mere choice, but out of necessity, in the face of racism, and in the aftermath of the Civil War."
In his follow-up statement Sunday, President Trump noted that DeVos is scheduled to deliver the commencement address at Bethune-Cookman University on Wednesday.
"Secretary DeVos chose an HBCU as the venue for her first commencement address to demonstrate my Administration's dedication to these great institutions of higher learning," Trump said.
While a contingent of critics have opposed DeVos' planned speech at Bethune-Cookman, arguing that she "has no understanding of the importance, contributions and significance of HBCUs," Baskerville, of NAFEO, said that DeVos' selection of an HBCU for her inaugural commencement address is no light matter.
"The selection of one of the 106 mission-based American colleges and universities known as HBCUs for her inaugural commencement address is an important indication that this Administration understands the centrality of HBCUs to the realization of many of its priority goals including its education, workforce, economic stimulus, urban and rural revitalization, and infrastructure development goals," Baskerville said.
A statement from the United Negro College Fund did not mention Richmond and Conyers' critique of Trump but focused instead on the importance of the HBCU Capital Financing Program.
"We expect the U.S. Department of Education to issue approximately $267 million in HBCU loans in FY17, as the Department projected last year," the statement said. "UNCF will look for the prompt implementation of the HBCU Capital Financing Program, as well as the immediate release of Title III funds in the FY 2017 Appropriations Act that provide operating support to all HBCUs."
In his secondary statement, Trump also indicated that he is looking forward to selecting an Executive Director and Board for the White House Initiative on HBCUs and "continuing this important work with HBCUs throughout the nation."
One knowledgeable source suggested that chances are increasingly good that the person selected for that White House post will be announced prior to an upcoming event at the right-leaning American Enterprise Institute titled "Historically Black Colleges and Universities and the Road Ahead."
Jamaal Abdul-Alim can be reached at jabdul-alim@diverseeducation.com or follow him on Twitter @dcwriter360.