Johnny C. Taylor, Jr., is stepping down after seven years as president and CEO of the Thurgood Marshall College Fund, the venerable national representative of publicly-supported historically Black colleges and universities.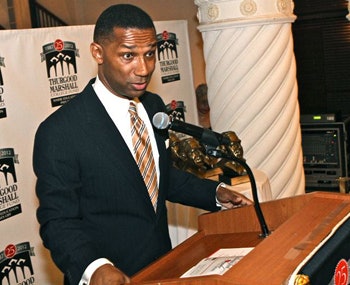 Taylor, who will continue to lead TMCF until November, has been named president and CEO of the Society for Human Resources Management (SHRM). The Alexandria, Va.-based SHRM is the world's largest advocacy organization for human resources professional personnel and Taylor previously served as chair of its board in 2005 and 2006.
"Johnny Taylor is a visionary leader and accomplished HR strategist who is committed to the continued advancement of the profession, and the board of directors looks forward to working with him," SHRM Board Chair Coretha M. Rushing said in a statement.
Taylor succeeds Henry G. (Hank) Jackson, who in January announced his retirement for the end of the year after 12 years at SHRM.
TMCF, whose member institutions represent 80 percent of students attending HBCUs, will celebrate the 30th anniversary of its founding later this year. It has indicated preparations are underway to select its new chief executive.