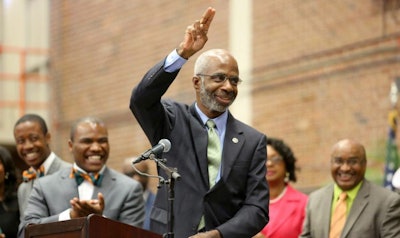 Within days of being appointed president of Florida A&M University, Dr. Larry Robinson has become embroiled in a dispute involving one of his vice presidents, several members of the board of trustees and shocking comments reportedly made into an open mic and broadcast live by the campus radio station.
The Tallahassee Democrat reported Sunday that George Cotton Sr., vice president for university advancement and director of the FAMU Foundation, has filed an official complaint with the university's division of audit and compliance regarding derogatory comments between Robinson and board member Thomas Dortch that were heard on WANM radio.
The remarks were picked up on a live mic after a Nov. 29 board of trustees committee meeting. According to individuals who heard the conversation, Robinson allegedly said he planned to fire Cotton. Listeners also heard negative remarks about Cotton's personality and productivity.
When reached by Diverse on Monday, Cotton said his attorney had advised him not to be interviewed. He also declined to provide a copy of the complaint materials to Diverse. However, he did confirm the accuracy of the documents as they were published by the newspaper—a letter from Cotton to President Robinson outlining his concerns and an official complaint sent to Richard Givens, vice president for audit and compliance, detailing alleged improprieties by three board members.
"I can verify that what was published is valid and does accurately represent my complaint," Cotton told Diverse. He also said he could confirm that "numerous people, untold numbers of people" heard the radio broadcast including staffers in his office, and that three people came to him and stated that they heard Robinson say he planned to terminate him. Cotton, himself, did not hear the broadcast.
Givens said Cotton's complaint, received in his office on Dec. 1, has been forwarded to the State University System of Florida Board of Governors (BOG).
"We referred it to the BOG and discussed it with them because we report directly to the (university's) board of trustees and the president, so we are not independent," Givens told Diverse. "They're evaluating the information to determine what the next steps would be."
In Cotton's complaint, he asserts that President Robinson and Trustee Dortch "did defame and slander me through words delivered over public radio, as their comments were inadvertently picked up on a 'live mic' following my presentation to the FAMU Board of Trustees on Wednesday, November 29, 2017."
Cotton contends in the complaint that the hot mic conversation stemmed from efforts by Dortch and two other board members – Robert Moody and Chairman Kelvin Lawson—to retaliate against him for refusing to hire or grant contracts to their friends and business associates.
Cotton stated in the documents obtained by the Democrat, that Dortch, Woody and Lawson, "in their capacity as trustees, did seek to conspire to force Larry Robinson, in his capacity as President, to remove me as Vice President for University Advancement, without cause." Cotton contends the reason is because he refused to agree to their demands and challenged their conduct.
Diverse made numerous attempts to obtain responses from the president and board members through the university's communications office and through direct email and phone messages, which were not returned.
Cotton's complaint was filed in the office of audit and compliance one day after Robinson was appointed president, after serving in the interim position since September 2016.
Robinson held town hall meetings for most of the day Monday, separately with faculty, staff and administrators. A professor who attended the faculty session said the subject of Cotton's complaint and the news reports did not come up.
Editor's Note: A spokeswoman for the university sent the following statement after deadline.
"On November 29, 2017, the University received reports that a microphone was inadvertently left on after a Florida A&M University Board of Trustees Committee meeting was adjourned. A complaint was submitted to the University on Friday, December 1, 2017. FAMU takes all allegations of improprieties seriously, and the matter has been referred to all appropriate parties to be investigated. Statutorily, the University cannot comment on an active investigation. We look forward to having an opportunity to discuss these matters at the appropriate time after the investigation is completed."