Among the several political races in Tuesday's election across the nation, one stands out because of its historic and symbolic nature.
Lt. Gov.-elect Justin Fairfax was victorious, becoming the second African American politician in Virginia's history to be elected to a statewide position.
"I am so grateful for this opportunity," Fairfax said to a crowd of supporters at a victory party at George Mason University. "We are changing the course of history in this commonwealth."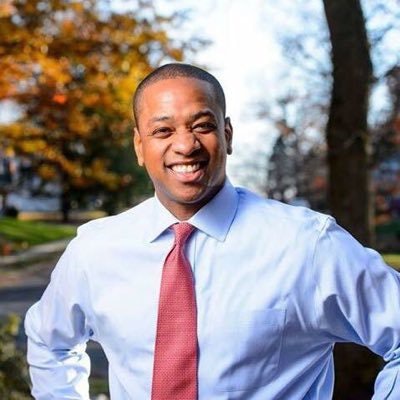 Last week, former Gov. L. Douglas Wilder—the first African American to be elected to a statewide position and the first Black governor elected since Reconstruction–endorsed Fairfax but declined to support gubernatorial candidate Ralph Northam or attorney general candidate Mark Herring in the waning days of the campaign.
Northam and Herring also cruised to victory on Tuesday.
"I think Justin Fairfax is as qualified a candidate as you would have running for lieutenant governor, and has been for a long time," Wilder said at a forum at Virginia Commonwealth University before he threw his support behind the 38-year-old lawyer.
Wilder's election in 1989, was seen as a major breakthrough for African American politicians. Reverend Jesse L. Jackson's 1988 presidential run was believed to be responsible—at least in part—for the wave of Black politicians elected to office, including Mayor David N. Dinkins in New York in 1989. Wilder would later go on to serve as mayor of Richmond from 2005 to 2009.
Wilder and others were angry over the removal of Fairfax's name and image from fliers following pressure from the Laborers' International Union of North America. The organization requested that Northam's campaign not include Fairfax in this literature after Fairfax had declined to stand with the organization in supporting proposals for two natural gas pipelines that would run through Virginia. Wilder said last week that Fairfax has "not been dealt a good hand."
Dr. Khalilah L. Brown-Dean, an associate professor of political science at Quinnipiac University, said Wilder's statements marked a significant moment in Virginia's election.
"The decision by former Gov. Doug Wilder to intentionally endorse Fairfax without endorsing Gov.-elect Ralph Northam is a powerful signal to the party that it cannot continue to take communities of color for granted," she said.
A graduate of Duke University and Columbia Law School, Fairfax has experience working as a campaign staffer as well as a federal prosecutor. In 2013, he ran for state attorney general but lost to Mark Herring, who won re-election on Tuesday.
Fairfax's platform included a $15 minimum wage, mitigation of student loan debt and more investment in state infrastructure. He has also advocated for renewable energy and current Gov. Terry McAuliffe's Virginia Clean Power Plan to reduce greenhouse gases.
Fairfax will continue working at the Northern Virginia law firm Venable LLP since the lieutenant governor position in Virginia is a part-time job that pays $36,000 per year. Fairfax will preside over the state senate, which currently holds a 21-19 Republican majority. A recount is being held in four races, and the outcome will determine control of the legislature. Either way, his position will allow him to influence the 2020 Census and subsequent redistricting in the state.
Despite Fairfax's momentous victory, Brown-Dean said the Democratic Party's work is not done yet.
"At just 38 years old, Fairfax speaks to the millennial angst that has been an ever-present force since Election 2016," she said. She added that the decision to leave Fairfax off the fliers ran counter to the need for "building a deep bench" and consolidating the Democratic Party. "That's the direction the party needs to go."
Joseph Hong can be reached at jhong@diverseeducation.com