Thurgood Marshall College Fund announced on Monday the addition of two new members to its Board of Directors.
Phyllis Harris and Gail Thomas both come from the private sector where they have led departments at Wal-Mart Stores, Inc. and Microsoft, respectively, and have done work aligned with the TMCF mission of supporting HBCUs.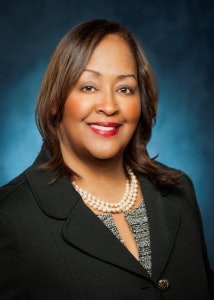 "For more than 10 years, Wal-Mart has been supporting TMCF and its commitment to academic achievement and success for students at Historically Black Colleges and Universities," Harris said in a statement. "I look forward to continuing to support this important mission and goal of furthering higher education dreams and aspirations of so many."
Harris is the current senior vice president and general counsel of Legal Operations at Walmart Stores. Her work at the corporation ranges from data and analytics to diversity and inclusion programs. Harris has also held long-term positions at the EPA and the Office of Enforcement of Compliance Assurance in Washington D.C.
Thomas, as vice president of US Public Sector at Microsoft, supervises sales teams that work with government and education clients. She explained in a statement that, for more than a decade, Microsoft has invested in HBCUs through the TMCF-MS Software Grants and the TMCF Technology Initiative.
"Every year we continue to be impressed by the talented set of students entering [the] job market via TMCF's programs—several of which we're fortunate to have join Microsoft as employees," Thomas added in the statement. "I'm incredibly excited to continue on with our mission of empowering students and TMCF member-schools."
Prior to her current position, Thomas served as a regional vice president at Microsoft and as a board member for the California Chamber of Commerce.
Outgoing TMCF President and CEO Johnny C. Taylor Jr. said in a statement that he expects Harris and Thomas's experience in the corporate world will make significant contributions to designing the Fund's "long-term strategic direction and value proposition."
"TMCF's extraordinary success is due, in part, to having a Board of Directors comprised of senior executive leaders from America's most successful, transformative companies," he said.
Joseph Hong can be reached at jhong@diverseeducation.com