Dr. Robert Patterson's passion for education began early. As a young child, he carried a clipboard and wore glasses, as if he were already teaching a classroom.
"From Pre-K through 5, I went to Martin Luther King Jr. Elementary School in Hartford, Connecticut, which was predominantly Black," he says. "I lived in a predominately Black neighborhood, and all of my social interactions and institutions were majority Black."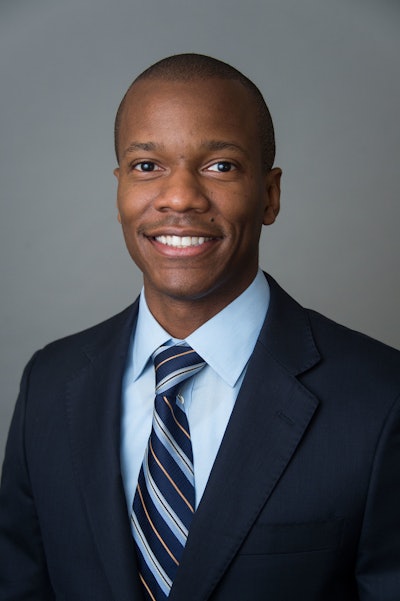 When Patterson entered sixth grade, he participated in the Project Concern program, which is now called the Capital Region Educational Council.
"There was this passive acknowledgement that perhaps the schools in Hartford did not have the resources to provide said educational opportunities that I would get at another school," says Patterson. "But instead of trying to transform that school system, you take a handful of students, disperse them to other school systems, so that the central problem — which is the educational disparities — stay intact. But for a set of circumstances and luck, I might not have had that narrative."
This realization led him to write a term paper on school choice during his junior year in high school.
"I do think it has its advantages, but clearly school choice obfuscates the need to address structural inequalities that [are] rooted along racial and economic lines," he says.
Patterson is now entering his second year as the inaugural chair of the Department of African American Studies at his alma mater, Georgetown University.
The department came into fruition due to national events centered on race, student agitation and Georgetown's increasingly more public relationship to the institution of slavery, he says.
For three years, Patterson served as director of an interdisciplinary program that developed into the department he now chairs.
His educational journey is marked by a deeply rooted desire to cultivate conversations and heighten people's awareness of issues surrounding African-Americans.
Initially, he wanted to get his six-year Educational Leadership Certificate, become the principal of a public school and ultimately become the superintendent of a school district.
Upon graduating from high school, he began his studies at Georgetown University, after considering the University of Pennsylvania.
"Georgetown did not have a school of education, and the University of Pennsylvania did," he says. "But, I decided after some consultation with a couple of high school teachers and thinking about the long-term implications of what this decision would be that I did not have to go through a school of education, and I actually did not want a degree in education. I would prefer to have the content area and then if I later wanted to get a certification in teaching, I could do that, rather than being an expert in teaching."
At the time, Georgetown did not offer a major nor minor in African-American studies, a topic that Patterson was interested in, so he took every course that was tangentially related to African-American studies.
"If you were to take a look at my transcript, you would see … it might be philosophy, it might be race, class and gender," he says. "You might see a sociology course; race and gender or something of the sort. Then African-American literature and slavery and the literary imagination. I constructed all these courses that gave me an essence of training in African-American studies as an undergraduate."
After completing his bachelor's degree, Patterson attended Emory University in pursuit of his PhD. Continuing at Emory was a choice that was ultimately decided by the strength of the program and the scholars that he wanted work with, including Dr. Michael Awkward, Patterson's dissertation advisor.
"They were in the process of recruiting him and the opportunity to work with including Dr. Michael Awkward was no small opportunity," shares Patterson.
At Emory, Patterson received a pre-doctoral fellowship from the National Academy of Sciences through the Ford Foundation, which helps increase faculty diversity in the professoriate. He was also an Emory Minority Graduate Fellow.
A larger goal of Patterson's is to increase Black faculty representation, not only in the classroom, but also, he says, "in producing knowledge in the African-American studies, broadly conceptualized, that will reframe the possibilities for the Black experience, Black politics, etc."
Patterson's goals for the Department of African American Studies include establishing clear policies and procedures as well as expectations and responsibilities for the faculty. Another goal is to provide programming opportunities that specifically intersect with the current faculty members' research interests.
Patterson says he also plans to execute the mission of the department with precision, accuracy and innovation and with great attention to the intellectual history and trajectory of African American studies as an inter-discipline.
An author of many articles, essays and books, Patterson is currently finishing a book titled, Destructive Desires: Rhythm and Blues Culture and the Politics of Racial Equality.
"When I'm thinking about the narrative arc of my scholarship, I think that its legacy will be to have a clearer understanding of the complexity of Black identity as it intersects with categories such as gender, class, sexuality and how that better understanding of Blackness' complexity can then in turn help us to think of Black political interest as being varied — sometimes competing, sometimes conflicting," he says.