Tuskegee University will introduce an African-American studies minor this fall.
The new program will be a collaboration between the university's Robert R. Taylor School of Architecture and Construction Science and the Department of History and Political Science in the College of Arts and Sciences. Funded by a $100,000 grant from the National Endowment for the Humanities awarded the Alabama HBCU to develop curriculum and faculty, the program will bridge disciplinary boundaries between the humanities and architecture.
"The integration of architecture, arts and humanities offerings is important because it aims to enhance exploring ways of thinking, researching, and writing about the diverse experiences of African-Americans and human culture in the South," said Dr. Carla Jackson Bell, the Tuskegee dean who spearheaded creation of the minor. "It is also important to provide a more focused historical perspective for students' current educational and professional trajectories."
The minor will require 15 credit hours and focus on the city of Tuskegee's architectural history, blending studies in architecture, education and philosophy. The idea for the curriculum developed, Bell said, as she and her students became curious about the social constructs surrounding the study and practice of architecture. During her 25 years teaching at Tuskegee, which was founded in 1881 by Booker T. Washington, she struggled to find information about Tuskegee's architects after the Civil War.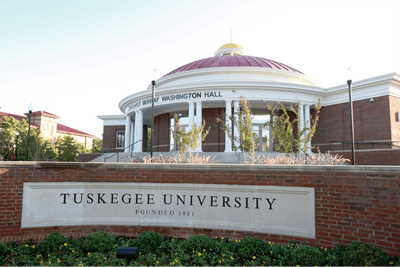 "We were also curious about the African-American students who were directly affected, positively and negatively, by the educational practices of Booker T. Washington and what life was like for women who could not study such male-dominated fields as architecture and construction at the Tuskegee Normal and Industrial Institute," she said, referring to the university's original name.
Dr. Lisa Bratton, an assistant professor of history who is assisting in curriculum development, said students will examine the unique histories embedded in the physical space of the university. Tuskegee is the only university in the country to have the National Park Service on campus to manage its various historical sites, including Washington's former home and structures built by former slaves who were Tuskegee's first students, Bratton said.
"It was a university you could attend after enslavement and work for tuition," she said. "I'm excited about the natural marriage between architecture and African-American history."
She hopes the minor can be eventually expanded into a major and a graduate program.
"I'm excited about opportunities for students who not only learn a science but also learn the culture behind the science," said Bratton. "We want our students to be able to tell their own history."
Joseph Hong can be reached at jhong@diverseeducation.com. You can follow him on Twitter @jjshong5.