Paul Quinn College's vision to eradicate poverty through access to quality education and jobs, secure housing and reduced student loan burden, is moving forward with the expansion of its Urban Work College Model to Plano, Texas.
Announced Wednesday, PQC-Plano marks the first site location the school's Urban Work College Network. The site will place students in apartments and allow them to learn from and work with regional corporate partners beginning in the 2018-19 academic year.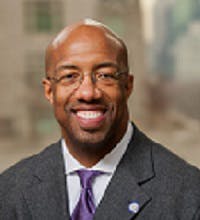 By foregoing a traditional campus, PQC reduces campus maintenance costs, allowing savings to be given back to students, leaders said. Since the implementation of the Urban Work College Model in 2017,  students have been able to graduate with less than $10,000 in debt, according to college officials.
"Our goal is to remake higher education from the bottom up" for those students most in need, said PQC president Dr. Michael J. Sorrell  in an interview with Diverse. "We are aggressively pursuing a world where our vision for higher education becomes the norm, where colleges are challenged to do more for their students and for their communities than they've ever done before."
PQC students, Plano community members and the school's Corporate Work Program partners joined Sorrell for a live announcement about the expansion on Wednesday.
"Beginning this school year, as in right now, PQC students will live, work and take classes here in Plano," Sorrell said to applause.
Plano mayor Harry A. LaRosiliere cited the creation of PQC-Plano as "synergy done well" and as a reminder of Plano's "excellence" in transforming the lives of people in the community.
"We are proactive and embrace the culture of collaboration in Plano," LaRosiliere said. "We lean in when we see there is a positive difference we can make."
Through the Corporate Work Program, PQC-Plano students will be able to receive paid internships and gain experiential-based learning with Plano foundational partners NTT DATA, Liberty Mutual, Ampex Brands, FedEx, J.C. Penney, JPMorgan Chase, Aimbridge Hospitality and McDonald's.
Corporate partners will pay Paul Quinn College $8,500 for each student who interns with them. Sorrell said $7,000 will go directly to the student – $5,000 for tuition and fees, and $2,000 for living expenses – and the other $1,500 will go toward the school's overhead.
The hybrid academic-work model employed by PQC attempts to address the question of how to build intergenerational wealth for students, said Dr. Chris Dowdy, vice president of academic affairs at PQC.
"Our student population is 80 to 90 percent Pell grant recipients – 70 percent of those are zero estimated family contribution," he said. "You don't get to numbers like that unless you have a long-term dysfunctional relationship with wealth and a matter of income."
Now, the Urban Work College Model will "make access to wealth-building possible" and give students a network of people who understand their needs, Dowdy said.
"We use the classroom space as a community of practice to help students raise their questions in a safe area where they can be wrong, they can propose new ideas and they can inquire about other series of organizational values that will allow them to make their own original contributions either to those corporations or to businesses of their own," he added.
PQC leaders plan to have 40 to 50 job placements for PQC-Plano students for this inaugural year while the school continues to build to full capacity. Faculty at Paul Quinn's home campus will rotate to teach in Plano, with opportunities for others in Plano to teach in adjunct roles, Sorrell said.
The announcement of PQC-Plano complements Paul Quinn College's enhanced academic experience for students.
As an urban work college, students receive "reality-based education," or experiential learning. Curriculum across the school also requires students to work collaboratively in groups to solve real-world problems, hone their digital mastery competencies and practice speaking, writing and critical thinking and reasoning through papers and other assignments.
First- and second-year students stay on campus year-round, allowing them to complete courses faster and potentially graduate in roughly three and a half years, Sorrell said. He added that PQC leaders have clear outlines and expectations for students each year.
"You have this transformational academic experience, which gives you a competitive advantage in the marketplace," Sorrell said.
In the live announcement, Sorrell said the creation of PQC-Plano was made possible through a visionary and forward-thinking board, "extraordinarily generous" corporate partners, hardworking staff and Plano's mayor, a "rare soul."
Paul Quinn College is not interested in being a traditional institution of higher education, Sorrell said.
"We've adopted the mentality that we make our decisions and we make our moves with greater speed and greater urgency because the population that we are serving doesn't have the luxury of time," he added. "If you spend your life in poverty, the last thing you need are people who purport to care about you acting like it can take a decade to fix the issues. We don't believe in that."
Tiffany Pennamon can be reached at tpennamon@diverseeducation.com. You can follow her on Twitter @tiffanypennamon.