The "idea of materiality" intrigues Dr. Whitney Battle-Baptiste as do current issues of race, gender and class. As an associate professor of anthropology at the University of Massachusetts Amherst, Battle-Baptiste combines these interests, describing herself as "a contemporary archaeologist."
While much of her earlier research centered on African-Americans' living quarters in the 18th and 19th centuries, her current focus involves events, people and objects associated with some of today's most critical social issues.
"My academic training is in history and historical archaeology, and my research is primarily focused on how the intersection of race, gender, class, and sexuality look through an archaeological lens," she explains in her personal bio. "I see myself as a scholar and activist who views the classroom and the university as a space to engage contemporary issues with a sensibility of the past."
Battle-Baptiste was exposed to history growing up in the Bronx because her mother was a high school history teacher in Uniondale on Long Island. She planned to follow suit when she entered Virginia State University, an HBCU in Petersburg, as an undergrad. However, academia can thank some lively public school students for guiding Battle-Baptiste into its hallowed halls.
"Teaching history in Petersburg public schools was – well – it was just more than I was ready to handle," she recalls, adding that her role extended far beyond that of a teacher. "I was counselor, I was parent, and it was a financially and economically struggling area."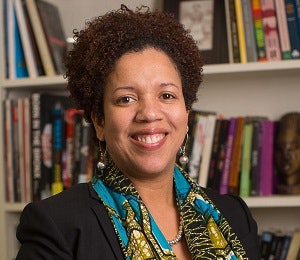 That experience led her to consider other options. "I was either joining the Peace Corps or going to graduate school." A career fair helped her decide to attend The College of William and Mary, where she earned her master's degree in history, and where she discovered the world of archaeology.
During a summer internship she worked with several African-American women who were archaeologists. "I was struck by the fact that there was a material aspect to my task — artifacts." She says she began to realize through that experience "if people are being written about, archaeology can be used not only to fill the gaps, but to create alternative stories and histories. I was immediately intrigued and swayed by it."
So Battle-Baptiste pursued her Ph.D. at the University of Texas at Austin in the African Diaspora program in anthropology with a focus on the archaeology of gender and race.
Her 2004 dissertation, "A Yard to Sweep: Race, Gender and the Enslaved Landscape," examined gender power dynamics in captive African domestic spaces, based on her research at The Hermitage, Andrew Jackson's plantation in Tennessee. She discussed activities such as the "purposeful strokes" of the elder women sweeping the area as a form of resistance and power over their own landscape.
Her first book, Black Feminist Archaeology (Left Coast Press, 2011), outlines the basic tenets of Black feminist thought and research for archaeologists and discusses how those tenets can be used in contemporary studies. "My hopes were that the book could be read by people other than just archaeologists," she says.
Battle-Baptiste also participated in a project on The Millars Plantation on the island of Eleuthera in the Bahamas, about which she wrote, "[It] provided the research team an opportunity to explore, through oral history and small-scale memory mapping, a concentrated view of how the plantation landscape operated as a site of captivity, then a site of survival, and ultimately a space of ancestral connection between people, history, landscapes, and contemporary tourism."
"Just digging up sites for digging's sake, to me, has been part of the problem," she says.
In recent years, Battle-Baptiste, who serves as director of the W. E. B. Du Bois Center at UMass Amherst, has turned her attention to recurring incidents of social injustice. She's working on an article "about the materiality around the Sandra Bland movement," she says. "For example, the material found in the jail. She allegedly hung herself with a plastic garbage bag. To me the bag and other items that were found in her jail cell after her death bring up more questions than answers."
Battle-Baptiste invokes these incidents and the publicity surrounding them during speaking engagements before young audiences. "When I'm talking about archaeology and understanding material culture, I use events such as Trayvon Martin's death," she explains. "How did we look at a hoodie after his death? The hoodie became a symbol to the community of racial injustice because the material, the hoodie, is what the conflict was blamed on, but it was actually about him being a Black man."
Going forward, Battle-Baptiste would like to see archaeology "become part of the larger conversation in Black studies, Africana studies and gender studies, and I want it to be a resource not only for scholars but for the public at large."
This article appeared in the February 7, 2019 edition of Diverse.