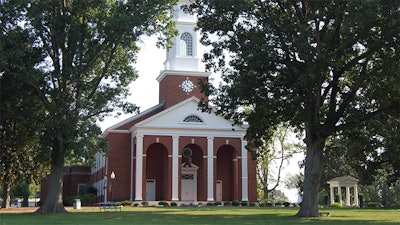 The Southern Association of Colleges and Schools Commission on Colleges (SACSCOC) has affirmed the agency's December decision to terminate the accreditation of Bennett College, a historically Black college in Greensboro, N.C.
But the long drama is far from over.
Bennett president Dr. Phyllis Worthy Dawkins and Board of Trustees Chair Dr. Gladys Ashe Robinson announced in an evening news conference Friday that the 146-year-old institution had filed a federal lawsuit against SACSCOC and won a temporary restraining order that  restores Bennett's accreditation for  the duration of the legal proceedings.
Dawkins said the "negative" decision by SACSCOC will not interrupt the daily operations of the college, and that upwards of $9 million fundraised will be used to support Bennett's long-term success. In addition, college leaders have made progress seeking accreditation with the Transnational Association of Christian Colleges and Schools (TRACS), with a site visit scheduled for March 14, Dawkins said.
"Despite the college's unprecedented success with its #StandWithBennett campaign, the appeals committee submitted an adverse and unfair ruling," Dawkins said.  "Our fight continues. The accreditation process can be slow and even disappointing at times. We are also so thankful to the Bennett College family, the board of trustees, Bennett alumnae and our friends and neighbors for their continued support of this great institution."
She added: "We will continue to educate our young women to become analytical thinkers, effective communicators and phenomenal leaders."
News of SACSCOC's denial of Bennett's accreditation appeal spread quickly after the agency released an update on the appeal Friday.
"The Appeals Committee found the SACSCOC Board of Trustees' decision to be reasonable, not arbitrary, and based on the standards cited," the accreditor said in a news release. "Specifically, the Appeals Committee found the Board's decision reflected a reasonable application of the Principles of Accreditation: Foundations for Quality Enhancement, which clearly included the use of appropriate professional judgment of evaluators representing SACSCOC in the assessment of compliance with the following standard of the Principles of Accreditation: Core Requirement 13.1 (Financial resources)."
Dr. Belle S. Wheelan, president of SACSCOC, told Diverse that, as of Monday, Bennett had lost its accreditation with the agency until entering into Friday's lawsuit. Although the appeals committee considered the money Bennett raised in about two months, there were doubts that the college could financially support its long-term sustainability, she said.
Failure to maintain accreditation virtually guarantees the closure of a school.
Bennett appealed the accreditor's December decision and, to address the financial issue, set a goal to raise $5 million by this month through a #StandWithBennett campaign. The all-women's school reported Feb. 4 that it had raised more than $8.2 million, with donations flowing in from individuals, organizations, churches, and schools across the nation. That total had risen to over $9.5 million Friday, college leaders announced at the press conference.
But that wasn't enough to win over the appeals committee, which in Friday's news release said it "examined additional financial information provided by the institution which was submitted in accord with the 'Appeals Procedures of the College Delegate Assembly' policy that allows an institution removed from accreditation solely on the basis of finances to produce new, verifiable financial information made available since the adverse action was taken and that is material to the reason for the adverse action."
"The Appeals Committee found that Bennett College had 'failed to show that the institution possesses resources demonstrating a stable financial base to support the mission and scope of programs and services.' Consequently, the Committee affirmed the action taken by the SACSCOC Board of Trustees to remove the institution from accreditation effective as of the date of the appeal's decision."
Students and their parents, concerned with the latest accreditation report, questioned if their degrees would still be valid and some have brought up the possibility of transferring.
"We need them to stay with us," Dawkins urged. "Because we are accredited, everything stays in place."
More than 300 people watched the news conference via livestream, and live chat suggested that many were dismayed that the college – which learned of the denied appeal Monday – had not told students and parents sooner.
Darris Adkins of Nashville, a former vice president of Bennett's Parents Association whose daughter Taylor is a sophomore, watched with relief and concern.
"My takeaway is that as a parent, it is sad because not only are we investing our time, we are investing our dollars because we are sending our daughters to school," he said. "It's heartbreaking to know that your child's education and career could be impacted because of this accreditation issue."
Adkins, a business executive and entrepreneur, wasn't pleased to learn that some news media were on campus questioning students about the accreditor's decision before administrators revealed the news.
"They had a plan," he said, but "we probably could have executed it better."
Adkins said his daughter, a business major minoring in international affairs, attended the meeting for students earlier Friday. She had not heard of Bennett when she began visiting prospective colleges up and down the eastern seaboard, but when she visited she "fell in love," he said.
With more than one child attending an HBCU, Adkins said he's concerned about the viability of HBCUs in general. But they're not giving up on Bennett.
"I know I speak for a lot of parents," he said, and "the parents are behind Bennett. We still stand with Bennett and are asking for change, whatever the change may be."
High Point University president Dr. Nido Qubein issued a statement affirming his institution's support for Bennett.
"We are saddened to hear the news about Bennett College and don't have access to the specifics of the accreditation decision," Qubein said. "HPU and I worked diligently to assist and support our neighborhood sister school that is also associated with the United Methodist Church as we are. We have no regret about stepping up and stepping out to partner with Bennett in their fundraising campaign. HPU is a God, family and country school and being helpful is what we do whenever we can."
The United Negro College Fund said it would continue to #StandWithBennett.
"We are working to understand the decision released by the Southern Association of Colleges and Schools Commission on Colleges as it relates to Bennett College's accreditation," the statement said. "However, in the interim, we have unequivocal support for Dr. Phyllis Worthy Dawkins, students and the entire Bennett College community."
Meanwhile, supporters, educators, students and others took to social media to express their dismay early Friday.
"A very sad day for higher education. #StandWithBennett," Dr. Crystal Sanders, associate professor of African American Studies and History and director of the Africana Research Center at Penn State University, shared on Twitter.
Others said they were heartbroken.
"Praying for all the Belles of Bennett College," another user posted. "This is truly devastating for the entire African American community, particularly Guilford County. Bennett has been an institution of excellence in the Guilford community for years."
Dawkins and other Bennett leaders urged supporters to "keep the faith" and know that Bennett is standing strong.
"Please join us in remaining steadfast to our commitment to stand with Bennett," she said.