The Thurgood Marshall College Fund (TMCF) has recently partnered with Oak Ridge Associated Universities (ORAU) to further student and faculty opportunities in STEM research at historically Black colleges and universities (HBCUs).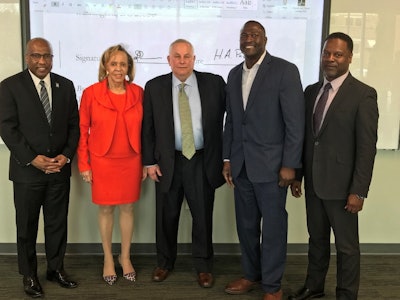 This partnership, which officially began with the signing of a memorandum of understand on March 29, will strive to provide resources to those schools to encourage faculty and student STEM research.
ORAU is a consortium that effectively connects the most diverse and talented students, recent graduates, faculty members and professionals with mentored research experiences at national laboratories and other facilities.
"This is a historic day for us," said Dr. N. Joyce Payne, founder of TMCF. "We've not had the opportunity to operate at this level in terms of an organization that has so much prestige as ORAU. ORAU has been in the business for 75 years, and has been changing the world, producing the kind of research that makes life easier and more prosperous for Americans. We hope to bring talent to this process and find ways to collaborate so we can continue to change the world as ORAU has done."
Under this partnership, students and faculty at TMCF member schools will have the ability to be involved in ORAU's research participation programs that are mainly administered by the Oak Ridge Institute for Science and Education, managed by ORAU.
"Our pursuit of enhancing research participation programs and creating change in young students' lives is not a challenge we can do alone," said ORAU president and CEO Andy Page. "We're always seeking like-minded organizations that are in the same pursuit as we are."