The post, announcing a small scholarship, seemed innocuous enough.
On Black Beltway, a Google Groups that bills itself as "a space for African Americans (and friends) in the DC/MD/VA region to share and receive political job postings, networking and educational opportunities," the Montgomery County Executive's Caribbean American Advisory Group (CAAG) was looking to award a scholarship of between $500 and $1,000 to a student of Caribbean heritage who resides in Montgomery County, Maryland.
But four words in the announcement – "student of Caribbean heritage" –– galled a Black Beltway group member and set off a firestorm of comments that lasted over several days.
At issue? The group member, identified in postings on Black Beltway as "hlhiggi," felt such a specific criteria was unfair, exclusionary and divisive.
Other group members, many of Caribbean descent, begged to differ, accusing "hlhiggi" of being insensitive to the special needs of students of immigrant parents and ignoring the contributions Caribbeans have made to America.
The back-and-forth debate exposes a chasm that sometimes exists between Black Americans and Blacks from other countries who have immigrated to the United States in recent years.
Issues around education have often fallen into this breach, raising heated questions about who's entitled and who's actually benefitting from such things as scholarships earmarked for "African-Americans" and affirmative action admissions slots set aside for "African-Americans" at top universities.
"I always find these scholarships and other opportunities that are specifically designated for Blacks in the US not of American roots quite interesting," "hlhiggi" wrote. "I often wonder what would be the response if a Black American, or African in this situation, not of Carribean [sic] applied. Would their application be considered or would it be rejected because they are not of Carribean [sic] lineage?"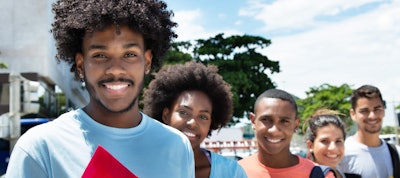 She continued: "Conversely, do persons of Black immigrant status apply for such opportunities (scholarships, loans, grants, college admissions, etc.) soliciting for Black American respondents or do they consider such solicitation exclusive to persons with Black American parents? … Of course they apply and of course they are considered and no one questions or objects to it."
But what "hlhiggi" does seem to object to is a scholarship for Black students that seems to exclude Black American students, affording Black students of immigrant descent "a bite at several or all available apples," her reference to immigrant students being able to apply for scholarships not only earmarked specifically for them, but also designated for African-Americans. "Hmmm, does not sound quite fair," said "hlhiggi."
But scholarships with such specificity as the one offered by CAAG are rare, posted a school teacher. "As a high school history teacher turned school administrator and someone with Jamaican born parents, I have personally never come across a scholarship that supported students of Caribbean descent out of the many that I have helped my students over the past 7 years (American born Black) apply for and obtain. If you know of similar scholarships in NYC, PG county, DC or Virginia please let me know."
Another poster supported the CAAG scholarship's distinction, noting that in searching for scholarship opportunities for her own child, they simply move on if the scholarship parameters don't apply. "Scholarship offerings is [sic] philanthropy that cannot be legislated," she commented. "My family plans to…begin a scholarship fund in the name of my grandfather who was masterful in culinary arts. That's the type of youngster we want to bless in his honor."
Hlhiggi, who identified herself as a New York City attorney in her responding post, bristled at this comparison between scholarships offered to students in a particular field of study and one that divvies up students based on their black heritage. "I have never seen a scholarship that specified for Black Americans only or Blacks of American descent. To do so would be offensive, divisive and rightfully not appreciated by immigrant Blacks… . Your comparison between a scholarship of a specialized skill in arts, sports, math or the like and one that distinguishes between Black folks, especially where Black Americans, the homegrown Blacks if you will, are excluded, is faulty at best. Again, historically nor presently, we, Black Americans, have made no such distinction."
Another poster, also identifying himself as an attorney, countered: "The experience of Caribbean Black people is distinct from that of Black African Americans with origins in America. We cannot discount the unique experience of being an immigrant in America and/or being raised by immigrant parents as their access to education, employment and other resources is typically truncated by their immigrant status. Establishing a scholarship honoring these students is not divisive nor backward; when we celebrate segments of the African diaspora, we too are celebrating the whole by highlighting the special experiences of Black Caribbean people."
A poster of Jamaican descent agreed and admonished what she considered "hlhiggi's" divisive post: "This [scholarship] was a wonderful addition to a necessary hand up to our people. Why are folks always offended???? … It's more of the same…crabs in a barrel."
Sharing a bit of the reality of life in Jamaica for many of her brethren and admitting to "throwing a rock in the crowd" of American blacks who vacation there, she added, "It is rough as hell there for locals/natives. But folks don't see that beyond the gates of the all-inclusive resorts. People still don't have running water and some still bathe in buckets in the yard after leaving work…and after handing you your nice fluffy white towels at the resort. Many still can't even afford to send their children to school because they can't afford the required uniforms or shoes to send them…this is after paying for the bus ride to and from the resort working hard for you educated and entitled people."
Also in support of Jamaicans, a frustrated poster noted that despite the fact that "people of Jamaican descent have contributed to the fabric of America over HUNDREDS of years, educated folks STILL don't appreciate our contribution. Sigh."
Hlhiggi, defending what seemed to be her minority opinion, at least based on the postings, offered her final comment: "I think you guys conveniently miss my point and that is sad…Others, who share my position and who similarly received this message, have responded to me privately and that is sad too… . Someday, we will be able to have such conversations without being defensive, offensive or intimidated to speak truthfully. I am OK with 'difficult' or 'uncomfortable' conversations because I believe that such is the ONLY way we grow, educated or not."
"I don't think people missed the point," another poster responded. "It seems you are simply unhappy with the responses. I, personally, am very offended by your statements because I believe your words diminished the experiences of myself and all Black/Caribbean Americans."
Echoing an earlier poster's comments about the contributions people of Caribbean descent have made to America, he continued, "You mentioned the civil rights movement… It is common knowledge how Caribbean people and people with West Indian descent played an important role in the movement – Marcus Garvey (Jamaica), Stokely Carmichael (Trinidad), Malcolm X (Grenadian mother), and Harry Belafonte (Jamaica). They're too many to name… . The experiences of black Americans is not a monolith. I was born in the US to a West Indian family but identify both as Black American and Caribbean – very proud of both and love to contribute to BOTH communities."
Did the posters who responded to "hlhiggi" miss the point or did "hlhiggi" herself?
"I think the posters who responded to her may have missed her point," surmised, Dr. Nemata Blyden, after reading the online exchange.
Blyden is an associate professor of History and International Affairs at George Washington University. She is the author of the forthcoming book, African Americans and Africa: A New History (Yale University Press, June 2019). Her book asks and attempts to answer the question, "What is an 'African American' and how does this identity relate to the African continent?"
"I believe her issue was not the scholarship itself, but a bigger issue of African-Americans often feeling that other immigrant groups have come to the United States behind them and have thrived and prospered, like the Irish, for example," said Blyden, who was born to an African-American mother and African father in the United States and raised in Africa. Blyden, along with her husband, hail from Sierra Leone and have three American-born children.
She added, "As we see more and more immigrant groups of African descent settle in America, there may be the sense that they, too, may be benefitting from the struggles that African Americans have had to endure to make America a more desirable place where blacks from other countries would want to immigrate to."
Such issues are not new in the education arena. At a Black student protest at Cornell University in 2017, students were demanding, among other things, that "Cornell admissions come up with a plan to actively increase the presence of underrepresented Black students" on campus.
Blyden said she sympathizes with the sentiments of some African-Americans, but also acknowledges the special circumstances, as one poster noted, of students of immigrant parents and the benefits scholarships such as the one offered by CAAG can offer them.
According to requirements posted on its website, CAAG scholarship applicants must be of Caribbean heritage with at least one parent's heritage based in any country in the Caribbean region. A CAAG representative did not respond after initially saying that a representative from the group would comment.
As the number of Black people immigrating to America continues to rise [see sidebar], "the issue will become even more complicated," said Blyden.
In the conclusion of her first post that set off the discussion, hlhiggi ended with this thought, "The fight for civil rights in America made no such distinctions [between blacks from America and other countries]. Others joined in the struggle with Black Americans for equal rights. We seem instead now to separate and create drama for ourselves. Other folks count on it… The more we divide ourselves, the more manageable we are collectively… . Good luck to the recipient. May s/he be the generation to advance a very different, less divisive, agenda."
Author's note: Hlhiggi did not respond to a request for additional comments and permission to identify her by name. When reached for comment, the Black Beltway Google Groups creator responded that, although she created the group, she has since moved out of the area and is no longer actively involved in its management.
SIDE BAR
Key facts about Black immigrants in the U.S.
The Black immigrant population has increased fivefold since 1980. There were 4.2 million Black immigrants living in the U.S. in 2016, up from just 816,000 in 1980, according to a Pew Research Center analysis of U.S. Census Bureau data. Since 2000 alone, the number of Black immigrants living in the country has risen 71%. Now, roughly one-in-ten Blacks (9%) living in the U.S. are foreign born, according to 2016 American Community Survey data, up from 3% in 1980. (Immigrants make up 10% of the Black population in the March 2016 Current Population Survey.)
Much of the recent growth in the foreign-born black population has been fueled by African migration. Between 2000 and 2016, the Black African immigrant population more than doubled, from 574,000 to 1.6 million. Africans now make up 39% of the overall foreign-born black population, up from 24% in 2000. Still, roughly half of all foreign-born blacks living in the U.S. in 2016 (49%) were from the Caribbean, with Jamaica and Haiti being the largest source countries.
Overall, Black immigrants (28%) are somewhat less likely than the overall U.S. population (31%) to have a college degree or more, but Black immigrants from Africa are more likely than Americans overall to have a college degree or higher.
In 2016, 8% of Blacks were second-generation Americans – meaning they were born in the U.S. but have at least one foreign-born parent, according to the Center's analysis of the Census Bureau's 2016 Current Population Survey. In total, Black immigrants and their children make up roughly one-fifth (18%) of the overall black population in the U.S.
(Source: Excerpted from "Key Facts About Black Immigrants in the U.S.," Anderson, Monica and Lopez, Gustavo, January 24, 2018, Pew Research Center, http://pewrsr.ch/2E2rH4N )