A newly launched peer-review journal is scheduled to publish in Spring 2020 and will examine achievement, creativity, and leadership among gifted and high-achieving minority populations across the P-20 continuum.
Slated to be published by Penn State University Press, The Journal of Minority Achievement Creativity and Leadership (JMACL) will be edited by Dr. Fred A. Bonner II, a prominent professor and researcher who holds an endowed chair in Educational Leadership and Counseling and is the founding executive director of the Minority Achievement, Creativity and High-Ability (MACH-III) Center at Prairie View A&M University.
Bonner said that he sees the biannual journal as an important vehicle for both junior and seasoned scholars. Each issue will have between three and five article and will be about 128 pages.
"I really wanted to have a place and space for minority serving institutions," said Bonner, who was encouraged by Prairie View's president Dr. Ruth Simmons to develop the journal as way to "truly ground the MACH-III academic research and scholarship."
MACH-III is a research center that was created to produce best practices and scholarship that examine the contemporary issues that impact critical populations such as administration, faculty and students across the P-20 spectrum and beyond into workplace contexts.
After shopping around the journal, Bonner settled on Penn State University Press because it has "such an established well-oil machine" and "an interest in diversity, social justice, equity and inclusion," he said.
"In the face of the increasing diversity of America's population, we must today prepare and support leaders, administrators, and teachers from underrepresented groups who will face the challenges of tomorrow," said Patrick Alexander, director of the Penn State University Press.
Alexander said that he looks forward to working with Bonner and the journal "to enrich the scholarly conversation about how higher education in particular and society in general must recognize and reward the achievements of our future leaders and visionaries."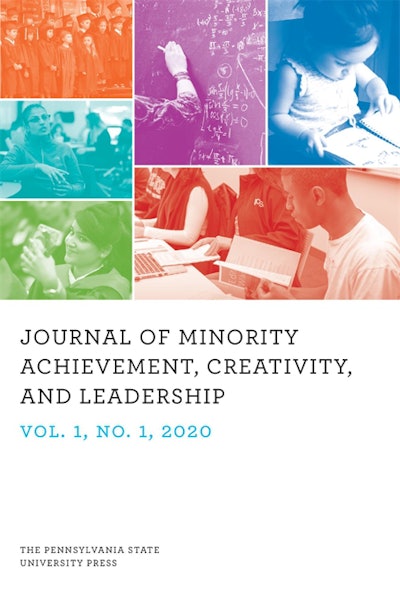 He said that Penn State University Press shares a "commitment to respond to the growing need to redirect our gaze toward assets-based models rather than deficit models to ensure the best possible outcomes in P-20 higher education contexts," and added that JMACL will respond "to this need to acknowledge, document, and promote minority achievement, creativity, and leadership in a tangible and practical fashion."
To that end, Bonner has already assembled an impressive editorial board that includes nationally recognized scholars like Dr. Donna Y. Ford, an expert on gifted and urban education and a professor at The Ohio State University.
"The Journal of Minority Achievement, Creativity, and Leadership falls under the 'for us, by us' philosophy. We must have journals that tell our stories and lived experiences," said Ford. "Too often, mainstream journals do not accept frank papers by us. This results in rejections, and our work being censored and whitewashed."
Ford said that Bonner is providing minoritized scholars with a platform to become published in the three areas of achievement, creativity and leadership.
"No other journal focuses exclusively on gifted and talented students, people of color," said Ford. "I look forward to serving on the Board in the spirit of equity, diversity, and inclusion and promoting my colleague's vision."
Jamal Watson can be reached at jwatson1@diverseeducation.com. You can follow him on Twitter @jamalericwatson