As a sophomore, Jonathan Jones hit an academic rough patch. He almost gave up on his bachelor's degree in chemical engineering.
Now he's a graduate student at Florida A&M University pursuing a double master's in business administration and supply chain management, while running an event planning business on the side. He also just won $10,000 to spearhead a personal community service project at the Thurgood Marshall College Fund's 19th annual Leadership Institute, a selective networking event for over 400 historically Black college and university students.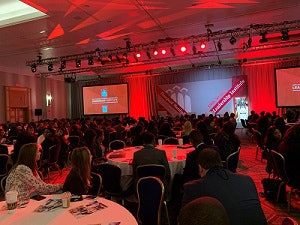 "This institute gives opportunities that weren't there," Jones said. "It opens doors that would've otherwise been closed."
Jones went to the Leadership Institute in Washington D.C. as one of ten Hennessy fellows, a new program for MBA students that includes professional development trainings, scholarships of up to $20,000 per academic year, a $10,000 annual stipend for other school-related expenses and the chance to compete in a pitch contest to fund his capstone project.
For Jones, the contest is just one of the opportunities presented by the Leadership Institute this week. The four-day event offers a series of sessions – hosted by representatives from major companies like Microsoft, JP Morgan Chase and Co., Boeing and others – on personal finance and professional development. The goal of the Leadership Institute is to provide HBCU students with strategies to advance in the work world while connecting them with companies looking for diverse talent.
Thursday, the first full day of programming, featured a plenary on financial literacy, hosted by the event's presenting partner Wells Fargo, followed by smaller breakout sessions on the topic with a variety of company leaders. Later, a lunch plenary delved into office diversity and inclusion, and afternoon sessions ran through case studies on problem solving in the workplace.
For some students, like Texas Southern University junior Durmerrick Ross, just seeing so many Black business leaders in one place had an impact.
These speakers' careers "combat notions of who Black people are or what we're expected to do or what people think we're capable of," he said.
Throughout the day, business leaders gave HBCU students advice on saving money, paying back student loan debt, establishing good credit, investing in stocks and even starting small businesses.
As a senior, Jaeden Wills, a student at University of Arkansas at Pine Bluff, particularly appreciated these sessions. Finances are "top of mind," she said, as she approaches graduation and thinks about "what happens when you become a real adult" and "who you are outside of the title of 'student.'"
Among other issues, panelists emphasized the importance of home ownership in the Black community, which continues to lag years after the Great Recession. Donna Greene, regional diverse segments manager at Wells Fargo, put the issue in historical context, describing land acquisition as one of the first ways in which former slaves built up their communities after the Civil War.
"We could take care of ourselves, sustain ourselves, if we had land," Greene said. "That's true today … Becoming a homeowner in your community is standing up for your community."
While offering advice, business leaders were also candid with students about their own past challenges with financial literacy. Some spoke about their first feelings of imposter syndrome, their missed student loan debt payments or the hardships of supporting family members who were financially struggling.
In a breakout session, Jonathan Simon, executive director of the Advancing Black Leaders team at JPMorgan Chase & Co., told students that his family never talked about finances.
"The fact that you're in this room and in this building and getting the knowledge, getting the exposure and the opportunity, you're already closing that gap between yourselves and your White peers," he said, referring to the racial wealth gap. "Now it's what you do with the knowledge and the exposure."
In addition to knowledge from executives, students emphasized how much they learned from their peers, representing 44 different HBCUs. Jones described it like "iron sharpening iron."
"If you want to be successful, hang out with successful people," he said. "Everybody I've met so far has a mindset and a motivation to succeed. So, I have no choice but to succeed."
Jones is now looking ahead to his capstone project. The $10,000 grant will jumpstart Just One Day, a plan to encourage different kinds of businesses to donate their services – shoes, haircuts, entertainment, clothes – to the homeless for a single day.
For Jones, this week "means everything."
"A lot of times companies of this magnitude don't come to our community," he said. "… TMCF – what they have done with the Hennessy Fellowship, what they have done with the Leadership Institute – is groundbreaking. I really don't know where I would have been had I not been blessed to have an opportunity such as this."
Sara Weissman can be reached at sweissman@diverseeducation.com.