Sen. Doug Jones and Sen. Jon Tester are making a renewed push for the U.S. Senate to pass the Fostering Undergraduate Talent by Unlocking Resources for Education (FUTURE) Act, bipartisan legislation – introduced by Jones and Sen. Tim Scott – to renew mandatory federal funds to minority serving institutions for two years. The funds expired on Sept. 30.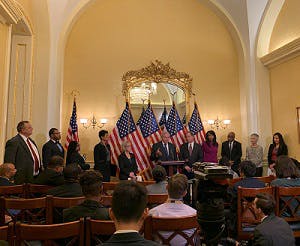 Jones and Tester led a group of 36 senators in writing a letter to Senate Majority Leader Mitch McConnell and Minority Leader Chuck Schumer in support of the legislation on Monday. Jones then convened a Wednesday press conference with fellow senators and minority serving institution leaders after the bill suffered another stalled vote, calling on the Senate to pass the legislation, which reauthorizes $255 million in federal funding.
Speakers included Schumer, Senators Tester, Patty Murray, Ben Cardin, Mark Warner, Chris Van Hollen and Bob Menendez, as well as representatives from the Thurgood Marshall College Fund, the United Negro College Fund, the National Association for Equal Opportunity in Higher Education, Bowie State University, Virginia Union University, the Hispanic Association of Colleges and Universities and the American Indian Higher Education Consortium.
In a letter, U.S. Secretary of Education Betsy DeVos assured HBCU leaders that their institutions will continue to have the federal funds through next year, even though their expiration date passed. But Jones emphasized that schools remain in limbo about how to budget for the future, given these funds account for nearly half of federal funding for HBCUs.
"Every day that passes without renewal, these schools are one day closer to having to make very tough decisions that could do permanent damage, including laying off staff, letting contracts expire, winding down programs that serve students in STEM and other fields," Jones said.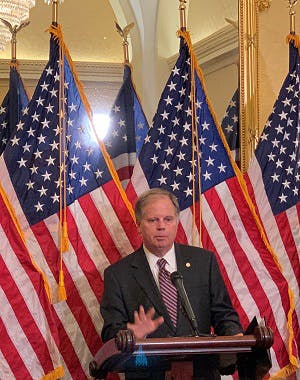 While the FUTURE Act already passed the U.S. House of Representatives, the legislation remains mired in the Senate after Senate Education Committee Chairman Lamar Alexander of Tennessee tried to attach the funding to a broader set of higher education proposals, postponing a vote. On Tuesday, Alexander objected to a fourth attempt by Senate Democrats to pass the FUTURE Act on its own, a move Schumer criticized.
"These institutions are ladders up," Schumer said. "So many people living in poorer areas, in rural areas, don't have many ladders. This is one of them. And that's what America is all about, providing ladders up. How dare a senator – any senator – hold these young people who are awaiting these ladders hostage."
Alexander's proposal – called "The Student Aid Improvement Act" – include simplifying the FAFSA and expanding the Pell grant, measures that would generally attract bipartisan support. But Senate Democrats want wholesale renewal of the Higher Education Act, the law that governs federal higher education programs, and they don't want to hammer it out with these funds on the line.
"This should be simple," said Sen. Murray. "We should pass the FUTURE Act now and then we can get back to the critical work of passing a comprehensive higher education bill that addresses affordability and accessibility and accountability and campus safety and includes a permanent funding solution for these minority serving institutions."
Sen. Cardin, who tried to introduce the FUTURE Act for a vote on Tuesday, agreed that resolving differences in the Senate on Higher Education Act reauthorization wasn't going to happen "in the next week or two or month or two," and in the meantime, underresourced institutions need certainty about their funding.
HBCU presidents are already discussing layoffs, said Thurgood Marshall College Fund President and CEO Dr. Harry L. Williams. He's been "very disappointed" to see the bill fail to make it to the Senate floor.
"We have faculty, we have students right now attending our campuses, and they are making plans to try to find something else, to pack up their families to move somewhere else," he added.
The Senate has received over 65,000 letters in support of the FUTURE Act in the last two months, according to Lodriguez Murray, senior vice president for public policy and government affairs at the United Negro College Fund.
Minority serving institution leaders emphasized that passing the FUTURE Act is about more than supporting the schools themselves – it's about the populations they educate.
Lezli Baskerville, president and CEO of the National Association for Equal Opportunity in Higher Education, warned minority students were being made "fatalities of the political skirmishes of today."
"There are persistent gaps, and we know that," Baskerville said. "These institutions, although small and underfunded, are doing better than all other classes of colleges and universities in closing the educational gap, closing the economic gap, closing the wealth gap, closing the health gap and closing the justice gap."
Sara Weissman can be reached at sweissman@diverseeducation.com.