SEATTLE – Humanities faculty discussed practical techniques for boosting academic diversity alongside broader national conversations about race and White supremacy as the four-day Modern Language Association (MLA) Convention drew to a close.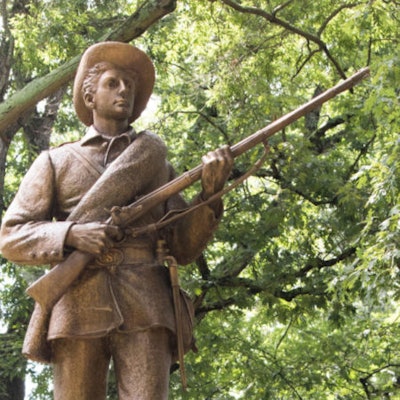 On Thursday evening, a group of faculty met for an interactive workshop on how to spot and tackle holes in their departments' diversity, equity and inclusion efforts, led by Dr. GerShun Avilez, associate professor of English at the University of Maryland, and Dr. Heidi Kim, associate professor of English and comparative literature at the University of North Carolina at Chapel Hill.
While institutions vary, talking about these issues through a department lens "cuts across difference," Kim said.
University professors and department chairs were asked to list and categorize some of their department initiatives by posting sticky notes under signs on the wall that read: "diversity initiative?" and "equity and inclusion initiative?" Workshop facilitators pointed out that the 13 to eight post-it ratio was representative of a problem: there tends to be more focus on representation – recruiting diverse faculty and students – than fostering inclusive environments to retain them.
Participants had the opportunity to share about diversity, equity and inclusion challenges within their own departments and brainstorm potential solutions with the group. Problems ranged from worse offices for contingent faculty versus full-time faculty to a lack of space for Muslim students to pray.
Kim and Avilez encouraged faculty to think long-term about the structure of how diversity work happens in their departments.
While larger campus efforts matter, "the actual work that gets done is at a department level," Avilez said.
A Friday panel explored the role of historically Black colleges and universities in bolstering different facets of Black scholarship.
Dr. Dana Williams – the chair of African American Literature at Howard University – spoke about the role historically Black colleges can play in the preservation of African American literature.
Yet she also noted they're the least likely institutions to receive funding to process archival backlogs and to have a seat at the table at national conversations about archival work.
Williams, who is interim dean of the Graduate School at Howard also described it as a "gut punch" when predominantly White universities incorporate Black works into their own archives as a diversity strategy, "or great Black writers' papers fall into metaphorical White hands."
Magana Kabugi, an English Ph.D. candidate at Vanderbilt University, focused on how presses at historically Black colleges diversified academic publishing throughout history, despite being underresourced and understaffed.
Today's focus on inclusion paints only a partial picture of "what it means to represent Blackness," Kabugi said. "We should also look at representation through the lens of authorship. This notion of authorship is nothing new at HBCUs."
HBCU presses not only championed Black perspectives but engaged in "conscious atmosphere building," he added, mentoring those who worked there and "acting as a diversity pipeline."
Dr. Donna Akiba Sullivan Harper, the Fuller E. Callaway English professor at Spelman College, also praised the mentorship component of HBCUs and the environment it creates.
"In an atmosphere so tense, it is a joy to be at a place where I don't think I've ever had a microaggression about race," she said. "Now that's priceless."
Historically Black colleges have always challenged the status quo through their model of mentorship, said Dr. Sandra Marie Grayson, a professor of literature and cultural theory at the University of Wisconsin-Milwaukee, in her presentation. She described how the Institute for Colored Youth, the oldest predominantly African American university, used "teaching, scholarship and service" to "deconstruct the master narrative" that Black students were incapable of academic rigor.
The final day of the conference veered into national discussions about Confederate monuments and White supremacy with a morning roundtable facilitated by Dr. Jarvis McInnis, Cordelia and William Laverack Family assistant professor of English at Duke University.
Scholars delved into different facets of the issue. Dr. Maria Seger, an English assistant professor at the University of Louisiana at Lafayette, focused on the role of White women in the erection of Confederate monuments and ideas, while Dr. Spencer Herrera, associate professor of Spanish at New Mexico State University, described a lesser-known Confederate monument in El Paso, Texas and its juxtaposition to monuments honoring conquistadors.
He argued that these monuments should stand "so I can point to it and say evil exists," an idea his co-panelists pushed back on.
Dr. Mariah Crilley, an instructor at Virginia Commonwealth University, spoke about how to engage with students about the questions these markers raise: "Who or what should be remembered? Why should they be remembered? How should they be remembered?"
She tries to encourage students to recognize "they are composing history whether they choose to or not," she said.
Confederate monuments have posed a challenge at West Point, the United States military academy, said Dr. Tony McGowan, co-chair of the school's diversity and inclusion minor.
He described them as a "point of fracture" visible on his campus, referencing West Point's Reconciliation Plaza memorial, which commemorates the reconciliation between the North and South and "reifies White supremacy," he said.
Dr. Evander Price, who recently earned his Ph.D. in American Studies at Harvard University, emphasized that the debate over taking down Confederate monuments, like the infamous "Silent Sam," isn't just about the past but also about the future. These memorials imply that the Civil War was "one lost battle" in a continued push for White supremacy.
Monuments "too often heroify people who should not be forgotten but should never be commemorated," he said.
Sara Weissman can be reached at [email protected].