Howard University has been making a concerted push for financial wellness on campus – not just for students but for faculty and staff.
To that end, the university has rolled out a series of policy changes and financial literacy resources specifically designed to help employees.
"We've done quite a bit of analysis of our workforce," said Dr. Wayne A.I. Frederick, president of Howard University. He found that university employees weren't saving as much as they could have, and he wanted to see staff members retiring in a "financially healthier and sustainable way."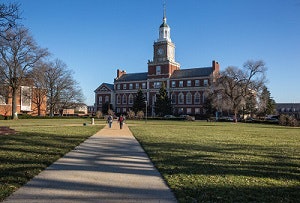 Two years ago, the university instituted a policy that unmarried employees making less than $35,000 a year wouldn't need to pay a health insurance premium.
That laid the groundwork for another change in 2020. In January, all non-union Howard employees making less than $35,000 a year got an annual salary boost to $34,999, so they could bring home more and potentially avoid paying health insurance premiums as well.
The adjusted salaries bumped Howard University's minimum wage up to $16.82 an hour, almost $3 more than Washington D.C.'s minimum wage, which is among the highest in the country at $14 an hour. In the process, 56 staff members got salary raises.
Larry Callahan, Howard University's associate vice president of human resources, stressed the importance of providing a living wage to Howard University employees.
"We want our staff to focus on their work while they're here and not be bogged down by financial issues: 'How do I pay for daycare, transportation, my rent?'" Callahan said. He described employees' reactions to these changes as "overwhelmingly positive."
Meanwhile, the university is also pushing its Howard University Savings Plan. Howard University and Howard University Hospital contribute 6% of an employee's base salary, and if employees voluntarily add another 4%, they get an additional match of 2% with no vesting period.
For Callahan, getting faculty and staff to take full advantage of the plan is the "next step" in an "ongoing and continuous" effort to help employees save up for retirement.
Alongside these changes, the university has been trying to invest in employees' financial education as well. It recently started working with the Teachers Insurance and Annuity Association (TIAA) and AARP to help with Howard's retirement program while offering employees financial literacy instruction.
"We really wanted a partner," Frederick said. "We didn't just want someone to collect the money, invest it for the folks and kind of walk away. We wanted someone who would create financial literacy, who would come and give workshops, who would really participate holistically with us in order to ensure financial wellness."
Toward that end, in January, Howard University held an event called "Financial Wellness in the African-American Community," featuring Frederick and the CEOs of TIAA and AARP, among other speakers. Panels provided tips on retirement savings, homeownership and more, while also tackling issues that specifically impact Black communities like redlining and the racial wealth gap. The event was open to students, faculty and staff.
Employees like Cheryl Green, an administrative assistant for development and alumni relations, responded with enthusiasm. She's worked at Howard for over a decade. The event left her "motivated and inspired to make better financial decisions," contributing more to her retirement fund and limiting her spending, she wrote to Diverse.
Data analyst Monique Yvette McClung, president of the Howard University Staff Organization, also called the event a "beautiful start to a greater conversation" and expressed hope that it would be the first in a series.
It felt like the first day of class for her. At first, "you get through the syllabus" but then there's so much more to learn, she said. "We need to continue to engage people regularly about budgeting, about goal setting."
McClung's organization is another piece of the financial support system that Howard University is trying to build. Defunct for years, the Howard University Staff Organization was revived by Frederick two years ago when he encouraged staff to have elections. He now meets with their leadership every month.
It's "another outlet to inform and engage with employees," McClung said.
For Frederick, these measures aren't just about employees' financial wellness. He wants to see staff take their new financial know-how home to their families.
Frederick described having in-depth finance conversations with his own kids to make them "partners in the process" and to ensure they're comfortable asking questions.
He also hopes that these initiatives for employees demonstrate Howard University's values for students. When they go on to become leaders and CEOs, he wants them to have a model for offering financial care and support.
"If we want our students to be financially literate, I think we have to live that truth," he said. "We can't let them get instruction on financial literacy then leave our staff and faculty behind. You want to bring students into an organization that's really taking care of its whole community."
Sara Weissman can be reached at [email protected].