Syracuse University (SU) said on Monday it has hired former Attorney General Loretta Lynch to lead an independent review of the institution's Department of Public Safety after criticism over last week's suspension — revoked a day later — of 30 students protesting racial incidents on campus and their alleged mistreatment by DPS police officers.
In a statement Monday posted on SU's website, Chancellor Kent Syverud apologized for how the situation was handled.
"I am not proud of how last week's events involving student protesters in Crouse-Hinds Hall were handled. I take responsibility and apologize to the students — especially those misidentified in suspension letters sent out," Syverud wrote.
Campus publication The Daily Orange said that #NotAgainSU, a movement led by mostly Black students, has organized a sit-in at SU's Crouse-Hinds Hall since Feb. 17 to protest more than two dozen hate crimes at the university since November. Student protestors say no concrete action has been taken to address the racial incidents. The 30 students were suspended for not vacating the hall past closing time. They said the campus police make them feel "unsafe."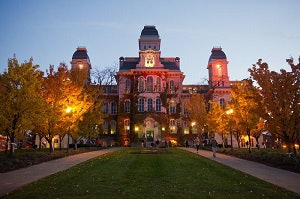 The public security department "sealed Crouse-Hinds off Tuesday and Wednesday, preventing outside food and medicine from entering until Wednesday afternoon," said both the campus paper and the protestors.
"SU provided lunch and dinner to organizers Tuesday and breakfast Wednesday. DPS (Department of Public Security) Associate Chief John Sardino physically struggled with a student last week to prevent them from entering Crouse-Hinds, a video posted on social media shows," the publication added.
On Tuesday, February 18, campus police tweeted saying, "students claiming we're restricting their access to food are free to leave the building any time." #NotAgainSU said it wants Sardino to resign.
In the face of this backlash, Syverud talked about why the university decided to appoint Lynch to review the institution's public safety department.
"I believe this review is necessary given that concerns have been raised through several channels about how DPS engages with our community and how it has managed various interactions with students, including protestors," he said.
SU Chief of Public Safety Bobby Maldonado commented in a statement on Twitter that he welcomed the review.
"I welcome the review directed by the chancellor and look forward to reviewing suggestions that can improve our department and enhance the safety and security of the Syracuse University community," he said.
However, student protestors and others said a review isn't the solution.
"… the Department of Public Safety should be disarmed. As clear through the interactions with DPS last week, students feel unsafe, especially when they are armed. DPS has the same jurisdiction as the Syracuse Police Department (SPD)," said #NotAgainSU on Twitter.
A student activist with #NotAgainSU, who didn't wish to be named, told NBCnews.com the school's decision is an attempt to mask the larger problem and described the decision to have Lynch investigate as "frustrating" and "really expensive."
"We have demands; we make it very clear," the student said to NBC. "The university knows exactly what we want and they act like they don't know what's happening."
Dr. Biko Mandela Gray, an assistant professor of religion at Syracuse, tweeted from his personal account also criticizing the university's decision to hire Lynch.
"I'm so sick and tired of administrators — at every institution—conducting investigations" instead of having the moral courage and ethical fortitude to step up and move swiftly, Gray said on Twitter.
"You can't hire away the problem. You can't keep bringing outside folks in to tell you what we've already told you. That's a waste of money. It's a waste of time. It's … a waste. Meanwhile students are still in a precarious position. This is nonsense," he added.
Diverse reached out to the university for comment on the criticism, and Sarah Scalese, senior associate vice president of communications, said in an email that the institution felt a review was necessary.
"As Chancellor Syverud said in his message to the community, the university believes this review is necessary given that concerns have been raised through several channels about how DPS engages with our community and how it has managed various interactions with students, including protestors," said Scalese.
"Our community expectations and our needs have evolved, and this review will result in recommendations on how DPS can best meet today's community's needs going forward," she added. The review will be "completed expeditiously."
In a news conference Monday, Amanda Nicholson, SU's interim deputy senior vice president for enrollment and student experience, said hiring Lynch is an important step, reported Syracuse.com.
"Getting an outside view on your protocols and processes — to figure out if you're doing the right thing, the thing that's current, the thing that's perhaps the most appropriate for today's young people, is a good thing to do," Nicholson said. "We should be humble enough to know we don't know everything."
Nicholson also said she didn't think it would lead to any staff changes. "It might lead to additional staff" though, she added.