Campuses across the country are temporarily closing in response to the coronavirus, encouraging students to go home and offering online classes to prevent the virus from spreading.
Historically Black colleges and universities (HBCUs) – and other minority serving institutions (MSIs) – are no exception. But these schools face an extra set of concerns as they try to keep underrepresented students safe on tighter budgets than predominantly White institutions.
HBCUs have tackled coronavirus with a range of responses.
Many HBCUs are making the switch to online learning – at least for a while.
Hampton University, for example, shut down in-person classes after March 12, asking all students except international students to leave the premises.
Morgan State University canceled class for the remainder of the week last Wednesday and plans to switch to remote courses for at least two weeks after spring break.
Howard University is also moving online for two weeks after vacation, as are Florida A&M University and the Atlanta University Center, which includes Spelman College, Morehouse College, Clark Atlanta University, Morehouse School of Medicine and Morris Brown College.
For university leaders, like Howard University Provost and Chief Academic Officer Dr. Anthony K. Wutoh, making these decisions has been "challenging" to say the least.
"There's a lot going on," he said. "It's been busy, but we want to make sure we're doing everything we can to protect our students, our faculty, our staff and the entire Howard University community."
Howard University faculty are fairly familiar with remote teaching because of the university's Center for Excellence in Teaching, Learning, and Assessment (CETLA), which coaches professors on how to use online tools. Still, the center will continue helping faculty prepare for the shift to online courses and will offer guidance about the software available to students, like Blackboard, Tegrity, Zoom and Microsoft Teams.
Wutoh is "confident" professors will make a smooth transition with the center's training, but he pointed out that not all HBCUs are as lucky. For some campuses, making sure they have the right technology for sustained online courses, enough computers for faculty and a network to support so much online activity is a "potential concern," he said.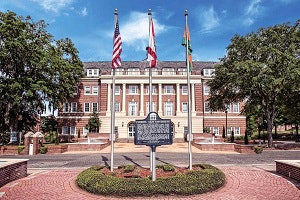 HBCUs also serve high percentages of low-income students, he noted, so these institutions need to consider what technology their students can access at home in their coronavirus plans.
"Even making the assumption that students have laptops or have WiFi and will be able to readily go online, that is probably a more difficult presumption for HBCUs as opposed to predominantly White institutions," Wutoh said. "So, there are additional costs and expenses above and beyond a traditional educational environment that HBCUs have to take under consideration."
For Howard University, some of those additional costs include ordering additional computer hardware and keeping dormitories, computer labs and delivery meal services open for students who can't leave for spring break. The school also wants to ensure that tools used for online teaching can be accessed via smartphone, in case students don't have laptops.
Florida A&M University has worked to address similar concerns, and it's an "ongoing effort," said the university's president, Dr. Larry Robinson.
The school created an internal task force last month and ran an assessment of how many more laptops and desktop computers faculty will need to run classes online. Each professor is expected to develop a specific plan for how to serve students remotely, including students with limited access to technology. And they're discussing how to use all the tools that might be at students' disposal, even Facebook Live. Meanwhile, the university is "open for business" other than in-person instruction so students and faculty aren't cut off from campus resources.
"There will be some additional costs, for sure," Robinson said. But the university wants to be "as creative as we can to ensure that we give every student the opportunity to stay on track."
As HBCUs figure out how to respond to the safety and educational needs of their students, they've been swapping best practices locally and nationally.
Florida A&M University and other Florida HBCUs – Bethune-Cookman University, Edward Waters College and Florida Memorial University – have been "corresponding about different steps and strategies," Robinson said. "There's been a lot of communication within the community … I'm very pleased with that."
Last week, leaders of colleges in the Mid-Eastern Athletic Conference, the collegiate athletic institution for HBCUs, held a conference call where they decided to restrict the audience numbers for Friday's semifinals.
This is just one example of the "significant discussion among the presidents and among the administrations at HBCUs about what things we have learned and they have learned that we could use to help us support each other," Wutoh said. "I expect that that will continue."
Correction: An earlier version of this story misstated the date that Hampton University switched to online classes.
Sara Weissman can be reached at [email protected].