Grace Harper started her real estate business with her husband 27 years ago in Jackson, Mississippi. Now a widow, she's been pouring her earnings back into her business. But since the coronavirus hit, some of her renters lost their jobs and can't pay her. Meanwhile, air conditioning units still need fixing. Hot water heaters need replacing. And she can't afford to pay the contractors she would normally hire.
"What I have coming in is just really limited right now," she said.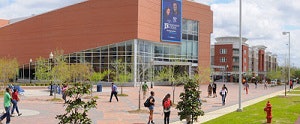 Meanwhile, the process of applying for the financial relief opportunities designed for small businesses has been, as Harper put it, "flat-out ridiculous." She finds herself navigating a maze of paperwork with little help from banks and potential lenders.
"It's very difficult when you don't know all the proper stuff that needs to be done for the money to be allocated to you," she said. "I'm just so frustrated right now."
Searching for step-by-step guidance, she's found some relief in working with Jackson State University's Small Business Development Center, which is helping her develop low-budget marketing strategies.
The center, based at the local historically Black college, is counseling owners like Harper who have been impacted by COVID-19.
Affiliated with the U.S. Small Business Administration, the university's Small Business Development Center is one of a network of centers like it across the country, established in 1981.
Normally, the center's counselors offer support to business owners – or future business owners – through personal advising and workshops. Now, they're meeting with clients old and new via Zoom, helping them navigate fresh challenges posed by the pandemic.
They find "small businesses really having to go in and revisit their blueprint or their business model for this new environment we find ourselves in," said Rickey Jones, director of Jackson State University's Small Business Development Center. Business owners are asking Jones and his colleagues, "How do we preserve our employees? What programs are in place to ensure we keep the talent that we have in place? Now my supply chain … has changed. How do I deliver my services?"
Small businesses across the country are asking themselves the same questions. Nearly 7.5 million small businesses may be at risk of permanently closing in the next five months because of the coronavirus, according to a report by Main Street America, a subsidiary of the National Trust for Historic Preservation, which represents more than 1,600 historic commercial districts. The projection was based on a survey of over 5,850 business owners.
While the Coronavirus Aid, Relief, and Economic Security (CARES) Act offers relief opportunities for small businesses, like Economic Injury Disaster Loans and the Paycheck Protection Program, businesses are struggling to figure out if they even qualify, let alone how to apply, Jones said, causing "a lot of concern" and "anxiety." That's another area where the center can offer its expertise to Mississippi business owners.
The center is also trying to help local small businesses think ahead, not just about how to survive the crisis but how to factor the impact of the pandemic into long-term plans. While the coronavirus is a threat to small businesses, Jones tells business owners to also look at it as an "opportunity to broaden your reach" and engage with customers using the new virtual tools they've been forced to master.
That said, for many businesses — even for the center itself — moving online has been a tricky transition. Counselors are used to working "face-to-face, one-on-one" with business owners, "which allows us to build that intimacy," Jones said. But the center is still keeping in close contact with its 229 clients from counselors' homes.
For Jones, the university's coronavirus relief work with small businesses is "at the core of what Jackson State was founded for." He sees it as a part of the school's overarching mission to "be an intellectual resource for the community."
As a research institution, the university aims to use its resources to offer "continued support to our area," Jones said. "This has really been a huge opportunity to serve the city of Jackson, actually the entire state."
For local business owners like Harper, that support could be critical.
The Small Business Development Center started working with her in February, before the pandemic really started to impact her business. Now, the center's help could bolster her business and others' as they try to untangle the application process for financial relief and embark on paths to recovery.
In the coming months, she hopes the center will be able to help her through the paperwork she needs to access critical funds.
"I feel like I'm in a pool of water, swimming around, coming up for air," Harper said, "and I'm barely holding on."
Sara Weissman can be reached at sweissman@diverseeducation.com.